Around the Farm: September 1, 2014
Around the Farm takes a quick look at some of yesterday's performances by Cleveland prospects throughout the system. The positions listed below are where the player was playing in yesterday's game.
In honor of the rookie level AZL Indians championship game victory on Monday, I have included every player that played in the game below. Congrats to them on the Arizona League championship! They were no doubt the best team in the league all year and a treat to follow, and will be a lot of fun to watch how these players do on an individual level as they progress over their minor league careers the next few seasons.
Yu-Cheng Chang (3B, AZL Indians): 4-for-5, 2 R, 2B, HR, 2 RBI. I know a lot of people will say that Bradley was the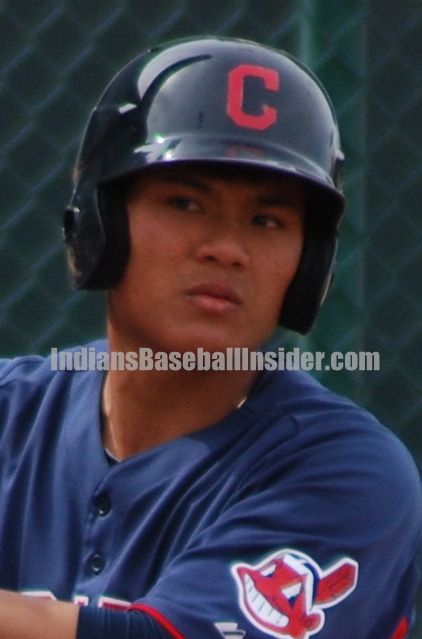 MVP of the league, but there are a lot of people out there who consider Chang the MVP because he can impact the game with more than his bat – and he will probably be rated higher as a prospect in offseason rankings because of that. This guy is a superstar prospect in the making, though will need to go to Lake County next season and be tested over a full season before we get too far ahead of ourselves. But for those that want to get ahead of themselves and get lost in the excitement of his good season, I've been hearing some Jhonny Peraltacomps (the bat, not the glove).
Nick Maronde (SP, Columbus): 6.0 IP, 2 H, 0 R, 1 BB, 8 K. Keep your fingers crossed on this one, but the Indians
may have found some gold with the midseason trade pickup of Maronde from the Angels. Once a high value guy and someone who was rushed to the big leagues and had some immediate success, he fell apart this season, so much that the Angels tried to sneak him off their roster. The Indians are always looking for opportunities to acquire young, controllable starting pitching and saw an opportunity to get an interesting left-handed arm in Maronde and did not pass at the chance. Even though he was a reliever, they felt he might still be able to start and have spent the past two months building him back up and the latest results from that encouraging transition were on full display on Monday. He's now put himself into the mix as a legit depth starting option for the Indians next season.
Francisco Lindor (SS, Columbus):

1-for-6, R, 2 K, CS. Lindor capped off an uneven showing at Columbus, and it looks like he is all but certain NOT to be added to the roster in Cleveland this September – even when Columbus' season ends. He still could be, but with the way J-Ram is playing the Indians may just have Lindor come up and workout and hang with the team as an unrostered player.

James Ramsey (CF, Columbus):

1-for-5, R, BB, 2 K. Contrary to what some think, Ramsey will not be added to the Indians roster this September. He's not ready to help at the Major League level and the Indians are not that desperate for outfield help for a guy they want to start the service clock and option clock on so early.

Giovanny Urshela (3B, Columbus):

2-for-5, BB. Urshela finished off an impressive season with a mutli-hit effort. I think everyone expected the .280 season average in the minors from him, but no one expected 18 homers, 84 RBI and .825 OPS – all career highs by far.

Carlos Moncrief (RF, Columbus):

1-for-5, 2 K. Moncrief's roster status as a September callup is up in the air. He's an option to come up once Columbus' season ends and it would be a good way to break him in and maybe get an at bat or two the final two weeks of the season, but the Indians often are not about giving prospects a callup if they won't be used.

Gabriel Arias (RP, Columbus):

W (7-4), 4.0 IP, 2 H, 1 R (0 ER), 1 BB, 4 K. I don't think the Indians could have ever hoped for more from Arias this season. Signed as a minor league free agent to give them innings in the upper levels of the system he logged 149.1 solid innings going 14-6 with a 3.68 ERA in 27 games (25 starts) between Akron and Columbus.

Erik Gonzalez (SS, Akron):

1-for-4, R, SB. The RubberDucks managed just two runs and three hits on the day, so there were no real standout performances offensively. Gonzalez did manage a hit in this one and in the process put the finishing touches on an impressive season hitting .309 with 4 HR, 62 RBI, 21 stolen bases and .780 OPS.

Jordan Smith (RF, Akron):

1-for-2, R, 2B, BB, K. Smith had a solid finish to what was a very disappointing season for him. All of his numbers went in the wrong direction this season, which brings about some concern about him going forward. That said, I wouldn't be surprised if he has a big playoff showing or AFL campaign. The ability to hit is no doubt still in there.

Cole Sulser (SP, Akron):

L (0-1), 5.0 IP, 6 H, 4 R (3 ER), 1 BB, 3 K, 1 HR. Another solid outing from Sulser at the Double-A level. He's actually had a better season this year than his lofty ERA suggests and has established himself as mid-level pitching depth for next season – though he left this game with an apparent arm injury so hopefully it is not serious and damages any plans for him next season.

Josh Martin (RP, Akron):

2.0 IP, 0 H, 0 R, 0 BB, 4 K. You can't have a Double-A debut much better than this as Martin breezed through the lineup setting all six of them down – four via strikeouts. Talking with some Indians personnel, he's an arm that has come onto the scene as a mid-level pen prospect.

Trey Haley (RP, Akron):

2.0 IP, 1 H, 0 R, 1 BB, 2 K. Haley wraps up a frustrating season with a good two inning effort. He had surgery in the offseason and never really found that consistency when he returned. This is going to be a huge offseason for him to come to spring training next year 100% healthy and ready to take a step forward; otherwise his time with the Indians or pro career for that matter could end next spring.

Luigi Rodriguez (LF, Carolina):

2-for-4, 2 R, 3B, K. A good game and finish to Rodriguez's season, but not the kind of year many hoped from him. He showed some improvement with his plate discipline and approach, but has just not made enough strides everywhere else to consider him a higher level prospect anymore.

LeVon Washington (DH, Carolina):

2-for-4, 2B, 2 RBI. Washington finished the season playing in 70 games, which is exactly half the total number of games a full season team plays in a season. He had a nice season with the bat hitting .294 with a very good .402 on-base percentage, but the continued miss time has hurt his chances of improving in other areas of his game in very much need of improvement.

Eric Haase (C, Carolina):

1-for-4, 3 K, CS. It was a rough introduction to High-A for Haase, but hopefully he will be better for it and it gave him a glimpse of what to expect next season. In 16 games with Carolina he hit .185 with a .535 OPS and had 19 strikeouts in 65 at bats.

James Roberts (2B, Carolina):

3-for-4. A solid, unspectacular season for Roberts as he hit .268 with a .659 OPS in 117 games. He has some versatility and is a gamer so he has a chance to move up to Double-A Akron next season, but the complete lack of power (.051 ISO) may hold him back.

Mike Clevinger (SP, Carolina):

L (0-1), 5.2 IP, 6 H, 3 R (2 ER), 2 BB, 7 K. Clevinger had an inconsistent though solid showing in limited time with the Indians since acquiring him in a trade a few weeks ago. Now that the season is over, he and the Indians will go to work at making some adjustments during Instructional League and get him on an offseason plan to come into spring training firing on all cylinders.

Michael Peoples (RP, Carolina):

2.1 IP, 3 H, 2 R (0 ER), 0 BB, 4 K. Peoples rebounded from a rough first half (5.24 ERA, .292 BAA) to have a nice second half (3.28 ERA, .244 BAA). While he has the size and stuff to potentially be a starter, he looked better pitching in shorter stints and might be a role the Indians keep him in next season.

Ben Heller (RP, Carolina):

1.0 IP, 0 H, 0 R, 1 BB, 2 K. It took some time for Heller to adjust to High-A after a dominant showing in Low-A, but he was very good his last nine outings totaling 9.1 innings and allowing 1 earned run on 2 hits, 7 walks and had 11 strikeouts. The walks are a concern however.

Ivan Castillo (SS, Lake County):

2-for-5, R, HR, RBI. A very encouraging year for Castillo who shows some good skills with the glove in the field, some versatility, some athleticism on the bases and suddenly a solid bat with some pop. He's a solid mid-level shortstop to keep an eye on next year.

Bradley Zimmer (RF, Lake County):

1-for-4, R, HR, RBI, K. Zimmer homered for the second time in three games with the Captains. His final line for the season is an impressive .302 with 6 HR, 32 RBI, 12 stolen bases, .892 OPS and 21-33 BB/K ratio. He should play in Lake County for the playoffs and then move on to Carolina to start next season.

Paul Hendrix (3B, Lake County):

2-for-4, K. Hendrix had a year that few saw coming as he finished the season hitting .287 with 12 HR, 46 RBI and .813 OPS. He is going to need to continue to overachieve with the bat as he moves to High-A next season and if he does so a lot of people are going to take him a lot more seriously as a prospect. What a nice season and breakout year for him.

Dorssys Paulino (LF, Lake County):

2-for-4. Paulino finished with almost a carbon copy of his 2013 season. He hit .251 with 3 HR, 35 RBI and .665 OPS this season and hit .246 with 5 HR, 46 RBI and .646 OPS last season.

Sean Brady (SP, Lake County):

2.2 IP, 6 H, 6 R (4 ER), 2 BB, 2 K, 2 HR. Not the best of Low-A debuts, but a chance for Brady to get rid of the butterflies in a meaningless end of season contest before he pitches in a game that really matters in the playoffs.

Caleb Hamrick (RP, Lake County):

2.1 IP, 5 H, 2 R/ER, 0 BB, 3 K. Hamrick had another tough outing in what was really a rough season for him at Lake County. He never found any consistency all season and no matter what role he pitched in, who he was facing or what time of the year he pitched, his rawness on the mound showed. The Indians are really going to have to work with him a lot in the offseason to have him better prepared to have some success next season – probably in a return to Lake County.

Steven Patterson (2B, Mahoning Valley):

4-for-8, 3 R, 2 HR, 4 RBI, BB, 2 K. Patterson erupted on the final day of the season with a homer in each game of the doubleheader and was the entire Scrappers offense in the first game. After some midseason struggles he finished strong hitting .341 over his final 10 games.

Taylor Murphy (RF, Mahoning Valley):

2-for-5, R, 3B, 3 RBI, 2 BB. The only other player to play both games of the doubleheader and do much of note offensively was Murphy. His 26-37 BB/K ratio and overall abilities with the bat are interesting and something to keep an eye on for next season.

Cameron Hill (SP, Mahoning Valley):

5.0 IP, 5 H, 1 R/ER, 0 BB, 4 K. Hill put forth another strong outing in his final start of the season. He had a very good pro debut going 1-2 with a 1.76 ERA in 14 appearances, though the 20-33 BB/K ratio in 56.1 innings does bring some pause about how much success he can have as he moves up to the higher levels.

J.P. Feyereisen (RP, Mahoning Valley):

1.0 IP, 1 H, 0 R, 0 BB, 1 K. Feyereisen finished the season unscored upon in 15 outings. In total he went 17.0 innings and allowed no runs (not even an unearned run) on 9 hits, 1 walk and had 24 strikeouts. That's an impressive BB/K ratio and a guy who has caught some attention as a pen prospect going forward.

Silento Sayles (RF, AZL Indians):

1-for-4, R, RBI, BB, 2 K. Sayles battled a few injuries early in the season, but had a solid showing in rookie ball his second time around and was a consistent contributor all year at the top of the lineup.

Jodd Carter (LF, AZL Indians):

1-for-6, R, 2B, 2 RBI, A. Carter hit .291 with a .717 OPS in his pro debut, which is actually good considering he is fresh out of high school. He was another consistent contributor all season for the AZL team.

Bobby Bradley (1B, AZL Indians):

2-for-5, 2 R, RBI, 2 K. This was actually a subpar effort from Bradley, which is crazy considering 99.9% of players would take this performance any day of the week (sarcasm alert). That's how impressive he has been with the bat this season. What a pro debut.

Li-Jen Chu (C, AZL Indians): 1-for-3, 2 R, 3B, 2 BB. Chu is a guy who has completely come out of nowhere, even for the Indians themselves. Perhaps this is another Jose Ramirez-like story in the making of a player not viewed very highly initially because the organization simply did not know what they had until the player started logging a lot of games.
Emmanuel Tapia (DH, AZL Indians): 2-for-5, 2 R, RBI, K. Tapia's strong season was overshadowed by the big season's from Bradley and Chang, but should not be overlooked. He compares somewhat in size and strength to what Jesus Aguilar was when he was in rookie ball, though is younger and actually had a better rookie ball season.
Alexis Pantoja (SS, AZL Indians):

2-for-4, 2 R, RBI, BB. All of the reports out of Goodyear are that this kid is dynamite with the glove. There are questions about the bat for sure, but every championship team often has good shortstop play and the AZL Indians were no different.

Willi Castro (2B, AZL Indians):

2-for-5, R, 2B, 3 RBI, K. Castro did not have the greatest of pro debuts, but he is also 17 years old and is extremely raw. This is another shortstop prospect to watch because of the potential he has with the glove, arm, bat and legs.

Bobby Ison (CF, AZL Indians):

2-for-5, R, 2B, 3 RBI. Ison is a hardnosed player who did a nice job in center field for the AZL Indians team. He did not do much offensively, but he put up very good at bats and showed an excellent approach at the plate that is something he can build off of going forward.

Shao-Ching Chiang (SP, AZL Indians):

5.0 IP, 3 H, 0 R, 1 BB, 5 K. One of the best stories of the year in the Indians system. After missing pretty much all of the last two seasons due to injury, he returned this season and found his groove down the stretch throwing 14.0 shutout innings over his last three appearances.

Justus Sheffield (RP, AZL Indians):

1.0 IP, 1 H, 0 R, 1 BB, 2 K. A nice short outing and a good way to wrap up what was a very solid pro debut for Sheffield. His 31 strikeouts in 21.2 innings of work was nice to see.

Jared Robinson (RP, AZL Indians):

1.0 IP, 1 H, 0 R, 0 BB, 1 K. Robinson is a guy who surprised some of the staff this season. As an 11th round pick he shouldn't surprise too much, but I think the Indians realized once they got their hands on him that he was even better than they though coming out of the draft.

Argenis Angulo (RP, AZL Indians):

1.0 IP, 0 H, 0 R, 0 BB, 2 K. Another guy who you have to ignore ERA and look at the complete picture to see what was an otherwise strong pro debut. His 29 strikeouts in 16.0 innings was awesome and he had just the 6 walks.

Yoiber Marquina (RP, AZL Indians):

1.0 IP, 1 H, 0 R, 0 BB, 2 K. Marquina is a converted catcher, so some ups and downs were expected this season – though there were a lot more ups than downs. He didn't allow a homer in 22.0 innings and racked up 31 strikeouts in the process.
Follow Tony and the Indians Baseball Insider on Twitter @TonyIBI. Also, his new book the 2014 Cleveland Indians Baseball Insider which profiles the Indians' Top 100 Prospects and more is available for sale.
User Comments
Ryan
September 3, 2014 - 4:02 PM EDT
Has Naquin shown enough to start the year at AAA next year? If so, between Ramsey and Naquin, who gets moved to LF? I am assuming that Moncrief stays in RF due to his arm, man, that Columbus OF might be the best defensive OF in all of baseball, ML included.
Ryan
September 3, 2014 - 4:00 PM EDT
Zimmer starting at Akron would be REALLY exciting. The way he has played, and his draft pedigree, I don't see why he shouldn't be able to handle it, I mean the Cardinals started Ramsey at A+ right out of the draft, why does it seem like the Indians are so afraid of their prospects failing they artificially hold them back.
Is Papi going to stay at LC? If he does and Bradley is sent there as well, does Papi go back to the OF? I was surprised that Maronde was not that hard a thrower, but I guess if you throw lefty, you don't need to throw that hard.
Ryan
September 3, 2014 - 3:56 PM EDT
My exact same disbelief when I saw the lineups. You have a roster full of your best AAA guys to use against a guy who had a 4+ ERA in AAA and a team that is notorious for being HORRIBLE against new, soft-tossing LHPs. PERFECT reason to give Bourn and Kipnis a night off and maybe even Gomes. Geezus, it is amazing how Francona will keep on trotting out the same lineups that produce crap offense and expect different results.
Ryan
September 3, 2014 - 3:53 PM EDT
Is Robinson profiled as strictly a reliever? Since he will be 20 in November, is there a chance he will start at Carolina because he is just a reliever and was just so dominant?
I am guessing the Taiwanese are all going to LC next year in one big package with Bradley?
Hiram
September 2, 2014 - 7:51 PM EDT
LOL,

Homer at your lineup


Tondo:

I said the exact same thing
Tondo
September 2, 2014 - 6:55 PM EDT
So, Jesus Aguilar is 3 for 5 with a HR and 1:1 BB:K vs Lobstein in AAA in 2014, but you bench him for Ryan freaking Raburn who hasn't hit anyone in 2014. Incredible
Homer
September 2, 2014 - 4:58 PM EDT
Hiram,

I'm surprised he's not in RF with Giambi at DH.

My guess they send Zimmer to Carolina and then on to Akron by June. Who knows...I expect there might be a big trade this offseason for controllable starting pitching. That might mean Naquin or Ramsey are dealt opening a spot for Zimmer at Akron. Interesting Zimmer played RF last night, maybe they'll move them around a bit.
Hiram
September 2, 2014 - 3:27 PM EDT
Ryan Raburn is in tonight's lineup... WOW and LOL
Walter
September 2, 2014 - 3:17 PM EDT
I hope that Zimmer is able to start in Akron next year. It would free up the outfield glut the Indians have in lower levels. It allows Frazier to go Carolina in which his family would be able to see him play more often in person.

I noticed that McAdams has not played the OF for MV the last month. Have the Indians given up on him because of the lack of hitting? Should they try to convert him into pitcher since he does have great arm strength?

Tony
September 2, 2014 - 2:35 PM EDT
How the Indians handle Frazier and Zimmer will be interesting next season. Bottom line, Zimmer is viewed as a legit center fielder and is closer to the big leagues, so will get priority in CF if he is at Carolina to start (he should be there). There is even a chance he could flat out skip Carolina completely....that's how advanced he is. I don't see it happening, but it is possible....and the Indians have done it before (Jose Ramirez).
Dennis
September 2, 2014 - 2:33 PM EDT
Could Zimmer be in left and Frazier in center for Carolina next year, instead of one staying at Lake county.
Maybe Frazier would get more out of another year or half year in Lake County than Zimmer? Does it all depends on how instructional goes?
Andrew
September 2, 2014 - 2:17 PM EDT
I tend to think Maronde has more upside.. he's not going to be a FOR guy (IMO), but I think he can be a solid MOR guy whereas I see House as a back of the rotation guy (not saying he's bad).
Homer
September 2, 2014 - 1:44 PM EDT
In some ways similar... backend LHSP. Maronde was a highly rated prospect with the Angels. House has never been ranked as highly. As for their real upside, I think Maronde has the higher upside. But I don't expect better results than what we've seen from House.
MT88 in WI
September 2, 2014 - 1:29 PM EDT
Which lefty starter has more upside/ better stuff: TJ House or Nick Maronde??

Homer
September 2, 2014 - 12:47 PM EDT
Congrats to the AZL Indians! Some interesting talent out there... on a team that just appears to be loaded with intriguing talent.

Schrewd move by the Indians picking up Nick Maronde. The Angels forced him up to the bigs bc they needed a LH. He got out of whack and got smacked around. He had a cpl ugly starts in Akron, but obviously put together a very nice Clippers debut. Glad they snagged him, this move could pay off as another 4/5 SP option.