Around the Farm: September 4--The Labor Day Edition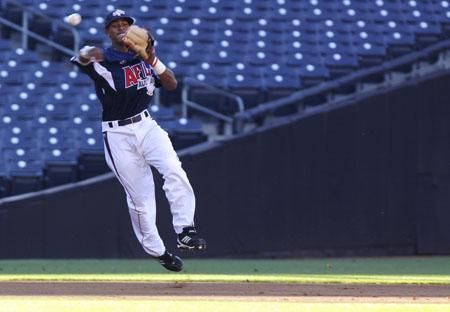 Francisco Lindor
Around theFarm takes a quick look at some of yesterday's performances by Indians prospects throughout the system. The positions listed below are where
the player was playing in yesterday's game.Sure, they kicked Jerry Lewis off the MDA Labor Day telethon, but that doesn't mean that all traditions are lost. There's still that little thing called baseball. Yesterday was the last full day for the Indians' minor league organization with Mahoning Valley calling it a season. While today is the regular season finale's for Columbus, Akron, Kinston and Lake County, let's take a look at yesterday's full day of action, starting with Mahoning Valley.Francisco Lindor: SS, Mahoning Valley: 2-5, 1 R, 1 RBI, 2 K: Lindor wasn't the best player on the team yesterday, but he certainly has done about as much as you can in a five game sample to prove that you were worth the price the Tribe paid to get him in the first round. He had hits in four of the five games, and over his last two, went 4-for-9, with two runs and two RBI. The fact that this kid is still only 17-years old is extremely exciting. He ended the year batting .316, with four runs scored. Not a bad start to a career that will go through a whole bunch of scrutiny going forward.Hector Rondon: SP, Mahoning Valley: 2 IP, 1 H, 1 K:What can you say about Rondon after missing the entire year, other than welcome back. The lanky right-hander made his second appearance of the season after pitching an inning on August 31, and made the most of it. Looking much more comfortable on the mound, he deftly worked through two innings, giving up only a hit while striking out a batter. He has a long way to go, but it's good to see the former top prospect return and look good. It should be interesting to see where he starts off next season. Once he regains his strength during the winter, will the put him in the firing line at Columbus, or will he have to work his way back up?
John Barr: LF, Mahoning Valley: 2-5, 1 R, 1 2B, 1 3B, 1 RBI, 1 K, 1 BB: If there was a way to close out your season, this was it. Barr filled the stat box with two extra base hits, and closed out his struggling offensive season with a bang. He ended the year with a four-game hit streak, and had a superb ten-game line of .333/.467/.500, and had a nice .295 average against lefties on the season.
Todd Hankins: 2B, Mahoning Valley: 2-5, 1 R, 1 RBI: Hankins struggled of late, but ended the season with a solid performance. He finished the year with 42 runs and 43 RBI, but struggled in July and closed out the season to bring his overall average to .246.
KC Serna: CF, Mahoning Valley: 3-5, 2 R: Serna finished the year on a solid not, but struggled overall with the stick, especially against right-handed pitching. He crushed lefties to the tune of .436 on the year. He does have an advanced approach, only striking out 24 times this season against 12 walks in his 42 games played.
Evan Frazer: 3B, Mahoning Valley: 2-3, 1 RBI, 1 BB: Frazer finished the year with five hits in his lat two games, scoring one run on a home run, with three RBI. Frazer only played 19 games with the Scrappers after signing late, but the 27th rounder made the most of it, hitting .304 on the year, all against right-handers. He batted a big goose-egg in seven at bats against lefties.
Enosil Tejeda: Closer, Mahoning Valley: S (12), 1 IP, 1 K: Josh Judy resides in Columbus. Cory Burns is located in Akron. Preston Guilmet is the bullpen ace in Kinston. Clayton Ehlert calls Lake County home. Don't forget about Tejeda, who has been absolutely untouchable over the last month of the season as the closer for the Scrappers. Tejeda hasn't given up an earned run since July 29. Since then, he's made 11 appearances over 12 1/3 innings, giving up three hits and three walks, while striking out 20 batters. That's the stuff of Mariano Rivera. No, I'm not saying Tejeda is Rivera by any stretch, but he's certainly added his name to the closing mix in the future.
Tim Fedroff: CF, Columbus: 1-4, 1 R, 1 2B: Fedroff continues his hot close of the season after his 10 game hit streak was stopped on Saturday. The fleet footed outfielder is hitting .308 over his last ten games, raising his average with the Clippers to .273.
Thomas Neal: DH, Columbus: 2-4, 1 R, 1 K: Thomas Neal, for those that don't remember, is the intriguing prospect that the Indians received from the San Francisco Giants for Orlando Cabrera. While Neal has only played in nine games for the Clippers thanks to injury issues, he's had a hit in six of those games, with his best performance coming last night. The righty should be an interesting addition to the Clip-Show next year, and as a right-handed stick, could make an immediate impact.
Karexon Sanchez: 2B, Akron: 2-5, 1 R, 2 RBI, 1 K: My boy Sanchez was put in the lead-off slot last night, and responded with a huge game. Sanchez has been hot of late, with last night being his third multi-hit game in the past five, in which he's gone 7-for-18, with three runs, a triple, a homer and six RBI. He's also walked six times, while striking out five over the same stretch.
Donnie Webb: CF, Akron: 2-4, 1 R: Webb now has back-to-back-to-back two hit games, going 6-12, with five runs, a double and two triples. How bad was it before the current hot streak? He had gone 1-for-23 over his previous seven games.
Michel Hernandez: C, Akron: 1-4, 1 2B, 2 RBI: Hernandez continues to put a spotlight on himself with a big two RBI game. The free-agent signee is now hitting .323 on the season for the Aeros, with 22 RBI and eight doubles.
Bryce Stowell: SP, Akron: W (1-0), 1 1/3 IP, 1 H, 1 BB, 3 K: Stowell continues to shine in his 13-game stint with the Aeros. This is his fourth straight scoreless appearance over 7 2/3 innings, giving up four hits and three walks, while striking out 10 batters. Look for Stowell to start the year off in Columbus next year, with an appearance in Cleveland likely by July.
Cory Burns: Closer, Akron: S (35), 1 1/3 IP, 1 H, 3 K: Burns saved his 35th game of the year, and now has the organizational lead (is he alone at the top? Don't peak below...). He's like a well oiled machine, and never lets a bad game get him down. Burns has 88 saves over his past three seasons, and 77 in his last two. This kid is for real.
Tyler Holt: Game 1: CF, Kinston: 2-4, 2 R, 1 2B: On the biggest day of the season for the K-Tribe, their sparkplug created the havoc at the beginning of the order to help the Indians get the game one win. Holt scored the first run in the first when Jesus Aguilar walked with the bases loaded. In the second, he hit a two-out single, making it to third on a throwing error. He scored thanks to a Bo Greenwell single. I'll be interested to see how much his .256 average improves once he gets out of the Carolina League next season. My guess is a lot.
Bo Greenwell: Game 1: LF, Kinston: 1-2, 1 R, 1 RBI, 1 BB: Slowly but surely, Greenwell is finding his way back to the offense that moved him through two levels of the organization last year. His hit in game one gave him a three game hit streak, and scored the second run of the game for the Tribe.
Adam Abraham: Game 1: 3B, Kinston: 1-4, 1 R, 1 HR, 2 RBI: Abraham hit his second homer in as many nights, and his third in four, driving home Greenwell to give the K-Tribe a four-run lead in the second of game one. What a nice way to start off a doubleheader you need to win to make the playoffs.
Toru Murata: Game 1: SP, Kinston: W (3-2), 6 IP, 7 H, 3 R/ER, 5 K: Murata has been a jack-of-all-trades in 2011, in a similar fashion to Paolo Espino. Murato started his fifth game in 22 appearanes, going six strong while striking out five. It was his first start since returning from the DL in early August, and in nine appearances, he's only given up four total runs. His ERA over his past ten games is a stellar 1.38, to go along with a 3-0 record.
Preston Guilmet: Game 1: Closer, Kinston: S (35), 1 IP, 2 K: Here's what I love about Guilmet. The night before, he gets absolutely lit up to the tune of four runs. Manager Aaron Holbert wastes no time in running him out there the next night, and there's the Guilmet that has been absolutely ice cold all year long. Guilmet and Burns now SHARE the organizational lead with 35 saves. It should be interesting today, since Guilmet is likely done in the regular season after back-to-back outings. Burns may have a chance to pass him.
Casey Frawley: Game 2: SS, Kinston: 2-3, 1 R, 1 2B, 1 RBI: There's something interesting to me that Casey Frawley was the hero of last night's clincher. All season long I've talked about how scrappy the kid is, even while he hasn't been able to hit much of anything all season long. Frawley hit a single in the first inning, then managed to score when Jordan Casas bunted down the third base line, causing an errant throw to first. In the sixth inning, Frawley hit a two out single, scoring Bo Greenwell, to give the K-Tribe what would turn into their game-winning run. That's what scrappy players do, put themselves in the middle of the action. By the way, he had two of the K-Tribe's four total hits. Congrats to Frawley on a big night.
Michael Goodnight: Game 2: SP, Kinston: W (1-0), 5 1/3 IP, 3 H, 1 R/ER, 6 K: Goodnight had an interesting up and down year in Lake County. When he was good, he was really good, and when he was bad, he was really bad. He had a 5-12 record with the Captains, but a 4.15 ERA that doesn't quite match his record. Whatever the deal with his struggles in Lake County, he came out blazing in the Carolina League. Getting the call-up late because of the doubleheader, Goodnight was awesome, getting his first win at High A. Yeah, that first win happened to clinch the second half title for the Indians. Welcome to the party, pal.
Trey Haley: Game 2: RP, Kinston: S (1), 1 2/3, 2 H, 1 BB, 2 K: This wasn't a walk in the park for Haley, but he still managed to hold it together in a tight, one-run game. Haley's starting to figure things out, as his last seven games would suggest. Since giving up five earned runs in two innings on August 12 and 13, Haley has giving up only one run over 11 1/3 innings, with nine hits and four walks (a big deal to a guy that has struggled with control), while striking out 12 batters. Haley may have taken the big turn in 2011.
LeVon Washington: CF, Lake County: 2-5, 1 R, 1 K: I don't know what Washington has been doing over the past three days, but he needs to continue doing it in the future. Washington has had three straight two-hit games, going a combined 6-for-13 over that stretch. While he's only scored a run, you have to figure that with more offense behind him, he can start to showcase that big play ability that made him the Indians second rounder in 2010.
Giavanny Urshela: 3B, Lake County: 2-5, 1 R, 1 HR, 2 RBI, 2 K: Urshela hit his career high ninth homer last night, but showcased a bit of an all-or-nothing approach that has hurt him at times this season. Over his past three games, Urshela has struck out six times, without walking once.
Kyle Blair: RP, Lake County: 3 IP, 3 K: Blair, the fifth rounder from 2010, has worked strictly out of the pen since his return from the DL on August 11th, and the experiment is working out well. He's pitched two innings in every appearance except his three innings last night, and given up four earned runs over the 19 innings for a 1.89 ERA. I still think the Indians intend on Blair to start in the future, but it has been an interesting trial to close out the season.
Follow Tony and the Indians Prospect Insider on Twitter @TonyIPI. Also, his latest book the 2011 Cleveland Indians Top 100 Prospects & More is available for purchase for $20.95 to customers in the US (shipping and handling extra). Use discount code 2Z6F362B to receive 40% off the book through the site store!
Jim is currently the senior editor and Columnist, as well as the host of IBI's weekly online radio shows, Smoke Signals and Cleveland Sports Insiders. You can follow Jim on Twitter @Jim_IBI, or contact him via e-mail at jpete@indiansprospectinsider.com.
User Comments
No comments currently. Be the first to comment!