Around the Farm: September 8--The K-Tribe comeback edition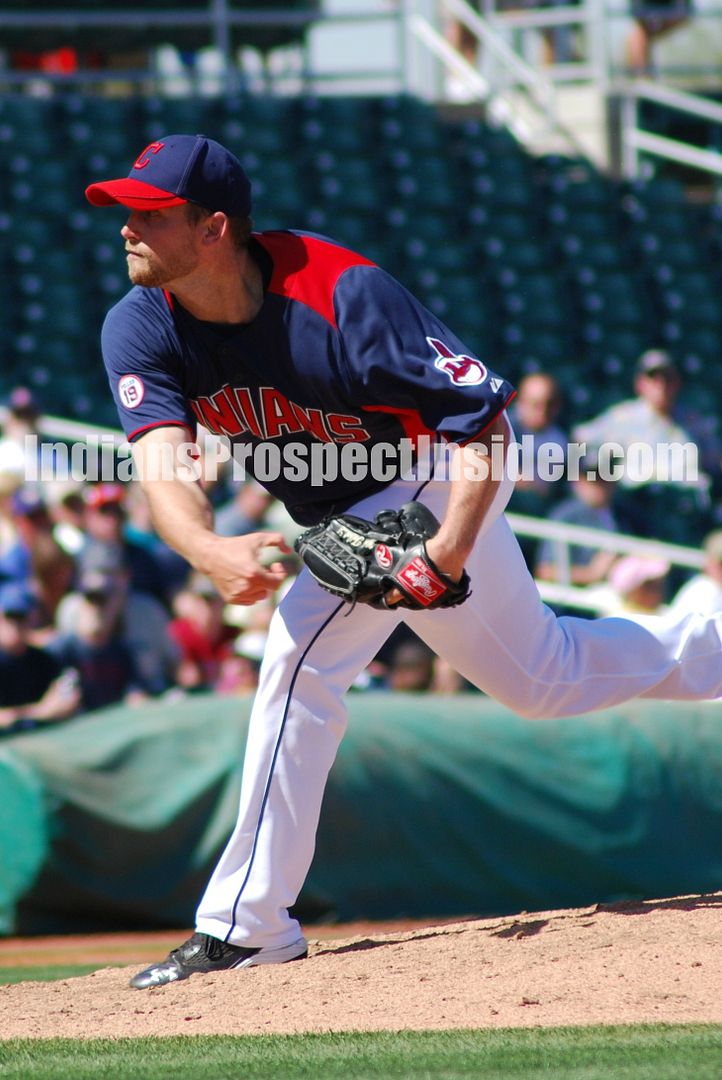 Mitch Talbot
(photo:
Tony Lastoria)
Around the Farm takes a quick look at some of yesterday's performances by Indians prospects throughout the system. The positions listed below are where the player was playing in yesterday's game.

Mitch Talbot: SP, Columbus Clippers: W (1-0), 7 IP, 2 R/ER, 2 BB, 5 K: Well, the Mitch Talbot chronicles continue, don't they? Just when everyone thought that he was finally on his last leg with the Tribe's organization, he comes up with a game like last night's. While he was 4-1 over his last ten games, his ERA was a less-than-stellar 4.72, and had been shellacked in three out of five starts over his last five appearances. The, he comes in last night, and absolutely dominates a Durham Bulls team that has been hot of late. It's still likely Talbot isn't long for the organization, but if he can give another couple of quality starts, it may incline the Indians to keep him around for insurance purposes.Chad Huffman: 3-5, 2 R, 1 2B, 1 HR, 2 RBI, 2 K:Huffman is at the forefront of an offensive resurgence in Columbus, hitting his second double and second homer in as many nights. Huffman started the year off like a wildfire before tapering off during the summer months. It appears as though he's planning on bookending his season with more of the same. Huffman likely won't figure into the big league club's future plans, but there certainly is some value there as a veteran presence in Columbus as a guy that can fill in any outfield position and who has played in the majors before.
Tim Fedroff: CF, Columbus: 2-4, 1 R, 1 RBI, 1 BB, 1 K: Fedroff has continued where he left off to end the regular season, when he hit in nine of his last eleven ballgames. He's hitting .333 so far in the two Clippers victories, and is currently batting leadoff, where he excelled with the Akron Aeros this season.
Travis Buck: RF, Columbus: 2-5, 1 2B, 1 RBI, 2 K: Buck had his second consecutive two-hit game in these playoffs, and drove in is first run while batting second behind Fedroff.
Beau Mills: 1B, Columbus: 2-5, 1 R, 1 2B, 1 RBI, 1 K: Mills ended the regular season with three straight multi-hit games, and started the playoffs with two straight multi-hit games. During that five game stretch, Mills is an unbelievable 12-for-21 (.571), with six runs, five doubles, two homers and four RBI. I'd say he's getting some attention from the Indians front office. Can't wait to see what the kid does next year during spring training.
Nick Johnson: DH, Columbus: 0-2, 2 R, 3 BB, 2 K: Johnson didn't get a hit, but managed to be extremely value with three walks and two runs scored. While he didn't pay off the way Antonetti wanted with regards to the Big League Indians, he's proving some value as the Clippers find themselves one game away from a return trip to the Governor's Cup.
Juan Diaz: SS, Columbus: 2-5, 1 R, 1 2B, 2 RBI, 2 K: While Diaz isn't providing the type of pop that Jason Kipnis did a year ago when he was called up at the end of Akron's season to help out Columbus, he certainly has been a valuable starter. He's currently hitting .333 in his two games, and is providing valuable support at the bottom of the order.
Argenis Reyes: 2B, Columbus: 2-4, 1 R, 1 K: Reyes ended the season hitting .313 for the Clippers during his 25 game stint. While he struggled in the opening game, he again stepped up with a couple of hits and a run hitting in the nine-hole.
Tyler Holt: CF, Kinston: 2-5, 1 BB, 1 K: Holt continued his hot hitting of late with two more hits at the top of the order. Holt followed up his two-hit game in the opener with another last night, and is now hitting .500 for the series (4-for-8).
Bo Greenwell: LF, Kinston: 1-6, 1 R, 1 K: Greenwell didn't exactly hit the cover off the ball last night, and is only hitting .200 for the series, but he scored the winning run last night, which merits a mention in today's ATF.
Adam Abraham: 3B, Kinston: 0-2, 1 R, 3 BB, 1 K: Abraham is playing well when it counts. His sacrifice last night moved Greenwell to second, which allowed him to score later on a Jesus Aguilar single.
Jesus Aguilar: 1B, Kinston: 1-5, 1 R, 1 RBI, 2 K: Aguilar's 11th inning single plated Bo Greenwell for the game winning score. He's been a bit of a disappointment at the plate thusfar, but provided a big one when it counted last night.
Tyler Cannon: 2B, Kinston: 2-5, 2 R, 1 HR, 4 RBI, 1 BB, 2 K: With Kinston down 5-2 in the third inning of last night's game, Cannon launched a grand slam to give the K-Tribe a 6-5 lead, their first of the series.
Casey Frawley: SS, Kinston: 2-4 : Frawley ended the season on a high note with a ten-game line of .310/.417/.483. After last night's performance, it's clear that the streaking Frawley isn't finished with his current tear just yet.
Cody Allen: RP, Kinston: 3 IP, 1 H, 2 BB, 4 K: Allen only made one appearance for the K-Tribe before the playoff series, but only gave up a hit in three innings pitched. It followed up a dominating performance in Lake County in which he didn't give up a run in seven appearances over 17 innings, and another at Mahoning Valley in which he gave up eight earned runs in fourteen games over 33 2/3 innings. He was again dominant last night, righting the ship after Francisco Jimenez got lit up for five runs in 2/3 of an inning.
Toru Murata: RP, Kinston: W (1-0): 1 H, 3 K: Murata struck out the side in his inning to get the win. Murata has been bouncing around between the rotation and the relief corp., but appears settled in as a reliever for the playoffs. Of course, with Jimenez melting down, you just never know.
Preston Guilmet: Closer, Kinston: S (1), 1 IP: Guilmet is closing out his K-Tribe career in style. His first save in the playoffs was his 36th save on the season.
Follow Tony and the Indians Prospect Insider on Twitter @TonyIPI. Also, his latest book the 2011 Cleveland Indians Top 100 Prospects & More is available for purchase for $20.95 to customers in the US (shipping and handling extra). Use discount code 2Z6F362B to receive 40% off the book through the site store!
Jim is currently the senior editor and Columnist, as well as the host of IBI's weekly online radio shows, Smoke Signals and Cleveland Sports Insiders. You can follow Jim on Twitter @Jim_IBI, or contact him via e-mail at jpete@indiansprospectinsider.com.
User Comments
No comments currently. Be the first to comment!