Asdrubal Cabrera: At the corner of BABIP and plate discipline
In 2013, Asdrubal Cabrera hit the ball extremely well.
This is not a popular opinion; however, in 2013, Cabrera's line drive rate of 23.4% was a well-above league average clip. Hitting line drives at this rate, under most circumstances would imply a high, firmly-above-average Batting Average on Balls in Play, or BABIP. However, whereas Asdrubal Cabrera's excellent batted ball profile gave him an expected BABIP (xBABIP) of .314 - 21 points above league average - Cabrera's actual BABIP was .283 which was 10 points below league average.
In a previous article, this was discussed in greater detail – why one might believe Asdrubal's BABIP would bounce back and why it might not make a huge difference for the Indians' fate in 2014. Yet since the writing of that article, it became apparent that there existed a line of thought arguing that Asdrubal's plate discipline, which was noticeably worse in 2013 than in prior years, was actually a cause of his poor BABIP. This argument makes entirely intuitive sense.
But as this article posits, it's also untrue – while BABIP is a much more luck-based statistic than others, there does not exist evidence suggesting that plate discipline and BABIP are correlated.
To delve more deeply into the theory of the matter, BABIP is one of three components of batting average, the other two being home run rate and strikeout rate. The role of home run rate is rather obvious: hit more dingers, receive more batting average points. Home runs are an unambiguously good offensive outcome. Given its peculiarity, home runs are frequently excluded from BABIP calculations but are nevertheless universally included in calculations of both batting average and sexytude.
Strikeout rate is the second component of batting average, and it composes the dead-weight component of batting average; for batted balls, for even weakly-hit batted balls, there is a non-zero chance to reach base – perhaps on an error, or perhaps because Miguel Cabrera was nominated as the person to stand by third base for the day. For strikeouts, however, there is zero chance of getting a hit. Given the reality that all major league hitters will strike out, this reality results in every major league hitter having some dead-weight loss, and it also results in witheringly inane country music metaphors. Hitters' K-rates differentiate themselves not by never striking out, but by striking out to a lesser degree.
The elegance of strikeout rates are their extremely clear correlations – on one hand, correlation with itself from year to year, and on the other hand, correlation with its component statistics. The following graphs, courtesy of this tool by Steve Staude, indicate the stability of strikeout rates from 2012 to 2013 and also the correlation of 2013 overall contact rate with 2013 K% (all future correlations are at 95% confidence).
2012 K%, 2013 Contact% vs. 2013 K%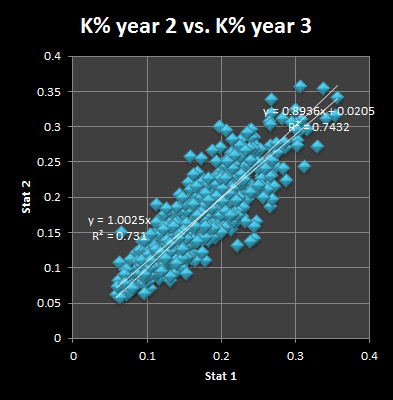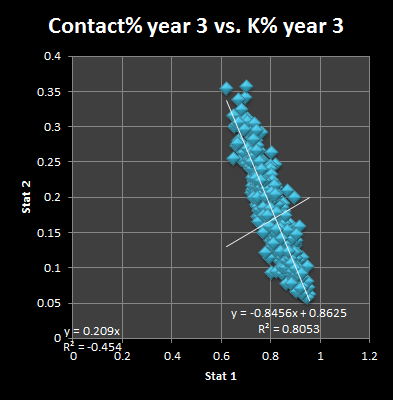 Source: FanGraphs, Steve Staude
The correlation between each of 2012 K% and 2013 Contact% with 2013 K% is unambiguous. Basic plate discipline stats clearly correlate with strikeout rate, and while the .842 correlation only describes the time span of 2012 to 2013, the correlation remains very much similar for each year-to-year span since 2007.
It is in relief of the lilting elegance of strikeout rate that exists the cacophony of BABIP. Whereas strikeout rate has extremely clear correlates, BABIP has woes unnumbered, civil strife, and much weaker correlations. Whereas K% correlated to itself at .842 from 2012 to 2013, BABIP, over that same time span, correlated at .377. Whereas the most pronounced component of strikeout rate (Contact Rate) correlates at -.898, BABIP's two strongest correlates are line drive rate and pop-up rate, the strongest of which correlates at -.458.
2013 LD%, 2013 PU% vs. 2013 BABIP
Source: FanGraphs, Steve Staude
The following is true: pop-up fly balls, which are nearly guaranteed outs, and line drives, which typically have a tremendously high BABIP ranging from .600-.700 on average, each play a substantial role in determining BABIP. Of the outcomes within a player's control, these two factors, along with a player's agility and speed, are the prime movers in determining how high BABIP is.
Perhaps there exist proprietary strength-of-contact data, but given that they are not publicly available, we can draw no conclusions one way or another. Hence, there are no publicly-known factors more important than these, and even then, nothing about them, either individually or in tandem, gives us any ironclad information about BABIP. The reality, then, is that luck is as much a part of the equation as is any other factor.
It's difficult, particularly in the case of Asdrubal Cabrera, to merely accept that luck was a major reason why he was a below-average hitter in 2013. In Asdrubal, Cleveland has a player whose plate discipline and BABIP each cratered in 2013. The following illustrates the problems that arose in Asdrubal's approach at the plate.
Asdrubal Cabrera Plate Discipline
| | | | | | | |
| --- | --- | --- | --- | --- | --- | --- |
| | O-Swing% | Z-Swing% | O-Contact% | Z-Contact% | Contact% | SwStr% |
| 2012 | .296 | .704 | .704 | .911 | .841 | .073 |
| 2013 | .344 | .675 | .690 | .872 | .799 | .095 |
| 2013 Average | .310 | .655 | .666 | .870 | .795 | .093 |
Source: FanGraphs
Consequent from this decline, Cabrera's walk rate declined from 8.4% to 6.2%, and his strikeout rate increased from 16.1% to 20.3%. These two factors did real, tangible harm to his offensive output; the walk rate decline effected a decrease in on-base percentage, and the strikeout rate increase in turn multiplied his dead-weight at-bats. Cabrera's OBP dropped from .338 to .299 from 2012-13, and these two factors combined to cause approximately .025 of the .039 drop in on-base percentage from 2012 to 2013. In many ways, Cabrera's plate discipline was not below-average – it was, however, undisputably worse than 2012.
Unambiguously, Asdrubal Cabrera's poorer plate discipline did harm him; what his plate discipline did not do, however, was impact his BABIP.
The argument that poor plate discipline harms BABIP is a very intuitive one: if a batter swings at worse pitches, that batter will make worse contact. This idea that plate discipline impacts BABIP seems like the sort of thing that would be borne out by facts. It seems like an entirely reasonable explanation for the dissonance between Cabrera's extremely strong line drive percentage and his extremely low BABIP.
It's also not true. At a major league level, plate discipline stats have no impact, at all, on BABIP.
What follows is a chart that correlates all important league-wide plate discipline stats against BABIP, with a minimum of 300 plate appearances, for each year from 2007 to 2013. Additionally, the chart includes a rather different column: the correlation of the number of times a batter was hit by a pitch – a factor that has exactly zero role in BABIP.
Plate Discipline Stats Correlated Against BABIP (Min. 300 PA)
| | | | | | | | |
| --- | --- | --- | --- | --- | --- | --- | --- |
| | O-Swing% | Z-Swing% | O-Contact% | Z-Contact% | Contact% | SwStr% | HBP/PA |
| 2007 | .022 | .047 | -.024 | -.064 | -.059 | .068 | -.068 |
| 2008 | -.004 | .076 | -.051 | -.076 | -.067 | .074 | -.068 |
| 2009 | .002 | .048 | -.038 | -.058 | -.058 | .061 | -.058 |
| 2010 | -.006 | .038 | -.052 | -.034 | -.058 | .058 | -.024 |
| 2011 | -.005 | .025 | -.020 | -.038 | -.034 | .034 | -.039 |
| 2012 | .001 | .012 | -.009 | -.035 | -.031 | .028 | -.062 |
| 2013 | .017 | .043 | -.014 | -.047 | -.041 | .040 | -.051 |
Source: FanGraphs, Steve Staude
The correlations in the above chart are so small as to be meaningless; however, there exist several issues, problems that only exist at face value.
If one were to interrogate the data, one might argue that selecting 300 plate appearances as a baseline cut-off selects against those players whose performance was too poor to achieve 300 plate appearances in a single season, and it indeed does. However, three responses exist to rebut this criticism.
First, if one were to change the cutoff to 100 PA, presumably to include more batters who did not reach 300 PAs, the correlations do not change substantially – they remain, for the most part, meaningless. Second, sample bias absolutely does exist, but that's entirely the point – this analysis only takes into account major-league-caliber players, and however poor Asdrubal Cabrera may have performed in 2013, he was only slightly worse than league average at the plate; he was entirely within the realm of above-replacement-level offense, so it is reasonable to apply these findings to Cabrera. Finally, the lower one decreases the PA threshold, the more noise infects the BABIP numbers, and the less meaningful the conclusions one can draw about BABIP correlations.
Another possible flaw is the logical conclusion one draws by looking at several of these columns. Given the bizarre fact that swinging strike rate is actually positively correlated with BABIP, if one were to take this to its logical extreme, it would hold that, if one is swinging and missing at every pitch, one would be projected to have a higher BABIP than the average major-leaguer. Given that this is prima facie absurd, one might dismiss this as a product of randomness. However, one might also note that, within the group of major league hitters, swinging strike rates are weakly, but positively, correlated with power. If one grants that hitting with greater power weakly increases a batter's BABIP, one might argue that low contact rates, by means of their weak correlation with power, explain the nearly-imperceptible but extant correlation between swinging strike rates and BABIP.
Given these concerns, it seems clear that plate discipline stats mean little to nothing in terms of BABIP. This is true in the general case. In the particular case of Asdrubal Cabrera, there does not exist reason to believe he breaks this model. Despite being only slightly above-replacement level, largely as a result of stunningly poor range at shortstop, Asdrubal Cabrera was simultaneously only slightly below league average in terms of overall offensive performance. A large reason why Asdrubal was below average was because of the dissonance between his line drive rate and his BABIP.
Basing an analysis on information that is publicly available, one concludes that Asdrubal, assuming a similar line drive rate, will see his BABIP increase to average or slightly-above-league-average levels. One cannot, however, say that Asdrubal's plate discipline legitimizes a massive dissonance between line drive rate and BABIP. Additionally, while Cabrera's plate discipline numbers were much worse in 2013 than prior years, despite this, his 2013 plate discipline numbers were still better than league average.
Asdrubal Cabrera's plate discipline is, doubtless, a worrying trait going into 2014. A further decrease in walk rate, or a further increase in strikeout rate, certainly bodes naught good for a player whose offensive performance has been his primary carrying trait as a major league player.
Yet one must not be overly eager and assert that his BABIP will be permanently suppressed by this plate discipline. Limit each analysis to its own domain, examine only batted balls when considering BABIP and examine only plate discipline stats when regarding strikeouts, and one can acquire a complete view of a player – even a player as enigmatic as Asdrubal.
John can be reached on Twitter at @JHGrimm. He can also be reached by e-mail at john.h.grimm@hotmail.com.
User Comments
John Grimm
March 4, 2014 - 11:48 PM EST
brit,

My email is john.h.grimm@hotmail. It'd just be faster to just hash it out that way.
BritDawg
March 1, 2014 - 4:31 AM EST
I don't understand your rebuttal of the sample bias issue at all.

There are 4 categories of MLB BABIP/plate discipline:

Good BABIP/Good Plate Discipline
Poor BABIP/Good Plate Discipline
Good BABIP/Poor Plate Discipline
Poor BABIP/Poor Plate Discipline

Last year Cabrera was in the last of those categories. However, given that most MLB players with poor BABIP and poor plate discipline don't tend to stick around for very long before they get jettisoned, your 2007-13 sample basicially comprises almost exclusively of players from the first three categories.

I don't see how you can then project those figures onto players with poor plate discipline and poor BABIP to argue that
there is no correlation between the two.

You could examine a sample exclusively of poor plate discipline players, but that would still be flawed due to a bias towards those with high BABIP (since again the low BABIP players would not be properly represented).

Perhaps there is no correlation between poor plate discipline and poor BABIP, but you really can't draw that conclusion from the (biased) sample that you have chosen to analyse.
Rich
February 28, 2014 - 8:41 AM EST
Hard to believe his plate discipline numbers were BETTER than the league average. Maybe if you're comparing him to Mark Reynolds...

The problem is he's trending downwards in every positive statistic and trending upwards in every negative one. But if his line drive rate continues to be above league average and if he is a little more selective this year he could have a good season, offensively at least.
Max
February 27, 2014 - 7:01 PM EST
Can anyone tell me what Cabrera's first pitch swing % was, and how it compared to the league average?

I felt like every at bat he was up there hacking on the first pitch.
Berdj Joseph Rassam
February 27, 2014 - 6:03 PM EST
Not sure who the real Cabrera is - was 2013 a blip or a trend for the future?