ATF: December 20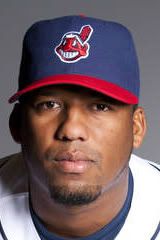 Fausto Carmona
Around the Farm (ATF) takes a quick look at some of the daily performances by Indians prospects. This is a special winter ball version of ATF that recaps all the offseason action by Indians players in the Caribbean Leagues. The positions listed below are where the player was playing in the game.
Here is the rundown of what Indians players in winter ball did yesterday.
Dominican Republic Winter League
Fausto Carmona (SP, Aguilas Cibaenas):

4.0 IP, 3 H, 1 R/ER, 0 BB, 2 K. A much better offseason outing for Carmona this year than last year as in his lone appearance last year on December 21, 2010 he went just 1.1 innings and allowed 5 runs (4 earned), 5 hits, 0 walks, and had 1 strikeout. Maybe his good performance on Tuesday night is a good omen for 2012? (I know I am reaching)

Ubaldo Jimenez (SP, Tigres del Licey):

2.1 IP, 3 H, 3 R/ER, 2 BB, 4 K. It was a typical Jimenez outing as he struggled through 2.1 innings where he faced a total of 13 batters and allowed 6 baserunners. Manager Manny Acta said he was the recipient of some bad defense around him, but it is still hard to ignore the walks and his inability to limit damage in an outing. That said, it doesn't matter if he is Justin Verlander or Kane "BP" Davis this offseason, it is all about getting him back into a routine and ironing out some of his mechanical issues.
Puerto Rico Winter League
Giovanni Soto (RP, Gigantes de Carolina):

1.0 IP, 1 H, 4 R (2 ER), 2 BB, 0 K. After dominating in his first 11 appearances this fall/winter out in Puerto Rico, Soto has struggled in his last two outings and looks to have hit a wall. In his last two games he has now pitched a total of 1.1 innings but has allowed 6 runs (4 earned) on 1 hit and 5 walks. He has also allowed 7 walks in his last 3 outings covering 2.1 innings, when in his first 10 outings he just 2 runs and 5 walks in 11.1 innings. Hopefully he is not hurt as when performance declines this sharply and this quickly it can be an indicator that there is an arm issue.
Jose Lopez (3B, Cardenales de Lara):

1-for-4, RBI, BB, K. Lopez is having a nice showing this fall/winter where in 35 games he is hitting .311 with 5 HR, 21 RBI and .862 OPS. Granted, winter ball stats don't mean a whole lot, but it is nice to see him performing well rather than not performing at all.

Asdrubal Cabrera (SS, Leones del Caracas):

1-for-4, R, HR, 2 RBI. Cabrera jacked his second homer of the offseason last night, but still has a poor slash line of .214/.313/.381 in 12 games.

Jesus Aguilar (1B, Leones del Caracas):

1-for-4. Nothing much exciting for Aguilar in this game, but no strikeouts and another hit is good to see. He also has a modest 9-game hitting streak going and is hitting .313 with a .937 OPS in his last 10 games.

Eric Berger (RP, Bravos de Margarita):

0.1 IP, 1 H, 0 R, 0 BB, 1 K. Berger faced just 2 batters but was saddled with a blown save because the first batter he faced knocked in both the tying run and also the game winning run.
Follow Tony and the Indians Prospect Insider on Twitter @TonyIPI. Also, his latest book the 2011 Cleveland Indians Top 100 Prospects & More is available for purchase for $20.95 to customers in the US (shipping and handling extra).
Follow Tony and the Indians Baseball Insider on Twitter @TonyIBI. Also, his new book the 2014 Cleveland Indians Baseball Insider which profiles the Indians' Top 100 Prospects and more is available for sale.
User Comments
No comments currently. Be the first to comment!