ATF: December 21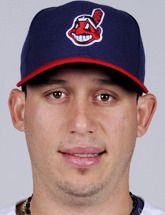 Asdrubal Cabrera
Around the Farm (ATF) takes a quick look at some of the daily performances by Indians prospects. This is a special winter ball version of ATF that recaps all the offseason action by Indians players in the Caribbean Leagues. The positions listed below are where the player was playing in the game.
Here is the rundown of what Indians players in winter ball did yesterday.
Giovanny Urshela (3B, Cartagena Tigres):

0-for-3, K. Urshela continues to be the everyday third baseman for his Tigres deal despite a pretty poor showing so far. In 16 games he is hitting just .210 with a .306 slugging percentage.
Rob Bryson (RP, Bravos de Margarita):

1.0 IP, 2 H, 1 R/ER, 0 BB, 1 K. Bryson allowed just his 4th earned run in 17 outings this offseason, which is good news. The bad news is that while he is not giving up runs he is giving up a ton of hits and walks with 21 baserunners in his 10.2 innings.

Eric Berger (RP, Bravos de Margarita):

0.0 IP, 1 H, 0 R, 0 BB, 0 K. Berger came in and faced one batter and gave up a hit and was promptly removed. This was the second straight night he came in and gave up a hit to the first batter he faced and allowed a run.

Paolo Espino (RP, Tiburones de La Guaira):

3.0 IP, 0 H, 0 R, 0 BB, 4 K. Now that's more like it. Espino has been like Jeckyll and Hyde on the mound this offseason, though mostly Hyde. Maybe pitching out of the bullpen suits him better as he had his most dominating outing of the offseason

Asdrubal Cabrera (SS, Leones del Caracas):

1-for-4, R, 2 RBI, BB. Cabrera was once again limited to one hit but made the most of it with 2 RBI. He is still only hitting .167 with a .602 OPS in his last 10 games.
Follow Tony and the Indians Prospect Insider on Twitter @TonyIPI. Also, his latest book the 2011 Cleveland Indians Top 100 Prospects & More is available for purchase for $20.95 to customers in the US (shipping and handling extra).
Follow Tony and the Indians Baseball Insider on Twitter @TonyIBI. Also, his new book the 2014 Cleveland Indians Baseball Insider which profiles the Indians' Top 100 Prospects and more is available for sale.
User Comments
No comments currently. Be the first to comment!