ATF: December 28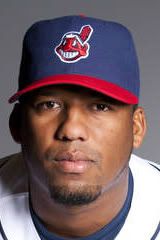 Fausto Carmona
Around the Farm (ATF) takes a quick look at some of the daily performances by Indians prospects. This is a special winter ball version of ATF that recaps all the offseason action by Indians players in the Caribbean Leagues. The positions listed below are where the player was playing in the game.
Here is the rundown of what Indians players in winter ball did yesterday.
Giovanny Urshela (3B, Cartagena Tigres):

1-for-4. Another typical night for Urshela with just one hit and no extra base hits, but he was quite busy in the field at third base as he had 1 putout, 6 assists, and was involved in 1 double play.
Dominican Republic Winter League
Fausto Carmona (RP, Aguilas Cibaenas):

4.0 IP, 5 H, 2 R/ER, 2 BB, 3 K, 0 HR. Not nearly as good an outing as Carmona had in his first one back on December 20th (4.0 IP, 3 H, 1 R/ER, 0 BB, 2 K), but a quality one nonetheless. That said, he was walking on the edge all night and was lucky to have only given up 2 runs considered he allowed 7 baserunners and had 2 wild pitches in 4.0 innings.
Asdrubal Cabrera (SS, Leones del Caracas):

2-for-4, 2B, K. Cabrera is starting to heat up. After a rough stretch following a 3-for-4 opener where he was just 3-for-29 the next 9 games. Since then he is now 8-for-23 (.348) in his last 6 games, which is not blazing hot but considering where he was is much better.

Jesus Aguilar (1B, Leones del Caracas):

0-for-4, K. Aguilar proves he is human with an 0-fer. The hitless night dropped his batting average under .300 to .290 in Venezuela, but he still has a nice .370 on-base percentage and .516 slugging percentage.
Follow Tony and the Indians Prospect Insider on Twitter @TonyIPI. Also, his latest book the 2011 Cleveland Indians Top 100 Prospects & More is available for purchase for $20.95 to customers in the US (shipping and handling extra).
Follow Tony and the Indians Baseball Insider on Twitter @TonyIBI. Also, his new book the 2014 Cleveland Indians Baseball Insider which profiles the Indians' Top 100 Prospects and more is available for sale.
User Comments
No comments currently. Be the first to comment!