ATF: December 29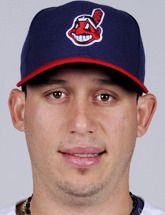 Asdrubal Cabrera
Around the Farm (ATF) takes a quick look at some of the daily performances by Indians prospects. This is a special winter ball version of ATF that recaps all the offseason action by Indians players in the Caribbean Leagues. The positions listed below are where the player was playing in the game.
Here is the rundown of what Indians players in winter ball did yesterday.
Giovanny Urshela (3B, Cartagena Tigres):

1-for-4, 2B, K. Without looking at his game-by-game numbers, Urshela has maybe had just 2 or 3 multi-hit games so far this offseason as every game he either gets no hits or 1 hit.
Puerto Rico Winter League
Joseph Colon (RP, Gigantes de Carolina):

1.0 IP, 0 H, 0 R, 0 BB, 1 K. A much needed strong effort for Colon who came into the game having allowed 12 runs, 15 hits and 6 walks in just 5.2 innings over 6 appearances.
Rob Bryson (RP, Bravos de Margarita):

1.0 IP, 0 H, 0 R, 1 BB, 0 K. Just the second time in his last 6 games where Bryson has pitched a full inning. He is bending but not breaking as he has allowed 14 hits and 10 walks in 13.0 innings yet has a 2.77 ERA.

Jose Lopez (3B, Cardenales de Lara):

1-for-5. Lopez has a modest 5-game hitting streak going and is hitting .385 with a 1.006 OPS in his last 10 games, though his home run and RBI production have stalled of late as he has no homers and just 2 RBI in his last 8 games.

Asdrubal Cabrera (SS, Leones del Caracas):

0-for-1. Anytime you see a guy leave a game after just one at bat it usually is not a good sign. No word on whether or not Cabrera got hurt, but Cabrera was removed at the top of the 4th inning after being involved in a rundown for the final out of the bottom of the 3rd inning.

Jesus Aguilar (1B, Leones del Caracas):

0-for-4, 2 K. Aguilar is scuffling of late hitting just .250 with a .708 OPS in his last 10 games with just one multi-hit game. In his last 2 games he is now 0-for-8 with 3 strikeouts.
Follow Tony and the Indians Prospect Insider on Twitter @TonyIPI. Also, his latest book the 2011 Cleveland Indians Top 100 Prospects & More is available for purchase for $20.95 to customers in the US (shipping and handling extra).
Follow Tony and the Indians Baseball Insider on Twitter @TonyIBI. Also, his new book the 2014 Cleveland Indians Baseball Insider which profiles the Indians' Top 100 Prospects and more is available for sale.
User Comments
No comments currently. Be the first to comment!