ATF: December 7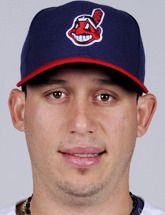 Asdrubal Cabrera
Around the Farm (ATF) takes a quick look at some of the daily performances by Indians prospects. This is a special winter ball version of ATF that recaps all the offseason action by Indians players in the Caribbean Leagues. The positions listed below are where the player was playing in the game.
A small update today as several players were not in action on Wednesday night. With that in mind I will take a quick moment to note that Ubaldo Jimenez is expected to make his debut with Licey out in the Dominican Republic on December 20th.
Here is the rundown of what Indians players in winter ball did yesterday.
Giovanny Urshela (3B, Cartagena Tigres):

1-for-4, R, 2B. Urshela continues to play every day in Colombia and has not done much yet in 9 games hitting just .206 (7-for-34).
Asdrubal Cabrera (DH, Leones de Caracas):

3-for-4, 3 R, 2B. Cabrera makes his debut in Venezuela in strong fashion scoring 3 runs and getting 3 hits. He is not expected to play much winter ball action, maybe 2-3 weeks, but is off to a great start playing ball in his home country.
Follow Tony and the Indians Prospect Insider on Twitter @TonyIPI. Also, his latest book the 2011 Cleveland Indians Top 100 Prospects & More is available for purchase for $20.95 to customers in the US (shipping and handling extra).
Follow Tony and the Indians Baseball Insider on Twitter @TonyIBI. Also, his new book the 2014 Cleveland Indians Baseball Insider which profiles the Indians' Top 100 Prospects and more is available for sale.
User Comments
No comments currently. Be the first to comment!