Beau Mills re-building his career as potential heir to Hafner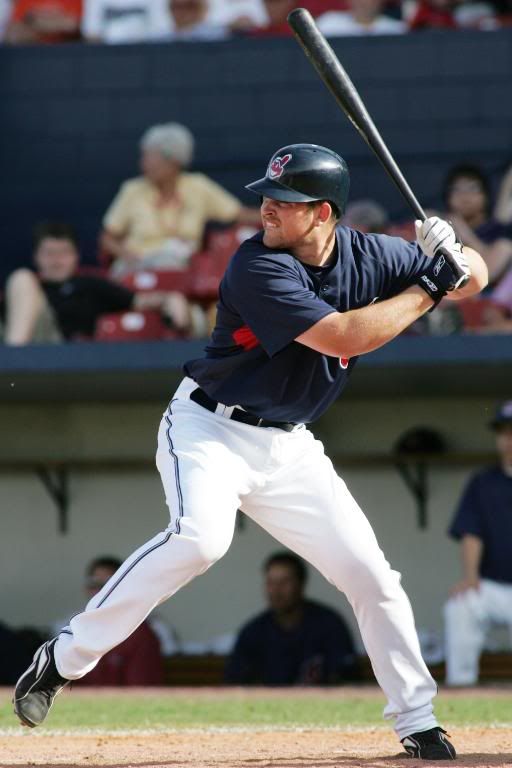 Beau Mills (photo: Tony Lastoria)
Beau Mills was promoted yesterday to Triple A Columbus after 2 1/2 frustrating seasons as a member of the Akron Aeros. Mills was the former first round draft pick of the Cleveland Indians in 2007, and came as a power-hitting corner infielder with a high baseball IQ (his father is Brad Mills, the current manager of the Houston Astros, and former coach for the Boston Red Sox).
Mills backed up his first round, future-star status in his first full professional season in 2008 at High A Kinston. His line was .293/.373/.506, with 21 homers, 90 RBI and 78 runs scored, and he was named the Carolina League player of the year. The Carolina League has historically been a pitcher's league, so those numbers carry added weight.
He moved to Akron in 2009, and that's when his numbers began to take a tumble. He played nine more games in Akron compared to Kinston the season before, but every major offensive number went down. His averaged dropped 26 points to .267. He scored 19 less runs, hit seven less homers, and drove in seven less hitters. He didn't take the step many thought he would after his big year at Kinston, and his stock began to drop.
He started the 2010 season back in Akron, and his season was marred by nagging injuries and off-the-field issues. Again, his numbers would move in the wrong direction. He hit only .241, with 10 homers, 72 RBI and 55 runs scored in only 113 games. He had dropped off every prospect radar, including the Indians. As a 24-year-old, many believed that he had already plateaued, and at best, was Double or Triple-A fodder.
To make matters worse, Mills started the 2011 season in extended spring training thanks to Achilles tendonitis. After a long and arduous six-week rehab, Mills was activated, and for the third straight season, he started the season at Double A Akron. Not a good sign that the Indians had high hopes for their former first-rounder.
But a funny thing happened. Mills began to hit the ball. For the first time since 2008, Mills started to look like the player that the Indians were hoping for when they drafted him. Up through yesterday, Mills had a solid .300/.358/.522 line, with 11 homers and 49 RBI in only 61 games. He struck out only 37 times, with 22 walks, showing a bit more selection than in the past as well.
This earned him his first (and hopefully last) promotion to Triple A Columbus.
It's far too early to state with any sort of confidence that Beau Mills has "figured it all out." Mills has been playing Double A baseball for 2 1/2 seasons. Any player with the baseball IQ and power potential that he has is bound to adjust to pitching at that level in that extended amount of time. So you have to wonder whether or not he can replicate this year's stats from Akron in Columbus to close out the season.
It's a big turn of events for the once-lost-prospect, who now finds himself one step away from the big leagues. He's likely heard the term 'make-or-break' before, but in the land of the minors, this Triple A step really is his 'make-or-break' move. Can Mills continue transfer his 2011 production from Akron to Columbus, or is this small sample-size of offense just that, a small sample size?
If the latter is the case, then Mills ultimately turns in to the type of player that routinely litter Triple A clubs for several years, get a taste of the majors now-and-then thanks to the DL, but ultimately never make the next move permanently before disappearing when they realize the dream is over. Most folks have labeled Mills in this category (or worse) since his struggles began in 2009.
Many Tribe-followers lumped him into that category way back in 2007, calling Mills another one of John Mirabelli's "safe picks." If we all want to look in the mirror and be honest,
Mills was a safe pick, and did follow the pattern that Mirabelli seemed to be taking at the time.
Does that mean he can't perform up to a first round level? Of course not. Mills had/has first round talent, and scout after scout said that he had 30-homer potential. Safe pick of not, Mills has the tools to play at the major league level.
If he can continue his current progression, Mills becomes the potential big bat that the Indians could call up should something happen injury-wise to either Matt LaPorta and/or Travis Hafner. Both players have had DL stints this season, so having some cushion would provide a boost to the Indians during the stretch drive. It's likely that Nick Johnson is ahead of Mills in the big league line of ascension, based both on his major league experience, and a bat that also seems to be heating up at the right time. Still, Mills is certainly a long-term answer regardless.
At best, Mills turns back into the top 20 prospect in the system that he was four years ago, and begins pushing for a full-time gig in 2012. Without any big power bats peeking their heads out of the sand at both Columbus, Akron (yeah Nick Weglarz, I'm talking to you), or Kinston (well, there's that Abreu guy), Mills becomes a hot commodity in a system that needs him to be just that.
The other thing to take into account is the 34-year-old Hafner, who has been a walking injury for three seasons, and is under contract for only one more season after 2011. Mills continuing his offensive "rehabilitation" gives the Indians an in-house fix should Hafner either struggle with injury, or if the Indians choose not to re-sign their slugger.
Of course, that's a whole lot of time, and a whole lot of what ifs. For now, Beau Mills is hitting the cover off the ball, and has made the next step towards the bigs. Now...just one more BIG step to go...
User Comments
No comments currently. Be the first to comment!