Brantley Called Up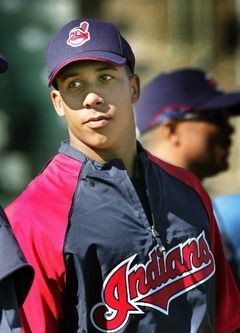 The Cleveland Indians today announced they have placed outfielder Shin-Soo Choo on the 15-day disabled list, retroactive to July 3, with a right thumb sprain. To replace Choo on the active roster, the Indians recalled outfielder Michael Brantley from Triple-A Columbus.
Choo was injured in the 8th inning of Friday night's 3-0 loss to the Oakland Athletics in Progressive Field. So far this year Choo was batting .286 (86-301) with 48 runs scored, 14 doubles, 2 triples, 13HR and 43RBI in 78 games. He was also 12 of 16 in stolen base attempts and among American League leaders ranked T5th in walks (48), 10th in on-base percentage (.390), T16th in stolen bases (12) and T3rd in outfield assists (6). This will mark Choo's 2nd career trip to the disabled list at the Major League level.
Brantley begins his second stint with the Indians after making the opening day roster. He was optioned to AAA Columbus on April 19th and hit .315 (76-241) with 47 runs scored, 9 doubles, 2 triples, 3HR and 26RBI in 59 games while also stealing 11 bases in 16 attempts. Earlier this week he was named to the International League All-Star team and currently ranks 2nd in the International League in average (.315), trailing only Indians CA Carlos Santana (.316), is 4th in on-base percentage (.391) and 5th in runs scored (47). Against right-handed pitching Brantley batted .349 (61-175) with 3HR and 21RBI and posted a .904 OPS (.430 OBP/.474 SLG). He hit in each of his last 10 games with the Clippers since June 22nd batting .413 (19-46) with 12 runs scored, 4 doubles, a HR and 10RBI while also going 4-5 in stolen base attempts. He wears #23.
The Indians now have 4 players (Cabrera, Choo, Sizemore, Reyes) on the Major League disabled list. The Indians 25-man roster stands at 25 and the 40-man roster is at 40.
User Comments
No comments currently. Be the first to comment!