Breaking down Axford: What went wrong and can it be fixed?
Taking a look at Axford's problems and how to fix it in 2014
Team president Mark Shapiro continually hinted that Cleveland would sign a reliever with closing experience in recent weeks and that prophecy came true Sunday night, as the team agreed to sign former Milwaukee closer John Axford.
The only reason Axford was available with three years of team control left is due to his struggles in 2012 and 2013. The right-hander posted a dominant campaign in 2011, but since then, the results have not been there.
The big problem for Axford over the past two seasons was the tripling of his home run rate. While that can be the sign of decreased velocity -- not allowing a pitcher to blow fastballs by hitters in the zone anymore -- Axford's average fastball velocity has been in the same 95-96 miles per hour range from 2011 through 2013. Though he has given up more power against his fastball since 2011, that 2011 season was always an outlier; pitchers do not typically maintain a six percent home run per fly ball rate (the average is around 10.5 percent).
| | | | | | | | | | | | |
| --- | --- | --- | --- | --- | --- | --- | --- | --- | --- | --- | --- |
| Season | IP | K/9 | BB/9 | HR/9 | BABIP | GB% | HR/FB | ERA | FIP | xFIP | WAR |
| 2011 | 73.2 | 10.51 | 3.05 | 0.49 | 0.289 | 49.70% | 6.00% | 1.95 | 2.41 | 2.85 | 1.8 |
| 2012-2013 | 134.1 | 10.58 | 4.35 | 1.34 | 0.323 | 45.82% | 18.23% | 4.35 | 4.20 | 3.42 | -0.5 |
Where Axford has seen a decrease in velocity is in his secondary pitches. The right-hander uses a slider and a curveball to augment his fastball, and as the graph below shows, both have slowed since 2011.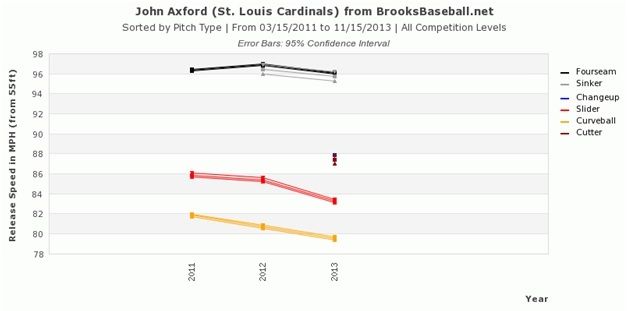 That decrease in velocity for Axford's off-speed pitches has been accompanied by an increase in movement, however. The end result? Axford continues to get batters to swing and miss at his slider and curveball and has actually seen that percentage increase slightly in 2012 and 2013.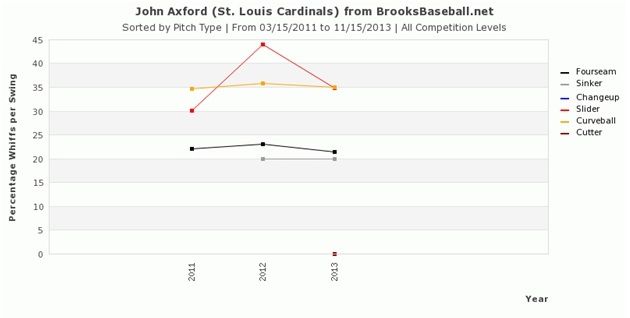 So where is the problem with Cleveland's new closer? As with many hard-throwing pitchers, the issue comes with throwing strikes.
| | | | | |
| --- | --- | --- | --- | --- |
| Season | Pitches in Zone | Fastballs in Zone | Curveballs in Zone | Sliders in Zone |
| 2011 | 42.97% | 46.21% | 34.94% | 37.59% |
| 2012-2013 | 40.14% | 44.20% | 30.45% | 33.99% |
Axford threw a first-pitch strike to 61.6 percent of batters in 2011. That mark decreased to 54.2 percent in 2012 and 53.3 percent in 2013. As a result, the right-hander saw 39.4 percent of his plate appearances end with the hitter ahead in 2012 and 2013 compared to 31.8 percent in 2011.
The ultimate result of that mess of numbers is a simple one: Axford left himself behind more often in 2012 and 2013, which in turn allowed hitters to do better against him. When he threw more first-pitch strikes in 2011, Axford was able to keep opposing hitters to a .086 ISO on pitches within the zone.
Limiting the damage within the strike zone is impressive, considering that hitters are naturally going to be able to do more with those pitches. Pitching from behind in 2012 and 2013, however, allowed opposing hitters to post a .191 ISO against Axford on pitches in the zone.
Pitching from behind seems to have allowed opposing hitters to sit on a strike and punish it. That in itself is not a shock. The question is can Axford -- with the help of his new pitching coach Mickey Callaway -- find a way to fix the problem?
The root of Axford's issues seem to be his off-speed offerings. In 2011 he threw 28.4 percent of those pitches for strikes in the middle or bottom of the strike zone compared to 40.3 percent below the strike zone or low-and-away. That set of percentages seemed to work for Axford, as hitters had to respect that the right-hander could throw his off-speed offerings for strikes.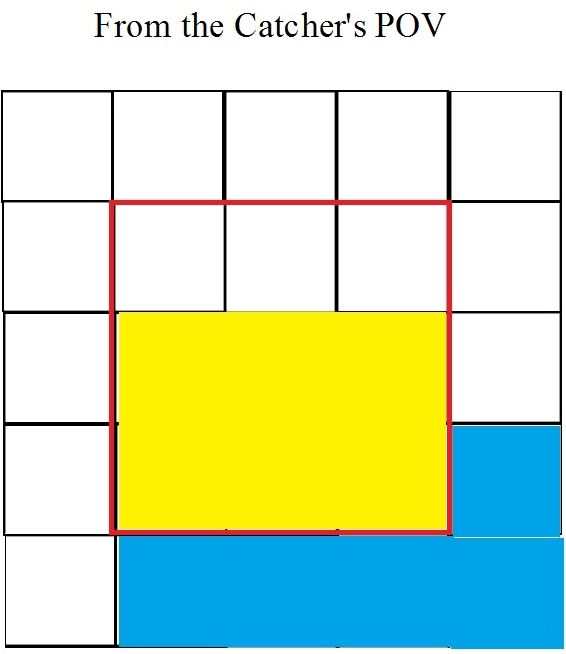 Yellow is the middle or bottom of the strike zone. Blue is below the strike zone and low-and-away
In 2012 and 2013, however, Axford only managed to throw his off-speed pitches for strikes in the middle or bottom of the strike zone 23.2 percent of the time compared to 47.1 percent below the strike zone or low-and-away. Axford stopped throwing his off-speed pitches for strikes down in the zone, allowing opposing hitters to just let the moving stuff go for a ball.
More strikes allowed Axford to get opposing hitters to swing and miss at pitches in the bottom-third of the zone 19.4 percent of the time in 2011. The past two years? Only 8.9 percent.
After being traded to St. Louis on August 30, Axford turned his results around. Though the sample is far too small to take anything substantial away, in 10.1 innings, Axford posted a 1.74 ERA, a 2.08 FIP, and a 11:3 SO:BB. What did he do differently?
He stopped throwing his slider.
Under Yadier Molina's tutelage, Axford threw his slider 2.5 percent of the time compared to 11.8 percent from the beginning of the 2012 season up to the trade. Molina, considered one of the best catchers and game-callers in all of baseball, decided to have Axford pump in fastballs and curveballs, setting aside the slider.
That slider had become increasingly hard for Axford to control, as 48.0 percent of them ended up running too far and finished low-and-away in 2012 and 2013 compared to only 35.3 percent in 2011. Scrapping it might have been the correction the Cardinals gave him after the trade, which Axford hinted at in late-October. Or that correction could just be getting Axford to throw first-pitch strikes again (that rate was back up to 61.4 percent with the Cardinals).
So what have we learned? Well, Axford needs to throw more strikes, he needs to throw his off-speed stuff in the zone more often, and the Cardinals decided his slider had no use.
A reliever can get away with just two pitches and Axford found success with a fastball-curveball combination in limited time with the Cardinals. The good news for Cleveland is Axford still has his velocity and is still getting whiffs with his pitches.
It seems Callaway's job in 2014 will be to get Axford throwing strikes so opposing hitters are not ahead in the count and teeing off on the right-hander.
The stuff is still there; now Axford and Callaway just need to figure out how to control it.
If you want to follow Jim on Twitter, he's @JimPiascik. If you want to e-mail him, you can do so at jpiasci1@gmail.com. If you want to read his Master's thesis on college athletes and Twitter, you can do so here.
User Comments
Mike
December 18, 2013 - 4:56 AM EST
Tony, at the playoff game the applause that Callaway received during player introductions was borderline comical. I hope he really is the pitching whisperer, but people really need to slow down a little bit though.
LeaguePark
December 18, 2013 - 12:12 AM EST
Another project. Callaway should be the game's highest paid pitching coach. He may need to see a shrink soon too.
Tony
December 17, 2013 - 11:49 PM EST
Mike. Thank you.

I mentioned that same thing to someone on Twitter on Tuesday. It was one year and Callaway did a great job, but this notion the guy is a miracle worker is a bit over the top. I'm confident in him, but the expectations with Callaway are getting crazy.
Mike
December 17, 2013 - 11:42 PM EST
I don't like how Calloway is getting this clout of a miracle worker. We do not know what he did last year to "fix" Ubaldo aside from telling him to stop worrying about his mechanics. I'm sure he's working with guys but it is very possible that people are inflating expectations based on one scenario which he may or may not have influenced.
John Yates
December 17, 2013 - 9:50 PM EST
Very nice analysis. I still believe the vast increase in HR / IP has done most of the damage though. 2012-2013 1 HR / 6.5-7.0 IP and before that around 1 HR / 35 IP.
Jwahoo
December 17, 2013 - 7:33 PM EST
I honestly really like the moves. Espeically Marcum but this team still needs another starter.

A vet like Colon or Haren would be perfect. (If they have not signed yet). This gives us some depth. I mean counting on Kluber, Salazar and Marcum all having good seasons to unrealistic.

Plus, this would allow us to maybe move a guy like Kluber to the bullpen. Guys like Carrasco and Tomlin are bullpen depth instead of guys we need to start.
Jim Piascik
December 17, 2013 - 2:04 PM EST
Andy:

I love it! I'd guess it has to do with how pitch values can't account for pitch selection and game theory. It's possible his slider lost effectiveness (which also shows up in those values), forcing him to rely on a fastball/curveball opponents knew is coming.
Andy
December 17, 2013 - 1:42 PM EST
It's interesting that STL had Axford drop his slider because that was his only above average pitch in 2013 and his "best" pitch overall according to Fangraphs Pitchf/x Pitch Values. Maybe there are some mechanical or release point issues with the slider that don't show up there, but interesting to me nonetheless.
Jim Piascik
December 17, 2013 - 1:19 PM EST
Ron:

He actually threw more pitches down the middle and in the middle part of the strike zone in 2011 than 2012-2013, though I don't disagree with the sentiment. I'd assume the high number of home runs and higher BABIP was influenced by pitching from behind. It's harder to get a strike by a hitter when they know you have to throw one.

As for LD%, personally I don't like the stat. As others have pointed out (specifically Jeff Sullivan on Fangraphs), what is and is not a "line drive" is too subjective. While it's interesting, typically I don't like messing with it.

But yeah. I'm sure there were many more grooved pitches in 2012-2013 than in 2011.
Rick
December 17, 2013 - 1:08 PM EST
Excellent post with some awesome comments. At first I was so so but with the info posted here I think we may have our first major steal.

Walks and Homers have taken this guy from a stud to a dud.

He got a taste of the Post Season with a great organization - and according to MLB Hot Stove said NO to more money with another team - because he views the Tribe as a good be to repeat or better last year.

Sounds like Tito has sold another customer.
Ron
December 17, 2013 - 1:06 PM EST
To further examine him you need to look at pitch location in the zone and LD%. I suspect he was grooving pitches and that is why so many HRs and the high BABIP.
Willie
December 17, 2013 - 12:40 PM EST
Just curious, how people would perceive Axford IF he posts...

35 of 40 saves 65 IP 25 BB 75 K and 3.25 era?

Is he worth the low risk? I think so, low risk, high upside move by CA.
Jim
December 17, 2013 - 12:16 PM EST
I don't disagree with what he did under stressful circumstances in September and October, and I'm sure that the Indians did their homework and are looking at that as a direction and not a trend...

it's such a short sample size...but definitely something to hope for going forward.

If he's THAT pitcher...$4.5 million is a phenomenal gamble...and $6 million is a steal...
Hermie13
December 17, 2013 - 11:53 AM EST
@BaseballBoyerBrothers

Fair point on the playoffs. Solid WHIP there (tiny sample though) and K/9 ratio was over 14.

Walk rate was over 6 though per nine in the playoffs.

"Wild Thing" may not be a bad Cleveland nickname for him....
Jim
December 17, 2013 - 11:44 AM EST
I'll admit Shy, that the walks per nine is a bit disconcerting...but I'm always an optimist.

It is what it is.

In the grand scheme, $4 1/2 million is a whole lot of money to worry about...it won't keep them from doing anything else.

If he doesn't pan out...they will have other options...

But there is upside...
BaseballBoyerBrothers
December 17, 2013 - 11:16 AM EST
P.S.S.....great article Jim Piascik!! Also I dont think Axfords WHIP in SL is the best indicator of his turnaround, he had hitters swinging late consistently on pitches out of the zone and got right down to business in the post season where his experience was very evident, just ask LA and Pittsburg.

shy
December 17, 2013 - 11:15 AM EST
The guy has had a spotty control record since college, why would it improve now. 1 great year out of 9 since entering pro ball because he was on a roll and able to get guys to swing at balls out of the zone. They adjusted to him in 2012 and 2013. He does not throw hard enough to get guys to commit early and swing at balls out of the zone. Everybody is counting on the pitcher whisperer MIckey Callaway to turn this garden variety journeyman into a force. I say Callaway has enough projects already.
Robert
December 17, 2013 - 11:11 AM EST
Nice work Jim! I have been discounting this signing as a minor, and highly questionable one, and now, after reading this piece, feel much better about it. Still not convinced that CA is done adding people to the pitching staff.
Jim
December 17, 2013 - 11:09 AM EST
Jimbo...you know I love your writing...but this piece is brilliant...freakin' brilliant...
BaseballBoyerBrothers
December 17, 2013 - 11:04 AM EST
Sorry for the type-os, didnt catch the mispellings on the re-read. The poster just before me hit on the stats quite well, so I went with what I was told about Axford by AA coaches in Springfield MO right before the AA season ended....(the same organization coaches that still want Perez back LOL!)
BaseballBoyerBrothers
December 17, 2013 - 10:56 AM EST
I was somewhat surprised when the Cards let Axford ride. They traded for him (Blazek for Axford) in what now becomes a throw away deal, which is worse than the rental value of Axford in return, in my book. Blazek could be a good pitcher for the Brewers in the near future. We saw him throw in AA ball over the lenght of a season and he always impressed. Essentially, Derek Lilliquist (pitching coach for Cards) was told that several Cards hitters that faced Axford on a regular basis (same division yada yada) were saying 1) he was tipping his fastball and 2) try to lay off his slider. Mozeliak traded for him, the Cards fixed the problem(s) they were aware of and it looks like Axford is ready to rock in 2014.

With no guarantee Mott will be back and be physically able to reclaim his role as closer and several young speedball candidates in the pen that might have some sophmore slippage 2014, Axford would have been valuable in spite of the carinals "apparent" wealth of young arms. Also a good potential mid-season trade guy.
macphisto
December 17, 2013 - 10:42 AM EST
All you have to do is take a look at his game log. He was also much better in October, posting a 1.59 ERA in 5.2 innings. Small sample size, but he also posted a 1.06 WHIP.

His total with St. Louis, when the postseason is included, is a 1.69 ERA, a 1.25 WHIP, and 1.25 K/9.

As for his ERA after the first four games, he pitched 65 innings in the regular season, allowed 29 ERs, 26 BBs, and 73 hits against 65 Ks.

So his unadjusted season average is a 4.02 ERA, 1.52 WHIP, and 1 K/9.

In his first four games he threw 3.1 innings. He allowed 9 ERs, 2 BB, 9 H, and struck out four.

So he had a 24.32 ERA, a 3.03 WHIP, and was just over 1 K/9 still.

So let's subtract the ERs and innings. 65 - 3.1 = 61.2 innings pitched. 29 - 9 = 20 ERs.

That's a 2.92 ERA. It's also a 1.42 WHIP.

Let's go further and remove his Cardinals numbers to see how he did the rest of the season with Milwaukee.

After the first four games until the trade to STL, Axford had a 3.16 ERA and a 1.44 WHIP.

So decent ERA and about average WHIP. His numbers in STL were excellent. Very good WHIP, excellent K/9, and great ERA. If he picked something up in St. Louis and Callaway can help him fine tune it, Axford could be a bullpen stud for us this year.

No guarantees based on the track record, but low risk with a high reward.

Sources cited.

Hermie13
December 17, 2013 - 10:41 AM EST
I am not as convinced his issues were completely fixed in St. Louis. WHIP was still pretty high in that short stint.
Hiram
December 17, 2013 - 10:38 AM EST
Jim

this was an outstanding piece on Axford. It got right to the heart of the issues in what would make him successful.

Keep up the good work
Willie
December 17, 2013 - 10:31 AM EST
Sorry, I should know better being a grad student.

The 2.92 era came from Lets Go Tribes blog. Here's the link...

http://www.letsgotribe.com/2013/12/16/5214950/cleveland-indians-news-closer-john-axford-stats/in/4980087
Hiram
December 17, 2013 - 10:17 AM EST
Willie,

Cite your sources, Willie.
Willie
December 17, 2013 - 10:01 AM EST
IF you look past the first four games of last yr. Axford posted a 2.92 era the remainder of the season.

I saw Axford at least 3/4 times with the Cards, I'm convinced they pinpointed and fixed his woes. He looked like a better pitcher the last 2 mths of the yr.