Bryson Is Back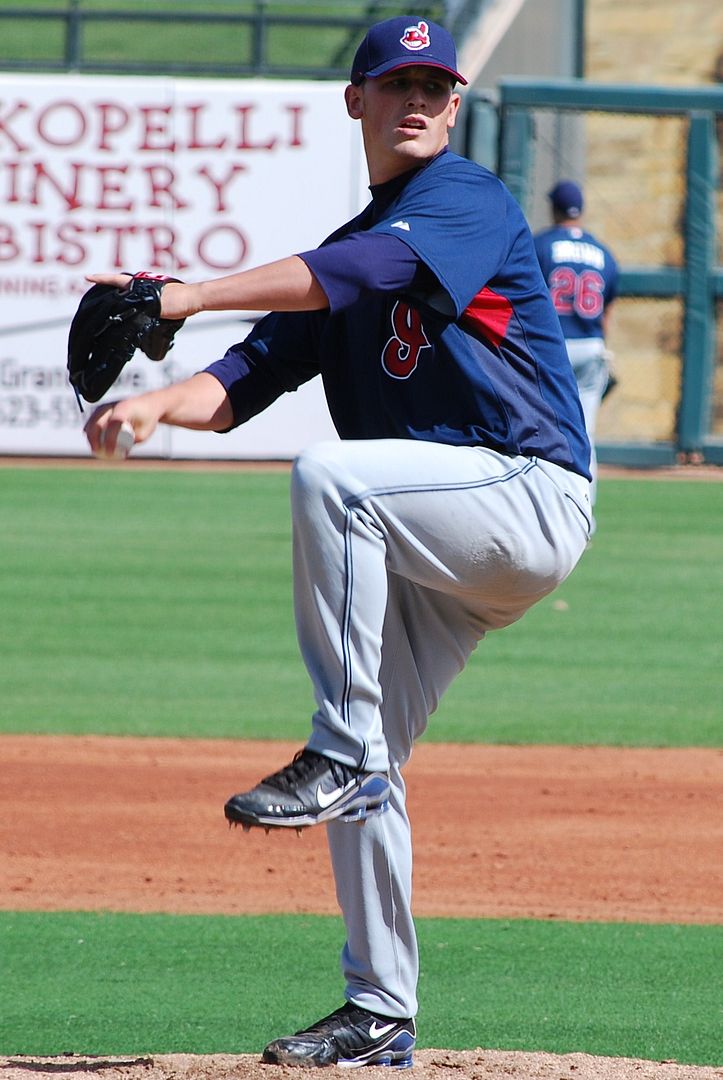 When he is on the mound, High-A Kinston right-handed reliever Rob
Bryson
is flat-out dominating.
So far in 2010 between Low-A Lake County and
Kinston
,
Bryson
has struck out 53 and walked just 10 batters in 30 1/3 innings pitched. Opposing hitters are batting just .159 against him, and his WHIP is a stellar 0.89.
Unfortunately
for
Bryson
and Indians fans, his time on the mound has been interrupted by injuries since coming over as the forgotten man in the C.C.
Sabathia
trade. While Matt
LaPorta
, Michael Brantley and Zach Jackson have all seen time with the Indians,
Bryson
is just now pitching at high-A
Kinston
. His slower progress is not due to lack of ability, just lack of luck as he has had a couple of shoulder issues since coming over from the Brewers organization.
Tony interviewed Rob right after he was called up to
Kinston
back in May, and I caught up with him
Wednesday
night in Potomac to talk to him about strikeouts, shoulder problems, and his
newfound
love for the
changeup
.
Bryson
missed most of 2008 and 2009 recovering from shoulder surgery to repair tears in his
labrum
and
rotator
cuff. He had a couple of false starts in 2009 where it looked like he was going to get into action in
Kinston
, but minor setbacks forced him to throw primarily in the Arizona Instructional League.
Many players going through his series of injuries would get frustrated;
Bryson
took advantage and used it as an opportunity to refine a pitch. Coming off his surgery and during his rehab,
Bryson
would throw
changeup
after
changeup
after
changeup
until he was comfortable with the pitch. This addition gave
Bryson
a 3rd pitch to go with plus offerings in his fastball and slider. Now in July,
Bryson
feels like his change is actually better than his slider. Scouts see Bryson's slider as a true plus pitch, so getting his changeup to a point where he actually feels more comfortable with it than the slider is a huge step in his development.
"I've mainly been just a fastball/slider guy my entire career until the injury," said Bryson. "Throwing with the
changeup
every day coming out of rehab, I'd say it's probably my second best pitch right now."
After getting the call to
Kinston
in the beginning of May,
Bryson
was all-systems go with no restrictions as far as throwing back-to-back days or being on a pitch count.
Unfortunately
, his shoulder acted up again right before the Carolina League All Star break and he was shut down as a precaution.
Bryson's
scoreless outing on July 12 was his first action in 26 days. He's likely to be restricted to one inning at a time until the Indians feel like the shoulder is no longer an issue, which he is confident that day will be soon. I asked him how he feels now, and he replied, "I feel pretty good...to bounce back and have a successful outing was good. Its good to be back out there competing again, that's for sure."
As mentioned,
Bryson
is striking out nearly two batters per inning this year. I asked
Bryson
if he feels like he is a 'strikeout' pitcher, but he says that isn't necessarily his approach.
"I go right at people, if they put it in play and I throw less pitches, great," said Bryson. "Once I get to two strikes, my approach is that the hitter is going to have to hit a good pitch and I'll try to punch them out." He is not a guy who needs to nibble around the plate due to his overpowering stuff, as indicated by his low walk rate. "Everyone jokes with me about striking guys out, but its not my approach, it just works out that way," added Bryson.
Whether he tries to or not, Bryson strikes out more than his share of hitters, always something that major league GM's like to see in their bullpen guys.
Bryson's battery-mate in Lake County Chun Chen was called up to Kinston recently as well. As we saw in the Futures Game, Chen likes to sport a colorful catchers mitt. I asked Bryson if the bright blue model that Chun chose for Wendesay's game helped any, and he laugingly replied in the negative. "That's the first time as he didn't have that in Lake County."
Regardless of Chen's choice in glove, he and Bryson should continue to climb the minor league ladder together.
Right now, the Indians just want
Bryson
to finish out 2010 healthy. He has the stuff and the mentality to be a dominant back of the bullpen arm at the major league level if he can just stay on the mound. If he doesn't run into any more shoulder problems,
Bryson
has the talent to move up to Akron and even Columbus next year and will have a great opportunity to put himself in the mix for a bullpen slot in Cleveland.
Even with all the missed time due to injuries, Bryson is just 22 years old. If he can finish strong and healthy in 2010, he can really position himself for a strong push towards the top of the prospect ladder in 2011.
User Comments
No comments currently. Be the first to comment!