Captains Lead League At Halfway Point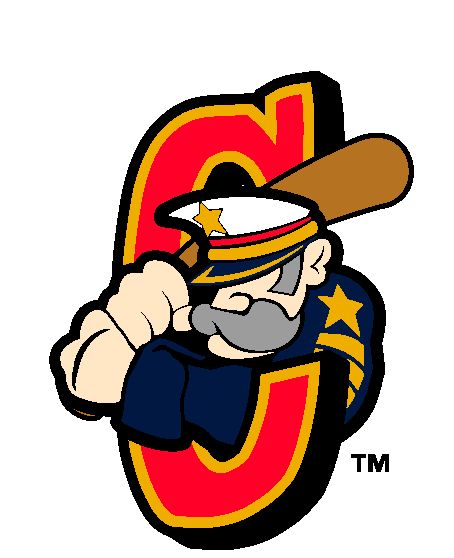 Yes, that's right, the first half of the Midwest League season has reached the halfway point. The Captains lead the Eastern Division with a 27-11 record, tied with the big league Tampa Bay Rays for the best record in all of professional baseball.
Just for a little clarification, the Midwest League divides its season into two halves of 70 games each. The Captains played their 38th game on Sunday, a 3-1 loss in Fort Wayne to the Tincaps. That loss ended Lake County's latest winning streak at five. Since Monday was an off-day, this is a good time to look back at the Captains' terrific start to their first season in the Midwest League.
Any discussion of the Captains starts with left fielder Bo Greenwell. Greenwell, the 21 year old son of former major leaguer Mike Greenwell, is having a breakout season and has become a fan favorite in Eastlake. So far this season he has done everything expected of him, leading the team in several categories including average (.333), OPS (.949), and home runs (4). Greenwell also hits in the clutch, is second on the team with 28 RBI and he has shown some speed stealing 8 bases while being caught 3 times. Bo has shown excellent fielding skills as well with only 1 error in 35 games played. Greenwell spent time in Lake County toward the end of the 2009 season and showed improvement as the season wore on. With his bloodlines, talent and poise everything has come together for him so far this season. He's having a season not seen in Lake County since Kevin Kouzmanoff in 2004.
While most of the attention has been focused on Greenwell, a few Captains batters have been pleasant surprises. Let's start with infielder Casey Frawley, a 22 year old out of Stetson University and the Indians' 17th round draft pick in 2009. While he has cooled off somewhat over the last few games, Frawley owns a .311 average and .867 OPS, good for third place on the team in both categories. Frawley is tied with 3B Jeremie Tice for the team lead in doubles with 11. He and catcher Chun Chen also lead the team with 3 triples. The versatile Frawley has also become valuable to Manager Ted Kubiak by being willing to able to play just about any position in the outfield and infield.
Right handed catcher Chun Chen, the first Taiwanese native to wear a Lake County uniform has also been a very pleasant surprise. Chen shares the catching duties with Roberto Perez and frequently DH's. Chen started out slowly, but has really come on in the last few weeks. On Monday the Midwest League named Chen its Batter of the Week, the first Lake County player to be honored which is surprising considering the Captains record and Greenwell's exploits. He played in six games last week batting .435 with 2 doubles, 3 triples, and smacked a home run all while scoring 4 times himself and driving in 5 runs. Quite a week for the 21 year old from Taiwan. Earlier in the season, a crew from Taiwan spent a few days at Classic Park producing a segment on Chen. If Chen keeps playing like this, they'll be back for a follow-up.
Catching has become an unexpected strength for the Captains. Roberto Perez, who briefly played in Eastlake at the end of last year, normally starts. Like Chun, he also serves as the DH when not catching. He's batting an OK .243 with a .782 OPS, 2 home runs and 12 RBI, all of which puts him in the middle of the pack in team statistics.
Kyle Smith, the shortstop from Cal Poly San Louis Obispo, started out strong, slumped a little a few weeks ago, but has bounced back in the last week. Since May 10, he's gone 7 for 16 and scored 2 runs, bringing his batting average back up to .277 with an OPS of .710. Despite committing six errors, Smith has played a pretty decent shortstop.
An area of concern in the offense remains a lack of power. As a team, the Captains have slugged just 22 home runs, which is 7th in the 16-team Midwest League. The problem is the Captains are not getting the power production expected out of the corner infielders. 3B Jeremie Tice, who missed much of 2009 with injuries, has only 3 homers, but does lead the team with 32 RBI.
First base has become the team's problem position, as neither Adam Abraham nor Ben Carlson are above the Mendoza line. They have combined for 3 dingers and 18 RBI's. Kubiak has also played Frawley and Australian born Jason Smit at first as well. OF Delvi Cid (.200 BA/.475 OPS) and 2B Argenis Martinez (.179 BA/.518 OPS) have also struggled at the plate.
As for starting pitching, the highlight has been the emergence of Trey Haley, the 19 year old right handed Texan. The Tribe drafted him in the second round in 2008 knowing that he was raw but very talented. He pitched in 19 games for the Captains last year, starting 16 of them, and he looked pretty raw in earning a 4-8 record and 5.56 ERA with 57 strikeouts and 65 walks. He had some problems earlier this season, but he has really started putting it together in the last 5 games. He's gone 3-0 in that period, pitching 28 2/3 innings giving up 7 earned runs. He now sports a 3-0 record, reducing his ERA to 3.67. He's struck out 30 batters in his 8 starts, while walking 17. Although he still has a long row to hoe, it looks like Haley may be the prospect the Indians thought he was.
The winning has also continued despite a series of quick roster moves. Starter Joe Gardner and relievers Rob Bryson and Chris Jones got the call to Kinston last week. Each of them were having an excellent season and Captains fans wish them the best. The bullpen replacements, right handed relievers Preston Guilmet (0-0, 0.00 ERA, 8 K, 0 BB, 4 IP) and Tyler Sturdevant (0-0, 0.00 ERA, 6 K, 3 BB, 3 IP) picked up where Bryson and Jones left off.
On a disappointing note, the Indians released former Captains closer Steve Smith from Kinston. Smith was a fan favorite last year and had an outstanding 2009 season in Lake County saving 26 games. Captains fan wish him the best.
The Captains have become a fun and exciting team to watch and they "never say die" as they've come from behind in 13 of their 27 victories. It all started in their first game of the year against the West Michigan Whitecaps where trailing 3-1 in the bottom of the ninth, they won the game when Roberto Perez double home Bo Greenwell in the bottom of the tenth. They also had dramatic comebacks against Great Lakes on April 30, battling back from a 6-0 deficit to win 10-7. On May 6, completing the suspended game of the previous night, the Captains took a 2-1 lead over Dayton in the bottom on a Ben Carlson RBI single, then watched as closer Cory Burns loaded the bases in the 9th with nobody out. Burns proceeded to strike out the next 3 batters to preserve the win. Burns leads the team with 12 saves. His delivery reminds old-time Indians fans of Louis Tiant and the results sometimes recall Bob Wickman. The Captains staged another terrific comeback on May 15. Trailing 6-3 going into the top of the 8th, the team scored 5 runs in the last 2 innings to beat the Tincaps, 8-6 highlighted by a Chun Chen triple and a home run by Jason Smit.
Right now, the Captains are firing on all cylinders. They personify why so many of us love minor league baseball---heart, drive, determination and they never give up.
User Comments
No comments currently. Be the first to comment!