Chisenhall Hurting, But Expected Back Soon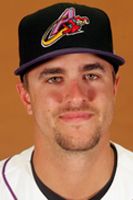 For those following the Double-A Akron team, one thing that has been noticeable the last couple weeks is how many games third baseman Lonnie Chisenhall has missed, and when he has played how he has only been in the lineup as the designated hitter.
Chisenhall has not played since Wednesday May 12th, and the last six games he has played have all been as the designated hitter as the last game he played at third base was over two weeks ago on May 2nd. He actually started to play some designated hitter on April 28th, and it is no surprise since then that he has struggled at the plate where he is hitting just 4-for-44 since then and has seen his batting average fall from .347 to .261.
Apparently, the reason for the struggles and why Chisenhall has been in and out of the lineup and limited to designated hitter duties is he has a small tear in his labrum/rotator cuff area. The exact specifics of the injury are unknown as he is still being evaluated, but this does help explain the mystery regarding his whereabouts the past week and why he has been limited in the field and at the plate.
On the positive side, Chisenhall is still active and on the Akron roster and has not been put on the disabled list. In addition to that the Indians expect him to be back in the lineup soon. So, with that known, the injury may not be too serious, but we will see in the coming days on whether or not that holds true.
User Comments
No comments currently. Be the first to comment!