Clip & Dirty: 5/19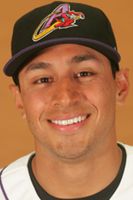 In a game similar to a Kerry Wood ERA calculation, it's time to get out the adding machines. The Clippers beat the Gwinnett Braves 12-9 at Coolray Field in Lawrenceville, GA. Yohan Pino picked up the W despite giving up 5 runs in only 5 innings. Almost the entire Clippers lineup got into the run-scoring action in yet another game with offensive fireworks from the potent Clippers lineup.
Team Pitching: 9(9) R(ER), 13H, 4BB, 6K, 66% strikes
Yohan Pino (3.94 FIP, 34.1 GB%, 7.6 K/9) could have pulled the ol' Satchel Paige and told the outfield to have a seat for the first eleven Gwinnett batters because after six straight groundball outs, Pino gave up a Home Run, two walks, a strike out and an infield lineout. However, Pino started to lose the plate and his effectiveness as he gave up another run in the third and three more in the 5th thanks to some walks, a double and a single. Still, one has to like the return of an eventually serviceable big-leaguer in exchange for Pavano
User Comments
No comments currently. Be the first to comment!