Coach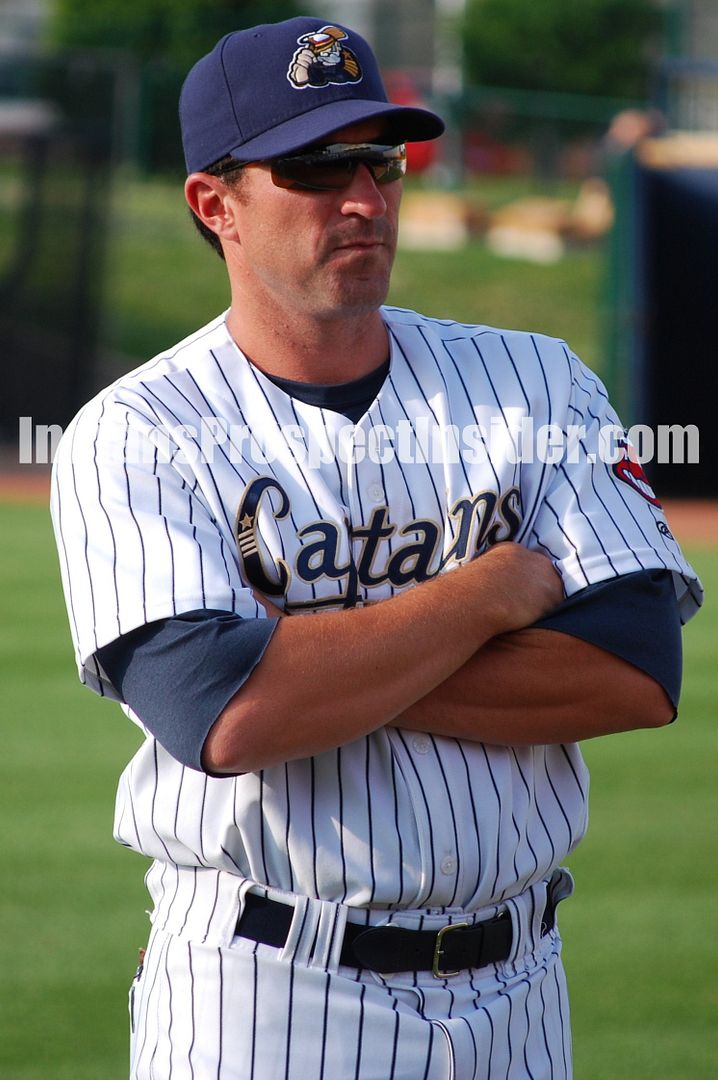 I recently had a chance to sit down with Low-A Lake County pitching coach Mickey Callaway and talk at length about some more of the pitchers on his roster. The
last time we spoke
, we concentrated on the starting rotation, so this time the focus was on the bullpen and all the new arms that have recently joined the Lake County staff.
On Preston Guilmet:
"He is looking really good. He throws his fastball for strikes and gets ahead with it. He has a slider-forkball that he bounces and they just swing at it. He is real deceptive from way up top and everything goes straight down and there is no side to side. The hitters do not see him well. He came here and was dominant so we are just letting him do what he does. We have talked a little bit about pitch selection as when he first got here he would throw first pitch fastball and then start bouncing stuff and then the hitters would pick that up and stop swinging. So we talked about maybe using the fastball a little bit more and bury the hitters late with his offspeed stuff. He is right at 88-90 MPH."
On Tyler Sturdevant:
"He has a fastball in the low to mid 90s and he is really locating opposite arm side down and away. That's been kind of his go to pitch as when he gets in trouble he starts throwing that pitch and really gets a lot of swings and misses and can get ahead with that pitch. He has shown a decent slider, and his velocity kind of makes his slider better. Definitely his fastball is his best pitch, he kind of throws everything off of it and it makes his offspeed pitches better. The main thing we are stressing is keeping the ball down consistently. He has a tendency with the way he throws to elevate the fastball a little bit too much, so we are just kind of stressing to keep the ball down."
On Brett Brach:
"He has unorthodox mechanics, so we really have to stay on top of him with finishing the pitch and getting out front with it. When he is pitching and making his pitches he is very effective and throws the ball really well. He has a real loose arm and is a good kid who does everything right with his work ethic. He turns a little bit, not quite as bad as Cory Burns, but he kind of over-rotates a little bit and it kind of adds to his deception. He is just a 90 MPH righty that can pitch, so it adds some deceptiveness to his delivery where if he was more of an ordinary guy who was tall-and-fall he'd be easier to see, so it adds to that deceptiveness which is what you are looking for."
On Vidal Nuno:
"His first outing he had some burns on his fingers, so he wasn't too effective. After that he has looked great. He mixes his pitches up and he can really pitch. He has four pitches and throws them all for strikes, and he has good fastball command especially inside to righties and it really helps him out. He is high 80s and can get it up to 91 MPH, and the older he gets he can maybe add a MPH or two. He is still a guy who is always going to have to make pitches as he is never going to be a mid 90s guy. He does have some deceptiveness to his ball as he hides it real well. When I was playing catch with him it was real hard to pick it up out of his hand as he throws it right out off his ear just over the top of his shoulder. So he has some deceptiveness and can throw the ball by some guys some times."
On Jeremy Johnson:
"He is another guy who throws 93-94 MPH. he has a decent slider and really attacks the zone. That's the main thing with these guys who have come out of extended as they have really come out and been aggressive and not scared of these hitters. He is a little older and more refined than a 19-year old would be. It is mostly just keeping the ball down and don't throw it thigh high. He has a sneaky fastball and as a shorter guy he creates good leverage for his size."
On Matt Packer:
"What happened was when he was in the pen he showed us four good pitches, so he has a chance to start being a lefty and is doing a great job. He can really pitch off his offspeed stuff a curveball, slider and changeup, and has a decent fastball with sink. He has a good arsenal to have as a starter. His changeup really has a lot of deception and depth to it as it really dives. If he can pitch off the changeup which is his main weapon and sneak the fastball in there and mix in the curve and slider he can do a good job. He has been up to 93 MPH, and sitting 90-91 MPH which is pretty good for a lefty. I think he is more of a guy who needs to locate as I don't see a lot of swing and misses because he is throwing a ball by a guy, he gets a lot of swing and misses on his offspeed stuff."
On Francisco Jimenez:
User Comments
No comments currently. Be the first to comment!