Cook looks to lead K-Tribe to Game 1 win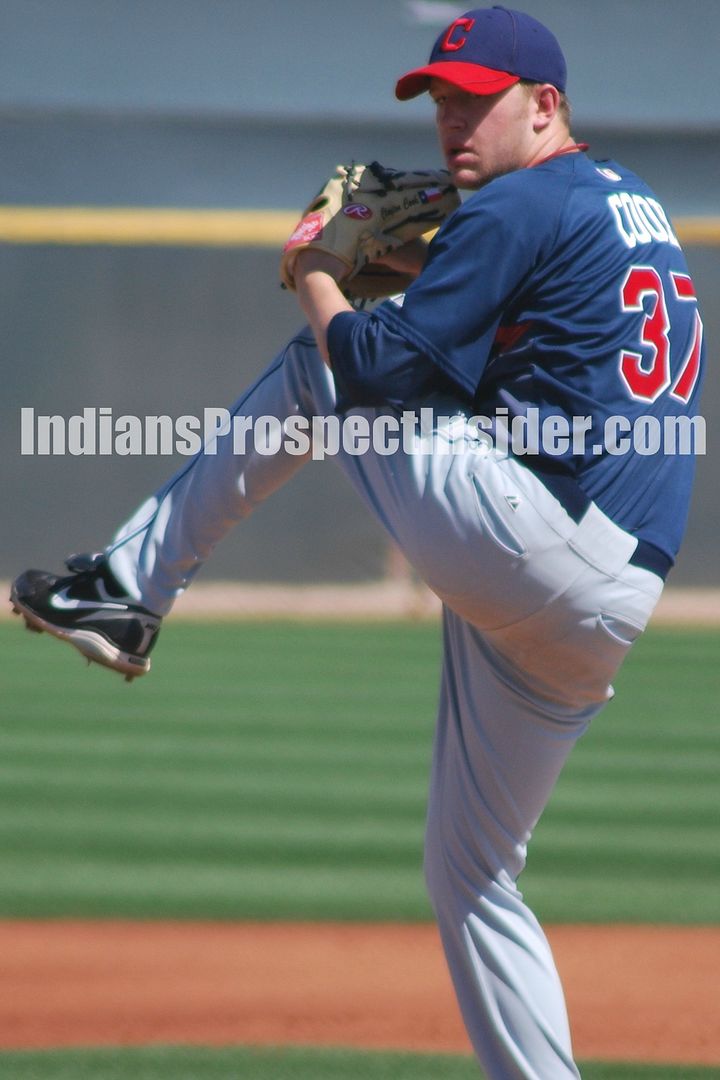 Clayton Cook (Photo: IPI)
The 2011 playoffs kick off tonight for most of the teams around Minor League Baseball. The Cleveland Indians have two teams in the postseason with Triple-A Columbus and High-A Kinston, both of which are in action on the road tonight.
Columbus will send right-handed pitcher Zach McAllister to the mound to face off against the Durham Bulls in Durham, NC, and about 200 miles southeast Kinston will send right-handed pitcher Clayton Cook to the mound against the Myrtle Beach Pelicans in Myrtle Beach, SC.
Cook, who just recently turned 21-years old, has been with Kinston all year and been a workhorse where in 25 starts he went 9-9 with a 4.56 ERA (122.1 IP, 124 H, 53 BB, 106 K). His overall numbers are greatly affected by three or four rough outings where the box score was not truly indicative of how he pitched.
For example, in his last outing on Friday night he did not make it out of the first inning as he allowed six runs on six hits and a walk. He was removed because he reached the organization's 35-pitch limit in an inning, but he was the victim of a lot of broken bat infield hits, a tight strike zone, and a double play ball that hit the umpire and went for a hit.
Indians personnel are high on Cook and believe he has the potential to be a Major League starter some day, and view him along the same lines as right-hander Jeanmar Gomez when he was at this stage and pitching for Kinston back in 2008.
Cook is satisfied with his performance this year, though is disappointed some with the blow ups he had from time to time. Being more consistent outing to outing is something he is really focused on going forward.
"I definitely had some ups and downs this year," Cook said in an interview over the weekend in Woodbridge, VA. "My season started off pretty good, and aside from a couple of blow ups this year the numbers are pretty good. Obviously the overall numbers are not very good compared to what I have done in the past, but the stuff is there as at times I have shown three plus pitches and my velocity is way up. All my stuff is there, it is just a matter of being consistent every time out there and putting it all together."
Cook throws both a two-seam and four-seam fastball and complements the fastball with a curveball and changeup. In the past he has sat more at 90-91 MPH with his fastball and touched 93 MPH, but this year he has seen a spike in his velocity where he is now consistently sitting 92-93 MPH and earlier in the year touched 95 and 96 MPH a few times.
The significant jump in Cook's velocity is the result of him maturing as a pitcher where he is getting stronger and more refined with his mechanics. It is also the result of some mechanical changes to his delivery this year where Kinston pitching coach Mickey Callaway has gotten Cook away from his tall and fall approach to incorporate his legs more into his delivery which has resulted in more power and taken some pressure off of his arm.
"My mechanics are a lot different," Cook said. "I don't know how much you can tell by watching, but Mickey and I have worked on using my legs a lot more. It feels like a huge difference and is something I am still adjusting to. Now I am going out there with the same mechanics and same effort level every single outing. My arm has felt a lot better from using my legs, so as soon as I get more consistent with that it will be good."
Cook's bread and butter pitch is his curveball which has developed into a plus offering for him, and his changeup has also improved where it has flashed plus ability at times. The pitches are there, now it is just about developing more consistency with his pitch mix, commanding his fastball, and sharpening up his secondary offerings.
"My two-seamer is still a work in progress as I get good movement with it but just need to command it better," Cook said. "The four-seamer I have kind of lost a little command of it as I have walked more guys with it, but when it is on it is good and I usually spot it well. My curveball is my out pitch and my best pitch where I have been able to rack up some strikeouts with it. The changeup has been pretty good and plus at times and I have been able to get some strikeouts with it as well. It is just a matter of putting it all together."
This is Cook's fourth year in the organization since being drafted out of high school in the 9th round of the 2008 Draft, and he is finishing up his second season playing for a full season affiliate. Increasing his strength and endurance has been another goal for him this season, and he has done a very good job with his conditioning and weight training all season which in turn has allowed him to stay strong until the end of the season.
"I feel good physically and I am holding up well," Cook said. "I think my preparation has been very good all year and I have taken care of business off the field. I have been working hard in the weight room and with conditioning, so I think that transitions and at the end of the season my body feels good. It is just about the mental part of getting out there and staying sharp mentally every start and having your focus where it needs to be."
Whenever Kinston's season ends Cook will go out to Arizona and participate in the Indians' Fall Development League program. It runs along with the Fall Instructional League but is different as it runs just two weeks. He will have the entire player development staff on hand to watch him pitch a few games and work on some things before sending him home with a plan for the offseason.
Overall, while the numbers could have been better Cook is pretty satisfied with what he has been able to achieve this season.
"Stuff-wise I couldn't be happier where my stuff is; it is just a matter of consistency," Cook said. "The consistency is the one thing I am not content with and the one thing I am not happy about with this season. I just need to be more consistent from start one to start 30 or whatever and go out there and keep my team in the game and throw strikes and just battle. I need to make the adjustments when I need to and stay consistent with my routines, and everything should fall into place. I am only 21-years old, so you want to give it time and more seasoning as my body is still developing. I am not too worried about it, but hopefully I make some strides next year with it."
Cook and his teammates hope that consistency shows itself tonight in a Game 1 win for them.
Follow Tony and the Indians Prospect Insider on Twitter @TonyIPI. Also, his latest book the 2011 Cleveland Indians Top 100 Prospects & More is available for purchase for $20.95 to customers in the US (shipping and handling extra). Use discount code 2Z6F362B to receive 40% off the book through the site store!
User Comments
No comments currently. Be the first to comment!