Corey Kluber' excellence and his slider
In the midst of an eight-game losing streak that resurrected memories of the Cleveland Indians' 2011 campaign, the pitcher taking the mound on June 11th, 2013 against the Texas Rangers in Arlington was no one's idea of a stopper.
Yet Corey Kluber, who entered 2013 with only 67.1 major league innings and no blue-chip prospect status to fall back on, began to establish himself as a rock of the Indians rotation, earning a much-needed win with one earned run over eight innings. Kluber's next start confirmed this status, in a 2-0 win against Stephen Strasburg and the Washington Nationals, in which Kluber threw eight electric shutout innings, with eight strikeouts and no walks.
On a team that saw extreme archetypal redemption tales in Ubaldo Jimenez and Scott Kazmir, Kluber's own unlikely ascent is remarkable in its own right.
When the Indians traded Jake Westbrook to the St. Louis Cardinals in a three-way trade that sent Kluber from San Diego to Cleveland at the 2010 Trade Deadline, there was no expectation among most scouts that Kluber, a 24-year-old Double-A pitcher, was likely to contribute anything more than limited value to a major league club. As recently as April 2013, Kluber's role was limited to that of a bullpen arm and spot starter, yet after his first seven 2013 starts in which he posted genuinely impressive numbers, with 35 strikeouts and 8 walks in 38.1 IP, no skepticism about the 27-year-old right-hander's career arc could deprive him of a spot in the rotation.
Fundamental in Kluber's nascent success was the marked improvement of his slider, a pitch that, more than any other, would prove to be a bellwether for Kluber's 2013 effectiveness. This improvement began with control. In 2012, Kluber's slider was called for a ball 40 percent of the time it was offered. Comparatively, in 2013, Kluber brought that rate down to 30 percent, making the pitch a consistent threat not only as a formidable chase pitch, but also as a weapon to consistently attack the strike zone.
Yet not only did he improve his breaking ball's control, Kluber's slider had more break to it than in prior years, trading off slightly less velocity for a much sharper two-plane. The increased effectiveness of his slider, together with a 93 MPH sinker, a fading changeup, and renewed control allowed Kluber to mount his stunning breakout campaign.
While Corey Kluber's climb from fringe to mainstay is a captivating storyline, to emphasize the underdog angle actually undersells the full scope of what Kluber accomplished. Kluber's 2013 walk rate in 143.2 innings was the lowest in his professional career (2.02 BB/9), a rate that was 20th-best among all major league pitchers with 100+ IP. Additionally, among that same group, Kluber ended 28th-best in strikeout rate (8.31 K/9), and his strikeout-to-walk ratio ranked 11th (4.12 K/BB), directly behind Max Scherzer and ahead of Cole Hamels, John Lackey, and Yu Darvish.
Given how fickle defense can be – a fact all too vivid for Indians fans who endured Mark Reynolds at the hot corner – Kluber's stats did not match his strikeout-to-walk dominance, ending the season with an above average but hardly elite 3.85 ERA.
Yet precisely because defense can be so unpredictable, certain statistics, like Fielding Independent Pitching (FIP) or Expected Fielding Independent Pitching (xFIP) ignore defense entirely, focusing solely on the so-called Three True Outcomes: strikeouts, walks, and home runs. Since they eliminate those events most out of a pitcher's control, FIP and xFIP are two of the most effective statistics at predicting future performance, and among pitchers with 100+ IP, Kluber ranked 28th and 12th in FIP and xFIP, respectively.
None of this means that Kluber is now or will be an ace, but in certain critical statistics, the fact remains that Corey Kluber's 2013 campaign was genuinely elite. Looking forward, he has the stuff, command, and a profile that suggests he could be extremely effective in 2014, but even more pressing than whether Kluber can repeat is the question of whether his slider can regain its potency.
Having missed almost the entire month of August with a middle finger injury, Corey Kluber had a reasonably effective outing against the New York Mets upon his September 7th return – 5 IP, 5 K, 1 BB, 2 ER. Yet while Kluber's velocity returned in full force, he nevertheless posted a season-worst 2.49 BB/9 and 7.11 K/9 rates en route to a 5.33 ERA for the month of September. Far more concerning than his September statistics, however, was the sharply diminished horizontal break of his slider, illustrated in the graphic below: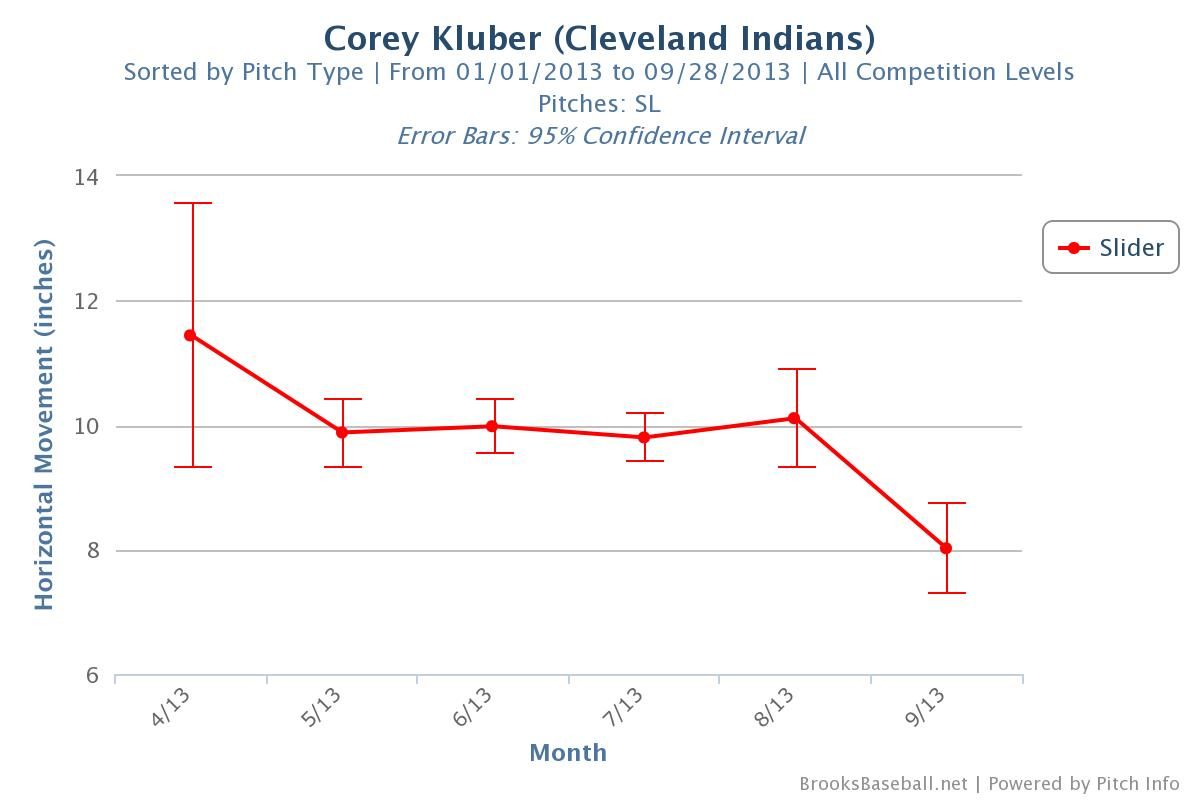 Courtesy of BrooksBaseball.net
Prior to the finger injury, the slider induced swinging strikes on 22% of its offerings; after the injury, Kluber's breaking ball induced swinging strikes only 13% of the time. That his most effective out pitch suddenly lost its effectiveness was almost certainly a prime mover in Kluber's ineffective month of September. In turn, since the finger injury was probably responsible for his ineffective slider, one can conclude that it was the nagging discomfort of the finger injury that caused Kluber's uninspiring September campaign.
This conclusion, on one hand, lends itself to optimism; Kluber's general location issues and particular slider issues in September would be solely because of injury. When he's fully rested, these issues will disappear like any other kind of winter rust a pitcher might shake off at Spring Training. Zach McAllister, after all, did recover from a very similar middle finger injury in 2013, and he returned at full effectiveness for the second half of the season.
That said, pessimism is almost ingrained in the Cleveland fan psyche, and there's certainly a pessimistic viewpoint; finger injuries can derail careers, as was the case with former Indians prospect Adam Miller. While there are major distinctions between the two situations – namely, that Miller's first finger injury required surgery, whereas Kluber's did not – memories of the former top prospect will surely surface any time a Cleveland pitcher suffers a finger injury that results in hindered production.
Realistically, the most likely forecast for Kluber is that the finger injury was just a blip but that improvement will be very hard to come by for someone who performed as well as Kluber in 2013. If he even sustains his 2013 performance, the Indians may have an extremely dominant top of the rotation in Justin Masterson, Danny Salazar, and Kluber.
One shouldn't sleep on the Stetson University alumnus, however; as evidenced by his extraordinary rise from afterthought to rotation staple, Kluber is no novice at shocking the baseball world.
John can be reached on Twitter at @JHGrimm. He can also be reached by e-mail at john.h.grimm@hotmail.com.
User Comments
Themaven
January 16, 2014 - 4:49 PM EST
Kluber and McAllister are an interesting duo,in that the Indians pitching hierarchy essentially changed then into each other.

Kluber came here throwing four seamers and curves for decent minor league K totals and McAllister was a sinker/slider pitcher who got a lot of ground balls,when he arrived.

After tinkering, Kluber now features the two seamer/slider and McAllister is pumping four seamers and breaking off curves, both with quite a bit of success.

To be further linked with the same injury to the same finger in the same season is downright eerie.
Or tied to the new pitches and the way they were taught to throw them.

Hermie13
January 16, 2014 - 10:25 AM EST
@William

Looking at his numbers from last year...I think calling him a middle of the rotation guy is vastly underselling him.....guy may have been our best pitcher last year.
BritDawg
January 16, 2014 - 6:59 AM EST
Excellent analysis, thanks John.
Hiram
January 16, 2014 - 12:33 AM EST
Adam Miller, Alex White, Kluber, and McCallister.. the Indians teach bad mechanics that ruin fingers
William
January 15, 2014 - 9:47 PM EST
Very nice opening salvo John! You just convinced me that Kluber can in fact be a middle of the rotation rock for the Indians if he can stay healthy.