Declining plate discipline is sinking Cabrera in 2013
A deep look at the numbers shows plate discipline, curveballs hurting shortstop
The idea of Asdrubal Cabrera batting cleanup would have been a perfectly good one two years ago when the shortstop hit 25 home runs and owned a 119 weighted runs created plus (wRC+). In fact, it would have worked last year when Cabrera's home runs dipped to 16 but his wRC+ stayed solid at 113.
This year, however, Cabrera's .293 on-base percentage, 93 wRC+, and general defensive deficiencies have him looking more like a replacement-level player than an All-Star. What happened, you ask?
His plate discipline disappeared.
Now, be warned that this post is going to skew heavily toward the numbers. So get out now if you want. Actually no, don't. *locks door* Well, looks like you're all staying here with me. Onward then.
After striking out around 17 percent of the time in 2011 and 2012, Cabrera's strikeout rate has jumped to 22 percent in 2013. Paired with his walk rate falling below six percent, the shortstop just is not taking the same approach to the plate as he did when he was turning heads in 2011 and 2012.
The proof of Cabrera's change of approach lies in his PITCHf/x plate discipline numbers, which are below (data courtesy of Fangraphs).
| | | | | | | | |
| --- | --- | --- | --- | --- | --- | --- | --- |
| Season | O-Swing% | Z-Swing% | Swing% | O-Contact% | Z-Contact% | Contact% | Zone% |
| 2011 | 28.9% | 65.1% | 47.3% | 68.5% | 90.4% | 83.8% | 50.8% |
| 2012 | 27.7% | 68.1% | 47.8% | 69.8% | 89.8% | 84.0% | 49.8% |
| 2013 | 31.2% | 64.4% | 47.4% | 63.1% | 86.5% | 78.6% | 48.8% |
| Avg. | 30.7% | 65.4% | 46.3% | 66.8% | 87.1% | 79.7% | 45.0% |
Don't worry about getting caught up in that table; I'm going to break it down for you.
A quick look at Cabrera's swing rate (Swing%) shows that he is swinging the bat at the same rate as the past two years. What that is masking is Cabrera making increasingly bad choices.
I cannot prove it for certain, but the declining rate of pitches Cabrera has seen in the strike zone (Zone%) indicates that pitchers are being more careful with the shortstop. And why wouldn't they? Cabrera showed in recent years that he can take pitchers deep and make them pay for making mistakes.
So, pitchers adjusted to Cabrera's increased offensive ability. What Cabrera has not done is adjust to that adjustment.
Back when pitchers were not afraid of Cabrera, they simply poured strikes into the zone against him. While pitchers still throw Cabrera a fairly high number of strikes, that number is decreasing. A decreasing number of strikes should lead to a fewer number of swings, but instead, Cabrera just started chasing more pitches out of the zone.
After showing an ability to lay off pitches outside of the zone throughout his entire career, Cabrera is now swinging at them at a higher rate than the league average (O-Swing%). Pitches outside of the zone are naturally harder to hit and drive, which begins to explain Cabrera's dropping power, rising strikeouts, and declining walks.
Even worse, Cabrera's ability to make contact with those pitches (O-Contact%) also plummeted. So Cabrera is swinging at more pitches that would be called balls and is missing them more often.
Adding to that, Cabrera's ability to pull the trigger on pitches in the zone (Z-Swing%) has gone down. The shortstop traded swings on pitches inside of the zone for ones on pitches outside of the zone in 2013 and has had trouble making contact even on pitches in the zone (Z-Contact%).
So, to sum up that table, Cabrera's contact rate (Contact%) is falling because (a) he is chasing pitches out of the zone he cannot hit and (b) he is not hitting the pitches he swings at in the zone.
All of which adds up to a reduced level of hitting.
As to the root of Cabrera's plate discipline issues, a quick look at his Texas Leaguers pages from 2011, 2012, and 2013 yields an interesting observation. Yes, Cabrera is swinging and missing more at opposing fastballs and sliders, but his numbers against curveballs have just fallen apart.
Opposing pitchers upped the number of curveballs thrown to Cabrera from 9.8 percent to 12.1 percent, and the results have followed. Cabrera is swinging at fewer curveballs (44.4 Swing% in 2011 and 2012, 35.7 Swing% in 2013), but he is missing much more often. The shortstop has swung and missed at 15.4 percent of curveballs in 2013 (compared to 9.25 percent in 2011 and 2012) and has only put a curveball in play 7.7 percent of the time (compared to 16.4 percent in 2011 and 2012).
Those swings and misses are natural on curveballs -- how many times have we all seen a batter whiff on a curve buried in the dirt -- but Cabrera has gotten much worse this year, especially at curveballs toward the third-base side. Here are the curveballs the shortstop swung at in 2011: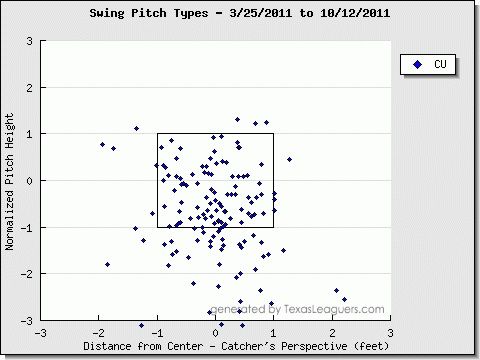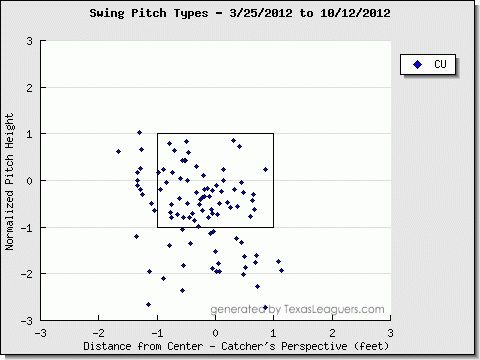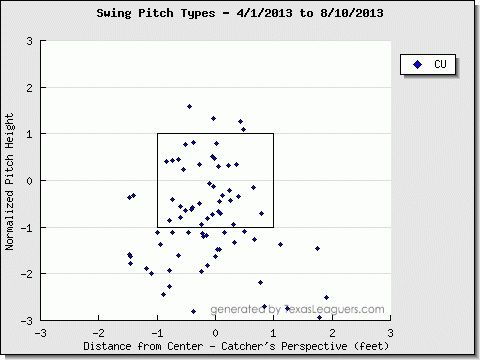 (Photos courtesy of Texas Leaguers)
He is swinging at curveballs well below the zone much more frequently this year than in 2011 and 2012, plus 2013 is not even over yet.
A high number of those whiffs are coming against left-handers and go a long way toward explaining Cabrera's .235/.2768/.357 line and 71 wRC+ against them this year. Cabrera has been much better and shown more power against right-handers (.243/.305/.420 line, 103 wRC+), but left-handers are clearly giving him trouble on curveballs down and in.
If you're more into visuals, here is Cabrera swinging and missing at a Jose Quintana curveball down and in from April 12 (at 0:14).
Despite all of this, Cabrera still hits better than the average shortstop. Shortstops own a 85 wRC+ in 2013, meaning that Cabrera is adding value with his bat. But he clearly is not adding enough anymore.
As much as people complain about defensive metrics, they are pretty accurate all things considered. Given that Cabrera is significantly below-average at shortstop by Ultimate Zone Rating (Fangraphs' defensive metric) and roughly average by Defensive Runs Saved (Baseball-Reference's defensive metric), at worst Cabrera is giving away a little bit of value when he is out at shortstop.
That was not a problem in 2011 and 2012 when Cabrera was hitting. It is a problem now that he isn't.
Cabrera still has value as a starter but it is not nearly as much as it was in the past. With the way Francisco Lindor is charging through the system, Mike Aviles under contract to bridge the gap, and Cabrera's escalating salary ($10 million in 2014), a trade of Cabrera in the offseason might be the best play.
For now, though, Cleveland just needs to hope that Cabrera starts swinging at pitches he can hit and leaving ones he can't alone.
And, until he does, that he gets out of the cleanup spot.
If you want to follow Jim on Twitter, he's @JimPiascik. If you want to e-mail him, you can do so at jpiasci1@gmail.com. If you want to read his Master's thesis on college athletes and Twitter, you can do so here.
User Comments
Tony
August 12, 2013 - 10:30 AM EDT
Images fixed........
Ron
August 12, 2013 - 10:24 AM EDT
His numbers vs LHP are down dramatically this year too.
Ron
August 12, 2013 - 10:21 AM EDT
With Cabrera's hitting now affecting his defense it is well past the time to move him out of 4th in the lineup. Let's hope Francona has the brains to do it.
Tony
August 12, 2013 - 10:09 AM EDT
At this point the Indians may be stuck with Cabrera unless they throw in some cash in a deal for him. Would simply be a salary dump with little impact coming back. They may be better off keeping him and paying him the $10 million in the hopes he has a big season in his free agent year. If he struggles, then simply DFA him and be done with him and move on to Aviles....or Lindor if he is deemed ready by then.
Rich
August 12, 2013 - 8:32 AM EDT
Do you really think that Cabrera is going to be worth $10 million next year to anybody the way he's playing now? Forget about a trade, would anybody take on that contract?

I saw the game yesterday. Two out, bases loaded, Tribe down 2-0 in the 2nd inning and Trout hits a ground ball up the middle that Cabrera just waved at. If he dove there was a realistic chance he could have come up with the ball or at least knocked it down and saved the second run from scoring. It was a lackadaisical effort. It makes me wonder if he's hurting and didn't want to throw himself to the ground.

Anyway, nice analysis. Cabrera is programmed to hit, and he has not been able to accept taking walks the way Santana has. His insistence on getting his swings whether the pitch is in the zone or not is hurting the team. The fact that his contact percentage is down even on pitches in the zone is disturbing.

Another problem is that Cabrera has always lacked range, but at least he made spectacular plays on balls he could get to. Now he's fumbling balls hit right at him.
Jim Piascik
August 11, 2013 - 9:14 PM EDT
Welp, looks like my beautiful pictures disappeared.

Here's 2011:
https://docs.google.com/file/d/0B5yQEUc9cJO7M19nWUNxcnVVNEE/edit?usp=sharing

2012:
https://docs.google.com/file/d/0B5yQEUc9cJO7QkI3d1VUc29zdk0/edit?usp=sharing

and 2013:
https://docs.google.com/file/d/0B5yQEUc9cJO7TDJUQlphd0cyQTQ/edit?usp=sharing

As for Cabrera's value, I have to imagine that it is falling now, but that he will still bring a good return in a trade. There are so few real shortstops that even at his diminished state, he is worth quite a bit. I have no idea what a trade would look like, but I imagine it would bring back an interesting package.
Joe Chengery
August 11, 2013 - 6:35 PM EDT
I know I was one who advocated for trading Cabrera before the deadline because I was convinced that the "dropoff" to Aviles would be marginal, if any. Chances are, Aviles has actually been better in 2013. I surmise the Indians didn't want to upset the team and the lineup than to trade one of the established veterans on the team during a pennant race, hence why they kept him past the deadline, as it seemed there was considerable chatter and a legitimate possibility and opportunity to trade him.

The question is, how much value does Cabrera have left this offseason, especially if he doesn't turn it around ( and recent evidence in 2013 and his falloffs in 2012 and even 2011 seem to point to Cabrera continuing to falter)? It's bad enough that Cabrera hasn't figured out the proper adjustment to counter this decline in production, but then when he starts getting frustrated and not diving for balls that it sounds like he had legitimate chances of making a play on, that could scare teams off from offering much to anything for him because it would signify that it's not just a physical dropoff in play, but also a dropoff in his mental approach and coaching. Admittedly, I missed the game on Sunday, so I'm not sure if the description is accurate on Cabrera not diving for a ball it seemed he could have reached, then arguing with the umpire twice before he got thrown out, but that's not a good sign, and probably doesn't increase the perception other teams have for him.

For instance, would the Cardinals still trade a Carlos Martinez or a Michael Wacha for him? Cabrera would still be a decent upgrade over Kozma because Kozma's production is not good, but add in the perceived difficulties on the field physically and mentally, and it will probably make teams think twice about trading for Cabrera.

The one thing that might serve Cabrera by being traded to an NL team: Correct me if I'm wrong, but it seems the NL is still more apt to throw more fastballs in perceived fastball counts than in the AL. As a result, Cabrera could perhaps regain some of his lost production because curveballs, as you pointed out, are giving him the most trouble, and he might not see as many, at least at first, in the NL. How much this increases his value to an NL team, such as the Cardinals, if any, I'm not sure.

I just hope Cabrera can regain some value before the end of the season, both for his sake and the Indians' sake, both 2013 and beyond. Moving him out of the cleanup spot would probably help at this point. I just wish Francona was more open to the idea and willing to use Santana or Brantley there, both of whom would seem to be a better fit in my opinion.