Defense Is Thompson's Hallmark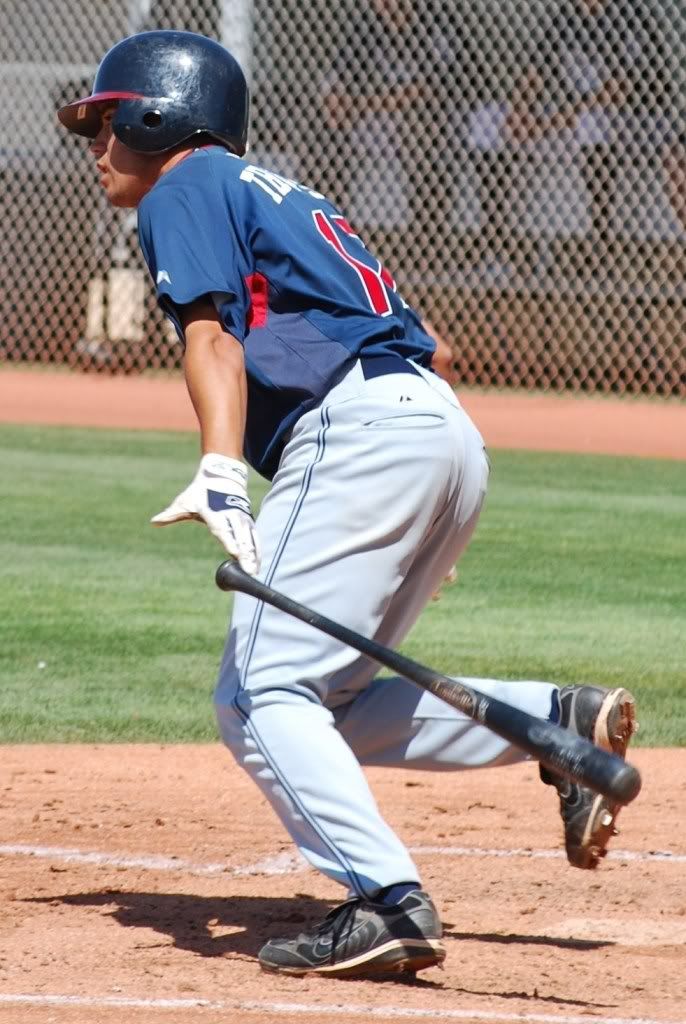 For Lake County shortstop Mark Thompson, coming back is not so bad.
Thompson, 24, just started up his second season about a week ago with the Indians Single-A affiliate in Lake County, and while it may have been a surprise to some to see him return there to start this season, he is taking it in stride and happy to be a part of the team.
"Nothing surprises me, it is baseball," said Thompson in an interview at Classic Park on Wednesday. "Either way you are going to play. You have to play and do what you do. It doesn't matter if it is that field or this field, you still gotta do the same thing somewhere."
Thompson had a rough go of it his first time at Lake County as he hit .236 with 5 HR, 46 RBI, 19 stolen bases and put up a .655 OPS in 121 games for the Captains in 2008. So far this season he is hitting .219 with 0 HR, 3 RBI and a .579 OPS in eight games.
While his overall numbers last year were not very impressive, it is some of the things he did in the second half of the season that were encouraging signs that he may be starting to turn things around offensively. After hitting just .177 with 2 HR, 20 RBI and a .543 OPS at the All Star break, he hit a much better .281 with 3 HR, 26 RBI and had a .741 OPS after the break and he hit .310 from August 1st to the end of the season.
Coming into this season, Thompson wants to be a little more consistent at the plate and not bury himself in a hole like the one he put himself in last season.
"I am just trying to be more consistent with what I do," said Thompson. "Last year I started out a little rough the first half, and I had a good second half. So I am trying to be a little more consistent with what I am doing out there. Mainly I am just trying to stay with what I do best, which is try to handle the bat, keep balls on the line, and have some hard hit ground balls. Just try to stay out of the air."
Hitting is not Thompson's strong suit, and likely never will be. His hallmark as a player is his exceptional defense, and even though he has some struggles offensively there is a place in this game for players who are all field and no hit. Just ask former Indians infielder John McDonald about that.
Thompson may be the best fielding middle infielder in the entire Indians farm system. There actually have been some comparisons by club officials and scouts to John McDonald, and they are definitely there with the run through a wall play style, extraordinary defense, strong arm, and that questionable bat.
The scary thing is this is just Thompson's third season playing shortstop. In college at Lewis-Clark State (ID) he played outfield through his junior year, and played some second base his junior year as well. The first time he was a regular starter at shortstop was his senior season in 2007. He has learned quickly over the course of the past three seasons showing natural abilities and instincts at the position during the transition from the outfield to the infield, and is still adapting and learning
"The outfield was fun, but it was very boring to me," said Thompson. "In the infield I am involved with every pitch and every situation. I like it so much better as I am thinking about the game. I am ready for anything and it just seems like I am more on my toes and it is more my style of playing. Some of the hard things are positioning, knowing your third baseman, knowing your second baseman and trying to communicate with your pitcher and knowing when to go to the mound. What ball is a third baseman supposed to take and on a double play ball who is supposed to take the bag, things like that."
There are a cast of new faces up and down the Lake County lineup, and being that it is his second year with the Captains and because of the position he plays, Thompson will be looked to in a leadership role this season. Of course, that could change quickly as when a need for an infielder at advanced Single-A Kinston arises he would be one of the top candidates to move up.
Whether or not Thompson makes it to Kinston sometime this season or he stays in Lake County all year he will continue to stay focused and be a team player.
"Hopefully [near the end of the season] we are in the playoff race and still competing where every at bat is worth something," smiled Thompson. "That would be my mail goal as a team and as a player."
User Comments
No comments currently. Be the first to comment!