Diamonds in Single A: Bryan Price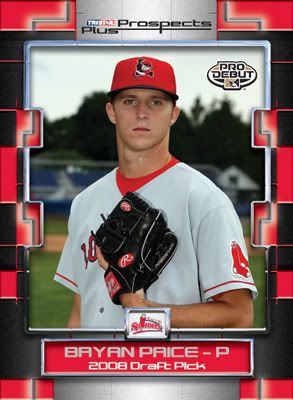 Welcome back for another Diamonds in Single A article. For the next few weeks this space will be focusing on all of the players the Indians have acquired in trades this year. Last week we focused on the first new young arm, Connor Graham. This week we will focus on the least talked about pitcher from the deals – Bryan Price. Unlike the rest of the new arms, Price was not the feature piece in his trade so he has not been talked about as much. Thus, it seemed only fair to put the spotlight on him this week.
Price was a first round pick of the Red Sox last year out of Rice. He was selected in the supplemental round, picked 45th overall. He was a closer for Rice in college, but the Red Sox decided to make him a starter. He didn't pitch a ton of innings in college since he worked from the pen and had very little mileage on his arm. He has a ¾ delivery and features a fastball and a slider, which is his out pitch. He is working on a change up but it's still a work in progress. He throws both a four seam and a two seam fastball. The four seam has higher speeds, but the two seam seems to have better movement. His four seam fastball sits in the mid 90's, but when Price has worked in the pen his fastball has hit the high 90's. This has caused some debate as to whether or not the pen is where his future should lie. His two seam fastball sits in the low 90's but as noted has shown good movement away from hitters. The slider gives him a nice change of pace and sits in the mid 80's, giving good separation from his fastball. The change is a bit all over the place and still needs work in terms of consistency.
Year Level WHIP SO/9 BB/9 ERA H/9 HR/9 SO/BB BABIP
2008 A_SS 1.43 9.7 2.2 3.82 10.6 .4 4.3 .394
2009 A-/A+ 1.35 9.1 2.9 4.67 9.2 .6 3.13 .294/.390
This week I have added a new stat, BABIP. It stands for batting average of balls put into play. It's a great stat to explain a pitcher's sudden turn around when there seems to be no reason for the change. It's the red flag stat for a pitcher whose rates are too high or too low. If a rate is too extreme it is impossible to maintain and tends to balance out. The typical BABIP is 290. You should also note that I split the data from his two levels of pitching because composite data doesn't work as well with BABIP. I added this because I wanted to show that Price's hit rate is awful but also seems to be partially thanks to bad luck. He could be the rare pitcher who has a very high BABIP, but the odds of that are very low. In spite of a high hit rate, Price's WHIP's have still been solid. So once his hit rate balances out, his WHIP should become great. His walk rates are solid for a young pitcher, and by all scouting reports Price has shown very good command. This is very encouraging because, as always, control seems to be the major issue in younger pitchers.
His stats also show how ERA can be very deceiving. In many ways his numbers have stayed even, and yet his ERA has jumped. His WHIP has gotten noticeably smaller, but just as noticeably his ERA jumped. This is another indicator that his BABIP will drop along with his hit rate as the year goes on. The rest of his stats show he should have more of a mid 3 ERA, and I expect by the end of the year he will be closer to 3 then 5.
Going forward there will be talk about what is the right move for Price: should he move back to the pen where he pitched in college? Or will his pitches develop and allow him to stay in the rotation? In my non expert opinion, I see him as a starter down the road. His change up may only be making slow progress, but it's progress all the same. It doesn't need to be a dominant pitch, just something to help set up his fastball. He should be a middle of the rotation type of starter with number 2 potential. Going forward I am curious to see how his numbers balance. Price is another young fireballer who should help this team in a few years.
User Comments
No comments currently. Be the first to comment!