Director's Cuts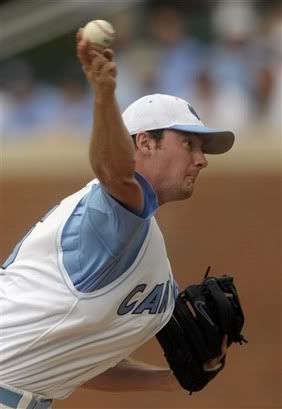 Indians Director of Amateur Scouting Brad Grant had the following to say about 1st round RHP Alex White, 2nd round OF/2B Jason Kipnis, and 3rd round RHP Joe Gardner:
On Alex White:
"He has a plus fastball up to 96 MPH with heavy life. He features two different secondary pitches, a split which is a late swing-and-miss type pitch and a slider that is a swing-and–miss type pitch as well. He has very good size at 6'2" 235 pounds. He has been one of our targets since the beginning of the season and he was the top talent left up on the board at that point in time. He was a guy who once he pitched his senior year in high school he had the power stuff we liked with a power sinker, power fastball, and power slider, and he is just a very athletic, intelligent kid. He was a guy that we have known since high school, and our area scout Bob Mayer has known him since high school. He is a guy we had interest in when he was in high school but were unable to draft him, but watched him for the last three years in North Carolina. He is an intelligent kid who is very grounded and very strong in his values. He has added a split to his repertoire now, as in high school he was a power sinker-slider guy. We are going to likely project him out as a power backend bullpen arm. He is a plus-plus makeup guy. Our development path with the innings he has right now at North Carolina, we will probably slow-play it once we do get him signed, but we will begin the transition to the bullpen probably next year. We took him with the intention of signing him."
On Jason Kipnis:
"He was our second round draft pick this year, and he is a left-handed centerfielder at the University Arizona State. He is a very athletic player with advanced ability to hit. I think he is going to hit with power as well, he has the ability to play center field and play the other corner positions as well. We feel we have added a very athletic bat through the draft, and we see him as an everyday centerfielder with the ability to play all three outfield positions. It is an advanced college bat, and is a guy we followed the last three years. He is a guy who gets on base a lot and doesn't strikeout. He has a very good, disciplined approach at the plate. He has more hitting than power, but we also feel like he has a chance to hit with power. He is a guy who was sophomore eligible last year that we had targeted and lost him in the draft. Fortunately he came back through the draft again this year and he was a guy we had targeted since the beginning of the season and we are happy we were able to acquire him."
On Joe Gardner:
"He is a big 6'5" 225-pound right-hander. He has a sinker-slider mix with a feel for a changeup. He is from the University of Cal-Santa Barbara. Ultimately he does have a three pitch mix with solid strike throwing ability, so if it does not work out in a starting role we have a power backend sinker-slider bullpen arm. He is a big physical player. We got another power arm that we are going to be able to send out there and add to our depth at the pitching position. We have followed him since junior college two years ago, and then we followed him the last two years at Cal-Santa Barbara as well."
User Comments
No comments currently. Be the first to comment!