Dissecting the Cliff Lee Deals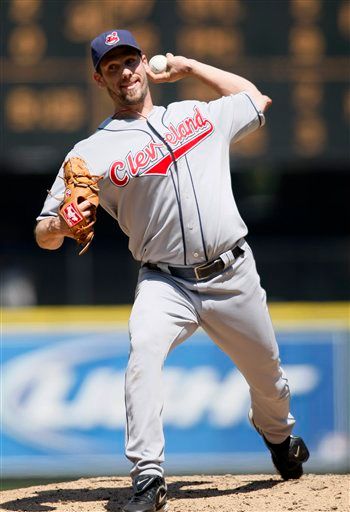 Cliff Lee has had an interesting career to say the least. Dealt to the Indians as part of the
Bartolo
Colon blockbuster in June of 2002, Lee had a roller-coaster career in Cleveland.
After a great 2005 and a solid 2006, Lee fell off a cliff in 2007 and was sent to AAA. He went from posting an ERA over 6 and a stint in the minors in 2007 to winning the AL Cy Young in 2008, possibly the most improbable Cy Young winner ever. Then, off to a solid start in 2009, Lee was dealt to the
Phillies
for four prospects. After helping the
Phillies
to the 2009 World Series and starting Game 1, he was traded to Seattle this offseason for more prospects after the
Phillies
acquired
Roy
Halladay
.
So for those of you keeping score at home, that's three blockbuster trades, a demotion to AAA, one Cy Young and a World Series Game 1 start against the Yankees for
CP
Lee.
Lee's back-to-back trades give us a unique opportunity to look at who got a better haul in terms of prospects for Lee, as well as a look at just how much more valued Roy
Halladay
was as opposed to Lee. Rarely do we see a player as good as Lee get traded twice in one calendar year, so lets take advantage of it and breakdown the prospects involved (date of birth's in bold):
Lou

Marson

, C- 6/26/86:

Marson

profiles as an

outstanding

backup catcher at the big league level who can hit for average, get on base and play good defense.

Marson

will probably hit less than 10 HR even if given 500

AB's

in a season, but can get on base at a .360-.390 clip. He works the count well at the plate, and handles pitchers well behind it. His arm is probably just a tick above average, but quick feet and strong fundamentals make him an above-average defensive catcher.

Marson

played in 21 games for the Indians last year, going .247/.347/.361, and is really just keeping his seat warm until super-prospect Carlos Santana is ready. But if

Marson

is your team's backup catcher, you have to be pretty happy with your depth behind the plate.


Carlos

Carrasco

, SP- 3/21/87:

Carrasco

is one of the more interesting talents dealt this past season. He has been described at times as a 5-star arm with a 2-star head. There is no doubt the talent is there as

Carrasco

has flashed a plus fastball, plus

changeup

and a solid

curveball

. His problems lie more with

consistency

than talent. The wheels really seem to come off when he gets runners on base. Scouts are split as to whether there is a

mechanical

issue when he pitches from the stretch or if he just falls apart mentally. Either way, its a problem that needs fixing before he is counted on to play a significant role in a major league starting rotation. The good news is

Carrasco

turns 23 this March, so there is plenty of time for him to fix those issues. Zach

Greinke

went 5-17 with a 5.80 ERA as a 21-year old and only pitched 6 innings as a 22-year old. Not saying

Carrasco

is destined to turn into a

Greinke

by any means, but the opportunity for improvement is there.


Jason Knapp, SP- 8/31/90: At 6'5", 235 LBS, Knapp is an imposing physical presence on the mound. His fastball touches 100 MPH, and sits comfortably in the mid-90's. In 97 innings of low-A ball last year he struck out 123 (!) batters. His mechanics are still a little rough, and that contributed to an shoulder injury that required arthroscopic surgery in the

offseason

. But when he's on the mound, Knapp is dominant. He should stick as a starter long-term thanks to his power curve and developing

changeup

that will nicely complement his devastating fastball. The youngest player involved in the deals, he probably has the highest ceiling but is also the furthest from realizing his potential. If the Indians can straighten out his mechanics and keep him healthy, Knapp is a potential future #1.


Jason Donald, INF- 9/4/1984: Donald was the #48 ranked prospect in all of baseball prior to the 2009 season according to ESPN prospect guru Keith Law, ahead of Jordan

Schafer

, Christian

Fredrich

, Nick

Weglarz

, Jesus

Montero

and Dominic Brown. Donald is considered

MLB

-ready right now, and could serve as a utility IF or platoon guy at 2B for the 2010 Indians. Injury problems combined with a poor showing at the plate in 2009 saw his prospect star dim somewhat, but that makes him a solid

bounce back

candidate. Worst-case scenario, he's a talented reserve that can play both middle infield positions well and give

Asdrubal

Cabrera

and Luis Valbuena a day off now and then.



Phillippe

Aumont

, P- 1/7/1989:

Aumont

is a big guy with a big arm who can light up the radar gun. He also has arm problems (sound familiar?). He's yet to really be stretched out as a starter, and his only plus pitch is his fastball. He has a decent slider and a below-average

changeup

, and the consensus with scouts is that his future lies as a power arm in the bullpen. His command is less than stellar. If he can stay healthy and learn to spot his fastball, he could be an impact reliever as soon as the all-star break in 2010. More

realistically

, we won't see him in Toronto any earlier than 2011.


Tyson Gilles, OF- 10/31/1988: Gilles is a burner in the outfield with a similar skill set to Michael Brantley. Brantley is much further along in his development of course, as Gilles played all of 2009 at the High-A level in the hitters paradise of High Desert. In 3 seasons, he has stolen 80 bases and been caught 33 times. He can get on base, having done so at a .419 rate in his career thus far. He does not have a strong arm and doesn't get great reads on the ball off the bat, but his speed can make up for much of that. He does not project as a plus defender at any of the outfield spots. Think of him as a faster Trevor

Crowe

with less pop. Gilles overall OPS was .889 last year, but it was over 100 points lower on the road than at home.


Juan Ramirez, P- 8/16/1988: Ramirez has an electric arm, but has had trouble translating his talent into success on the field. He's a thrower who can get his fastball up into the mid-90's, but has trouble locating it. He throws from a 3/4 arm slot, so his fastball has good movement in addition to the velocity, easily making it his best pitch. He has a decent slider and a changeup in name only. In 154 innings at High-A Desert, he walked 55 and struck out 116. He pitched his home games in a hitter's park, lowering his ERA by more than a run on the road.


Kyle

Drabek

, SP-12/08/1987: The son of former Cy Young winner Doug

Drabek

, Kyle struck out more than a batter per inning in his time in High-A in 2009. Once moved up to AA Reading, he went 8-2 with a 3.64 ERA and struck out 76 batters in 96 innings.

Drabek

has a plus-plus

curveball

, a solid fastball that tops out around 94 MPH and is working on a

changeup

. He has an outstanding makeup, and really has a feel for pitching. If the

changeup

doesn't develop, he's a top-flight closer. If the

changeup

becomes even an average pitch, he's a #2 starter. Lefties touched him up to the tune of a .924 OPS at AA, but

righties

only managed to put up a .521 mark. He's a solid bet to open 2010 at AAA and possibly end up in Toronto by the All-Star break.


Travis

D'Arnaud

, C-02/10/1989: The second Phillie catching prospect to be dealt,

D'Arnaud

spent all of 2009 at Low-A Lakewood.

D'Arnaud

works as hard as anyone on and off the field, a major reason that scouts expect his below-average defense to improve. He threw out just 40 of 172

baserunners

last season.

D'Arnaud

really came on later in 2009, posting an OPS over 1.000 in September. He hit either 3rd or 4

th

in the Lakewood lineup all year, and popped 13

HR's

.

D'Arnaud

has a chance to take a big step forward in 2010 if he can continue his hot hitting at the plate and shore up his defense behind it. Look for him to start 2010 in High-A ball.


Michael Taylor, OF-12/19/1985: Did I say Knapp was an imposing physical presence? At 6'6" and 250LBS, Taylor would be an imposing physical presence even in the NFL. Scouts see his size and expect massive power, but Taylor has a short, compact swing that is probably most comparable to Lonnie

Chisenhall

. It

doesn't

create a lot of home runs, but gets the sweet spot on the ball consistently and sprays line drives all over the park. Taylor went for .333/.408/.569 at AA before being moved up to AAA and holding his own with a 282/.359/.491 line. He has a cannon for an arm and runs well (21 SB last year), and will be an ideal fit for RF in the majors. If his power ever catches up to his size, Taylor would become one of the more elite prospects in all of baseball.

Based on all of that, here is my personal rankings of the prospects involved:
1. Kyle
Drabek
-Close to the majors and has the most consistent track record of success. More of a sure-thing than anyone else in the deals, even if he is a
fringy
bet at best to become a #1 starter some day.
2. Jason Knapp-Best shot of any of the pitchers dealt to be a dominant #1 starter. Also the furthest away. Combine the youth with the arm problems, and I can't rank him ahead of
Drabek
despite the almost unlimited ceiling.
3. Michael Taylor-Far and away the #1 position prospect in any of the deals. If his power ever catches up to his frame, look out.
4. Phillipe
Aumont
-Best case scenario, he stays healthy, develops another pitch and ends up as a power closer in the Joe Nathan mold.
5. Carlos
Carrasco
-Young with a good track record of success in the minors. If his performance can catch up to his talent, could be a #1 or #2 starter.
6. Travis
D'Arnaud
-Good shot to be a starting catcher with some pop. Needs the defense to continue to improve though.
7. Jason Donald-Worst-case, he's a taller, better hitting Jamey Carroll who can play SS. Best case, he's an everyday player at more than one position.
8. Juan Ramirez-Live arm with the chance for improvement, but likely never more than a setup man, albeit a potentially dominant one. His age and inexperience push him down on the list for me.
9. Lou
Marson
-Has the potential to be one of the better backup catchers in the league. Will get on base and handle a pitching staff with the best of 'em.
10. Tyson Gilles-No more than a 4
th
OF for me at this point. Worst case scenario, he's a pinch runner off the bench.
One thing that is important to consider is that there is a pretty signigicant dropoff between the #'s 3 and 4 guys on the list. The top three are 5 star guys in my opinion, and Aumont is more of a 4 star. By my rankings, the Indians got the #'s 2, 5, 7 and 9 prospects of the 10 dealt, while Philly got the #'s 4, 8 and 10. Clearly Roy
Halladay
was the higher-valued commodity in the trade market, as he was dealt for the #'s 1, 3 and 6 prospects out of all of those dealt. I think the Mariners made a great deal to get Lee, and feel much better about the Indians' haul after seeing what Philly got for CP.
User Comments
No comments currently. Be the first to comment!