Don't be so weary of the Indians lefty-laden lineup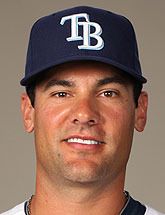 The talk of the Cleveland offseason, long before, really, has been a lack of right-handed hitters in the Indians' lineup in general, but especially a lack of power from the right side.

It is no secret that exactly zero of the team's projected regular position players are strictly right-handed, as only switch-hitters, Asdrubal Cabrera and Carlos Santana, figure to be mainstays from the right side at all. Only a handful of minor league signings (Andy LaRoche, Jose Lopez and Ryan Spilborghs) and two minor trades (Aaron Cunningham and Russ Canzler) were made to try and replenish the deficiency. And with the recent addition of Casey Kotchman, another left-handed stick (with minimal power, to boot), the void seems to remain.

All of that being said, it has still become a slightly belabored point.

Why? The first reason is so simple that it's often forgotten. The majority of Major League pitchers are right-handed. Most days, the Indians' left-heavy lineup will have an advantage over the opposing team's starting pitcher, at least in theory.

Focusing specifically on the American League Central where the Indians will spend most of their time: 14 of the 20 projected starters in the division are righties. The Tigers will feature a completely right-handed rotation, while each of the other three teams expects to have three in theirs.

More importantly than those favorable odds is the idea that, even when facing left-handed pitching, the Indians will still put out a formidable lineup.

Aside from Cabrera and Santana, whom Indians fans already know to be impact forces from either side of the plate, Manny Acta will rely on his bench of perhaps nothing but right-handed bats. Let me preface this by saying that I don't necessarily agree with or believe that Jack Hannahan will be the team's primary third baseman and that Lonnie Chisenhall will start in Columbus, but it is a possibility, especially with this need for as many right-handed options off the bench as possible. Because Hannahan will almost certainly break camp with the team, it would essentially come down to Chisenhall and Jason Donald for the time being. Without turning this into a full-blown Opening Day roster song and dance, let us assume that the club's four backups will be Aaron Cunningham, Donald, Shelley Duncan and Lou Marson. Acta could utilize any of them in lineups against southpaws, and history says that he would be right to. While all of those histories are generally short, each of them has adequate (at worst) splits versus lefties.

Cunningham: .741 career on-base plus slugging (OPS) against lefties; .620 against righties
Donald: .886/.635
Duncan: .769/.743
Marson: .763/.529

And for good measure...

Cabrera: .785/.744
Santana: .882/.792

Two additional names that will be considered for spell jobs are Matt LaPorta and Ryan Spilborghs, but each of them has significant flaws in such a role. LaPorta, who will compete with Duncan as a backup first baseman/corner outfielder (along with Russ Canzler, who has but six big league plate appearances from which to look at), has been a reverse splits hitter up to this point in his career. Despite being a right-handed hitter, he hits right-handed pitching much more effectively, in terms of both power (26 of his 30 home runs) and percentages (OPS nearly 100 points higher). Spilborghs' deterrent from potentially being the fourth outfielder has nothing to do with his left and right splits, but his home and away splits. He has benefited from a career with the Rockies, accumulating an OPS almost 200 points higher at Coors Field (.862) than away from it (.679).

The bench bunch will not be perfect solutions to all of the Indians' left-on-left woes, but what they will do is provide alternatives and versatility on both sides of the ball.

Defensively against left-handed pitchers, Santana will move to first, while Marson catches. Cunningham's sole position is in the outfielder. Assuming that Santana is settled in at first, Duncan becomes an option in left field or as the occasional designated hitter. Donald could play at any number of positions, including in the outfield, providing a third possibility to relieve the all-lefty, injury-riddled starting group of Michael Brantley, Grady Sizemore and Shin-Soo Choo.

The concerns about this dependence on left-handed hitters are not without credence. Lineups need balance, and the earlier point about most pitchers being right-handed is not cut and dry. All bets are off in the later innings when bullpens become involved and it turns into a game of strategy and matchups, as most bullpens are equipped with two or even three left-handed relievers now.

At the end of the day, though, it doesn't matter - left or right. Nor does the perceived lack of power, necessarily. Being a productive Major League hitter consists of plenty more. The key for this young, often free-swinging Indians team will be thorough, disciplined at-bats, and ultimately, getting on base against either kind of pitcher.

In less than two months, the Indians will take the field against the Blue Jays, a first step towards a return to the postseason. Once they record the first three outs of the season, Ricky Romero will be standing on the hill: Test number one.

Follow Kevin and the Indians Prospect Insider on Twitter: @KevinIPI.
User Comments
No comments currently. Be the first to comment!