Edell Quietly Making Some Noise
When people talk about who the Indians top left-handed pitching prospects, the talk usually centers around names like David Huff, Tony Sipp, and Kelvin De La Cruz.

One left-hander in the Indians system who often gets overlooked in those conversations is Akron's Ryan Edell. Edell does not have dominating stuff, and he is more a grinder in the rotation where he gets the job done without doing anything flashy, so it is easy to see how he gets overlooked.
Edell is a quiet guy and soft spoken, so the fact that he does not get much attention from minor league fanboys does not mean much to him. In fact, he probably prefers it. He is very much the definition of what a low-key player is all about, and even takes that approach with his pre-game preparation by sitting quietly in his locker reading a book to put his mind at ease before a game.

But while Edell goes about his business in a quiet manner, he is making a lot noise and establishing himself as a legitimate left-handed pitching prospect in the Indians organization. A quiet guy making noise may in fact be an oxymoron, but his numbers speak volumes.

Edell had a breakout season last year at advanced Single-A Kinston where he went 11-6 with a 3.70 ERA in 31 games (17 starts). He put up good numbers across the board showing good control (2.29 BB/9) and had a penchant for getting strikeouts (8.06 K/9). He used last season as a springboard into this year at Akron where even though he has been inconsistent with his performance from start to start, he has still had a solid year so far going 6-8 with a 3.96 ERA in 25 starts. With all the roster movement and turnover in regard to the Akron pitching staff this year, Edell has been a rock all year and has shown increased command (1.35 BB/9) although he has had a little more trouble missing some bats (6.0 K/9).

Since the All Star break Edell has shined going 1-3 with a 3.12 ERA in seven starts, and since July 1st he is 3-3 with a 2.58 ERA in ten starts.

"It has been better [of late]," said Edell in a recent interview at Canal Park. "I had kind of been up and down with a couple good outings and a couple bad outings. I feel like I am getting more consistent lately and feel good about that right now."

Akron manager Mike Sarbaugh agrees and likes what he has seen from Edell this year.

"His fastball command has been outstanding, and he has showed good control and the ability to spot it to get ahead of hitters," said Sarbaugh. "He is working on his secondary stuff to get more consistent with it and throw it for strikes, and he has really been making some good adjustments with it and improvements in repeating his delivery. He just has a good ability to attack hitters and make them put balls in play early in counts."

While Edell has done a good job as a starter, he probably best profiles as a major league left-handed reliever. He has had limited experience pitching out of the bullpen, with last season being the first time he had pitched out of the bullpen in his professional career. He had some prior experience in the bullpen pitching in the Alaska Summer League when he came out of college, but other than that he has always been a starter.

Edell has no preference what role he ends up in as long as it helps him get to the big leagues.

"Honestly, I don't really have any preference," said Edell. "I just like pitching and however they can use me is fine with me as I would just like to make it up there in any capacity which would be fine with me."

Edell has a three pitch mix of a fastball, slider and changeup. His fastball only sits around 90-91 MPH, but he piles up strikeouts, pitches effortlessly and is composed when pitching in tight spots. He is versatile enough where he could remain a starter or move to the bullpen depending on where the Indians need him as his slider can attack lefties and his changeup is good enough to be effective against righties. He has a very professional delivery, repeats his delivery well, and drives his fastball into the zone and in on the hands of the batter with ease.

His bread and butter pitch used to be a devastating curveball which was rated the best in the 2005 Draft and is a major league out pitch, but he lost the feel for it upon coming into the Indians organization and stopped throwing it. He recently has done some work to try and add his curveball back into his pitching mix.

"This year I am trying to re-incorporate a curveball," said Edell. "I had a curveball my first year that worked pretty well that I lost feel for and went to a slider which has been going well. So I am trying to get the curveball back and try to be the whole package again."

In addition to his finding his lost curveball, Edell is also working hard with Akron pitching coach Tony Arnold to improve his mechanics so he keeps the ball down.

"I am just really trying to throw in the bottom half of the zone this year," said Edell. "My main problem has been leaving some elevated pitches over the plate that has gotten me hurt some. So that has been my main concern this year."

Edell was taken in the 8th round of the 2005 Draft out of The College of Charleston, but ended up missing most of the 2006 season with a sprained ulnar collateral ligament. At Single-A Lake County that year he pitched in only six games (18.1 innings) and went 0-1 with a 3.44 ERA. As a result of the short work load in 2006, Edell gained some experience in the bullpen late in the year last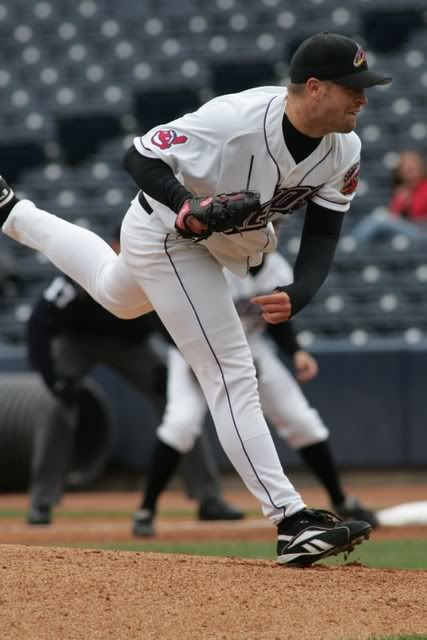 season to limit his innings and save his arm from overwork.

The UCL sprain was a scary injury for Edell that could have been a lot worse. Had the ligament been torn, he would have had to undergo Tommy John surgery and thus would have had almost two seasons of development wiped out. Instead he ended up missing a few months of the season and was able to come back late in the year and make up some innings in the Arizona Fall League.

"I was just happy it was a sprain and not a tear," said Edell. "I was down for four months instead of a year and a half. I am really focused on my conditioning to make sure that doesn't happen again. It actually opened up the door to pitch in the fall league. I think one of our players went down so that opened up a spot for me since I did not pitch that much that year."

Edell was born in Boston, MA and now resides in Lexington, MA, so he grew up a huge Red Sox fan. He knows there is a conflict of interest with that now that he is a professional baseball player in another organization, and most importantly that Indians fans are not big fans of the big market teams like the Red Sox and Yankees.

When asked if he was still a Red Sox fan, Edell laughed and replied, "I used to be."

Smart man.
Photos courtesy of Ken Carr
User Comments
No comments currently. Be the first to comment!