Envisioning Carlos Santana at third base
How would putting Santana at the hot corner work for Cleveland?
With Yan Gomes established as Cleveland's starting catcher in 2014, Carlos Santana has begun to work out at third base in the Dominican Republic. Finding a way to get Santana at bats away from the designated hitter spot is a good one, but one big question remains:
Will Santana at third base be more harmful than helpful?
The last time Santana played third base on a semi-regular basis was in 2006 during his stint with the Dodgers' High-A affiliate. Per Baseball America at the time, Logan White, the Dodgers' scouting chief, encouraged his scouts to target potential conversion candidates and this move was encouraged given the excellent results of moving Russell Martin from third base to behind the plate.
The defensive results for Santana at third were pretty bad -- he committed 12 errors in 38 games in 2006 -- but we know better than to judge a 20-year-old minor leaguer by his error totals. Francisco Lindor is a truly gifted defender, yet he committed 22 errors in 103 games in 2013. Plus, the Dodgers had Josh Bell -- at the time a high-profile prospect -- blocking Santana at third base.
So, did the Dodgers move Santana off of third base too quickly to accommodate another prospect? If Santana had stayed at third base, would he have developed into anything resembling an adequate defender at the hot corner?
We cannot answer those questions, but the more important question now is: can Santana fast-track himself into being a serviceable major-league defender at third base in one offseason?
When trying to answer that question, the first name that pops into my head is that of one Miguel Cabrera. Granted, there are differences. Santana does not hit as well as Cabrera, but really, who does? Plus, Cabrera had four years between stints at third base while Santana had six. There are some similarities, however, given the idea of moving back up the defensive spectrum.
Cabrera spent 2007 as a third baseman with the Florida Marlins before moving to first base upon joining the Detroit Tigers in 2008. The move was a wise one, as Cabrera rated out particularly poorly at third base in 2007 -- to the tune of -19 defensive runs saved (DRS) and -4.9 ultimate zone rating (UZR). No one complained when the Tigers moved Cabrera to first base. For good reason.
As we all know, Cabrera spent the last two years playing third base to accommodate the Prince Fielder signing. After spending four years at first base, how did Cabrera fare upon moving back to the hot corner?
Not so well. Between 2012 and 2013, Cabrera rated out at -22 DRS and -26.5 UZR. In fact, Cabrera's -16.8 UZR in 2013 was the fourth-worst for a third baseman since 2002. The names ahead of him are Ryan Braun, Mark Reynolds, and Mark Teahen. Hardly bastions of defensive success.
If you prefer something other than advanced fielding metrics, here are the plays Manny Machado -- an elite defender at third base -- made and did not make in 2013 (all spray charts via Fangraphs):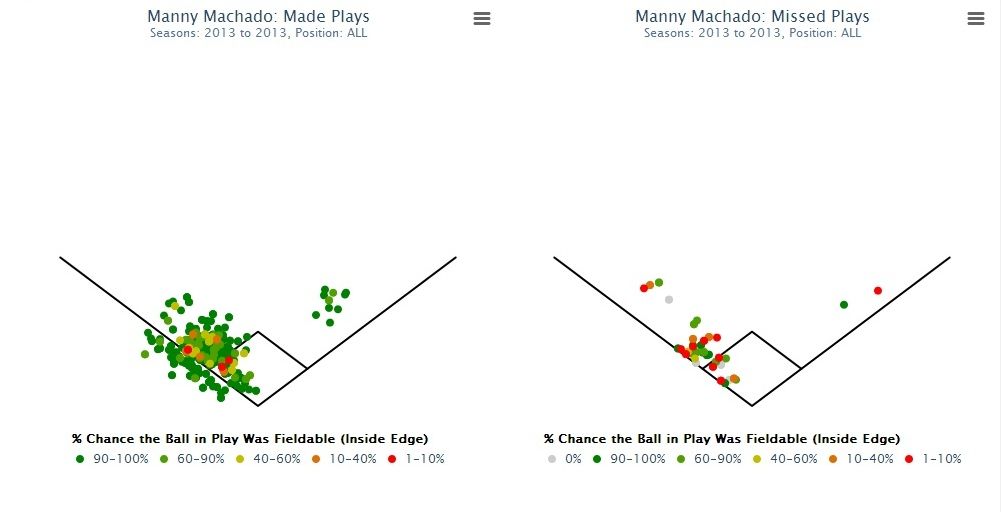 Here are the spray charts from Pedro Alvarez, an average defender in 2013: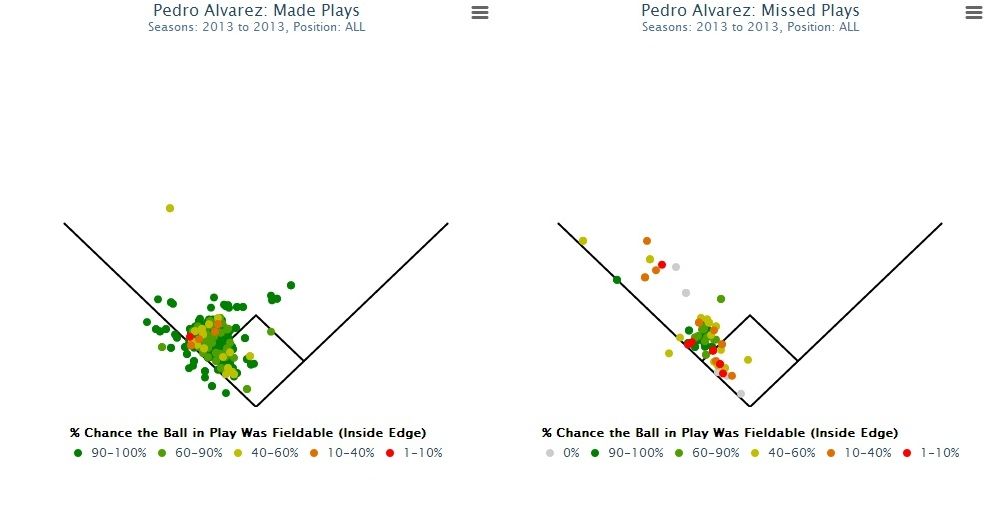 And finally, Cabrera's: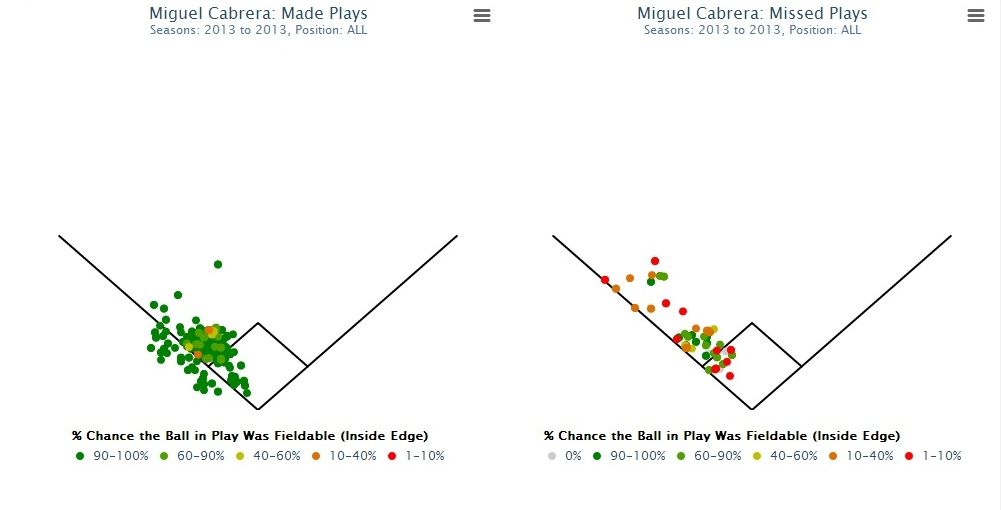 When comparing the three charts, Cabrera's range is quite limited and he did not make many difficult plays. He mostly just fielded what was hit at him, leading to the poor defensive metrics.
Even though the defensive metrics -- and anyone with eyes -- hated Cabrera's defense, he still won back-to-back MVP awards and posted 14.4 WAR. The MVP awards are debatable -- if you want to open up the Trout-Cabrera wounds again -- but the more important point is that Cabrera still had plenty of worth despite his bad defense.
Of course, otherworldly hitting had a lot to do with that. As much as I like Santana as a hitter, he is no Cabrera from 2012-13 (.338/.417/.620 line, 179 wRC+). Cabrera managed to outhit his defense at third base; given Santana's lesser -- but still impressive -- abilities as a hitter, what should we expect?
Let's get one thing out of the way now: if Santana's defense at third base is any worse than Cabrera's, then he really should not be out there. Again, Cabrera just had the fourth-worst defensive season for a third baseman since 2002. Anything worse than that from Santana and they should nix the idea right then and there.
So, if we plug in Cabrera's defense from 2013 into Santana's 2013 ZiPS projections on offense, what happens if he spends the entire season at third base?
He projects for roughly 2.5 WAR.

And if he spends the entire season as the designated hitter?
Again, roughly 2.5 WAR.
And, just for fun, if he splits the season down the middle?
Roughly 2.5 WAR.

That is the funny thing about playing third base as bad as Cabrera did last year. That mark is identical to the defensive penalty of moving from third base to designated hitter. It is as bad as you can play the position while still adding some value.
Because as much as we liked to take jabs at Cabrera's defense at third base, moving over there to accommodate Fielder (and, as a byproduct, Victor Martinez as the designated hitter), did help the Tigers. Martinez was already under contract, and though the Tigers did not need to sign Fielder in 2012, their setup last year (Cabrera at third, Fielder at first, Martinez at designated hitter) was the only one that could have worked without taking on a ton of dead money.
But, leaving money aside, the designated hitter penalty hit Detroit and Martinez hard, pushing Martinez's fWAR all the way down to 0.9. Given the state of Cabrera's defense, just an average third baseman would have been worth an extra win for the Tigers in 2013.
Which leads us to the situation in Cleveland. Putting Santana at third base for any period of time effectively leaves the designated hitter spot open. There is no use putting Chisenhall there; otherwise why not just use Chisenhall at third and Santana as the designated hitter. Outside of Chisenhall, who else would be the designated hitter?
The other half of the David Murphy/Ryan Raburn platoon? It is a platoon for a reason.
Jason Giambi (projected wOBA: .301)? Or Mike Aviles (.289)? Or Drew Stubbs (.288)?
In the end, provided Santana can play third base at the same level as Cabrera last year, Terry Francona would be able to run him out there as often as he wants. But only if the front office gives him another big bat to write into the designated hitter slot instead.
If you want to follow Jim on Twitter, he's @JimPiascik. If you want to e-mail him, you can do so at jpiasci1@gmail.com. If you want to read his Master's thesis on college athletes and Twitter, you can do so here.
User Comments
Edible14
December 20, 2013 - 4:49 AM EST
With Stubbs gone, it really eliminates any need for Santana at 3B. I loved the idea of having Chis and Murphy hit against righties, with Stubbs and Raburn being their platoon partners against lefties. With Stubbs gone, unless they sign an appreciable right handed bat (Wilson Betemit?) to DH, there's no reason to move him in at 3B. Aviles is probably better defensively and hits lefties better than Murphy/Chis. Even putting Adams in at the position would make more sense.
Hermie13
December 19, 2013 - 10:44 AM EST
I know some will disagree but just don't think Kipnis has quite the arm for 3B. I'm sure he could handle it but don't see why you move him right now. Who replaces him at 2B then? I know some love Jose Ramirez, but is he a better option long-term at 2B than Chiz is at 3B? Maybe but maybe not.
Walter
December 18, 2013 - 7:54 PM EST
I know we are currently watching how Santana handles 3b. My question is would Kipnis be a better long term option at that position? Just curious? I really hope that Chisenhall finally has a break out year.
Hermie13
December 18, 2013 - 3:09 PM EST
Count me out on Morales. Not worth a pick or the money. He never should have declined the Mariners QO.
Joey
December 18, 2013 - 1:26 PM EST
If we lose Ubaldo, which it looks like we will, we'll get a compensation pick, so if they can somehow scrounge money and get Kendry Morales late in the offseason, and somehow dump Stubbs, we'd add a power hitter and not lose any draft picks
Ed
December 18, 2013 - 12:56 PM EST
Too many ifs for my taste but the Astros moved Craig Biggio from catcher to second base with great results so it can be done.

I'm hoping a full year and a half plus removed from that broken wrist Lonnie Chisenhall suffered in 2012 will prove to be just what the doctor ordered to get Lonnie back on track to become a solid major leaguer. And while I am a Gomes fan there's no guarantee he'll repeat the success he had in 2013 aas pitchers become more aware of his tendencies.

That said, moving Santana to third, while a risky experiment, has a lot of upside if successful - especially if Chisenhall continues to regress.

I just don't think the odds are very good and Santana is more of a sure thing continuing as a part-time catcher, first baseman and DH.
Hermie13
December 18, 2013 - 11:44 AM EST
Also worth noting...

In his career (116 games, over 900 innings)...Santana has cost the Indians 1 run defensively at 1B. His DRS is -1. So yes, below average but hardly a reason to keep him from the spot. TZ is also just -1 in his career at 1B. Give him the position every single day and he could IMO become average there. Never win a gold glove (ok take that back he could do that but wouldn't deserve it) but could be better than a guy like Garko...
Hermie13
December 18, 2013 - 11:39 AM EST
Santana has been a 3+ WAR guy each of the past 3 seasons....

No way in hell am I trading him right now if I'm Cleveland. Best offensive player on the team.
shy
December 18, 2013 - 11:16 AM EST
Santana is not a good defender- at catcher, at first base or third base. He is below MLB average at all 3 positions and as such is a liability on defense. He has also stated he is not happy when not playing in the field. This is a bit of a dilemma. The answer may be to trade him while he still has value as high OBP switch-hitter to a team that can use him as a DH and let them figure it out. Or deal him to a team like Houston that is not a contender and could use the OBP, the pop, and the versatility, for some prospects/draft picks.
Hermie13
December 18, 2013 - 10:39 AM EST
You could argue all the Tribe would have to do is add a left-handed hitting platoon bat to make up for Santana not DHing.

Stubbs could platoon in RF with Murphy and Raburn could DH against lefties...would just need a DH to hit against righties. Giambi could do that potentially (Raburn could still hit against some righties so you don't overuse Giambi)....or could try and find a cheap platoon option.


I still say the OF makes more sense defensively for Santana. Played MORE OF in minors than he did 3B and actually was used out there once by Acta.

Now I understand that the OF is currently very crowded and Chiz is no lock at 3B, so do get why we are trying Santana there. I just think long-term Santana could settle into the LF or RF spot and give you a 25 HR cOFer that we have lacked for a while. His arm fits fine and IMO would be better than Branyan, Sexson, Broussard or Garko out there...

Try and move Bourn (or Brantley), get a platoon option for 3B.


Still think Raburn makes sense at 3B if the Tribe is really trying to find someone other than Aviles to platoon with Chiz. Raburn has at least played 3B at the big league level, started at 2B in 2012 too so he's more familar with the infield than Santana. Sure Raburn will probably be bad defensively at 3B...but you're telling me he'd be worse than Santana? Stubbs can platoon with Murphy just fine in RF then and Santana can just DH.

Only way Santana at 3B makes sense in 2014 IMO is if the Tribe is 100% set on trading Stubbs...OR they are hoping Santana can be an everyday 3B down the line.