Final Indians trade deadline thoughts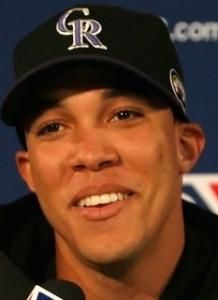 Ubaldo Jimenez (Photo: AP)
Some random thoughts post-trade deadline…
- The final scorecard at the July 31st trade deadline had the Indians picking up outfielder Kosuke Fukudome and right-handed pitcher Ubaldo Jimenez for six minor league prospects, and then sending off infielder Orlando Cabrera for a minor league prospect. With all three trades it is hard to argue how they did not improve themselves for this season with all of these deals as the addition of Fukudome and Jimenez upgrade the roster, and the subtraction of Cabrera is an upgrade in itself to allow Jason Kipnis to play full time at second base.
- The Fukudome move is more for this season, and the Cabrera deal may end up providing the Indians good outfield depth with the acquisition of Thomas Neal. But the move that will have a big affect on their future is the Jimenez one since they paid a steep price in giving up their two top pitching prospects left-hander Drew Pomeranz and right-hander Alex White. Time will tell how the Jimenez trade works out, and I shared a lot of my thoughts about it yesterday morning here.
- In addition to some of the things I wrote yesterday about Jimenez, there have been a lot of concerns from fans about reports of his velocity loss this season. I can tell you right now, there is absolutely no way that the Indians make this deal unless they belief he is 100% healthy. They are obviously at the mercy of their doctors, own eyes, available medical information, and what was found in the physical, but with all of the available information they believe without a doubt he is healthy. As for the velocity loss? There is a belief that the velocity concerns stem from his lack of work this spring and early in the year with a thumb injury, groin strain, and a hip flexor. Those things can certainly have an affect on performance and the quality of stuff considering pitchers use their fingers and lower half so much when pitching.
- What was so inviting about Jimenez is his contract. The Indians control him through 2013 as he makes $4.2 million next season and has a $5.75 million club option on him for 2013 that the Indians almost surely will pick up. It is possible he may be controlled beyond the 2013 season as his 2014 club option for $8 million turned into a player option when he was traded, which makes for a good bargaining tool in getting a new contract done in the offseason. Considering what the Indians gave up to get him, if Jimenez has a strong finish to this season and is healthy, I believe they will strongly consider reworking his deal to add more years onto the backend of it. They are going to want to keep him around a lot longer than the two additional years after this season, and he wants to re-do his deal, so there is a potential mutual interest to get a deal done. Stay tuned.
- Yes, the Indians needed an impact bat at the deadline. Yes, they are disappointed they were unable to add one. But, looking at it realistically, the options available were not very good. Everyone is upset they did not add a bat, but who was available that was a legitimate upgrade? Ryan Ludwick, he of the .674 OPS and 92 OPS+? Fans are disappointed with Matt LaPorta this year (.709 OPS, 98 OPS+), but do they realize he is playing better than Ludwick? After Carlos Beltran and Hunter Pence, there were no impact bats available, just marginal (if that) upgrades. The only player who may have helped was Michael Bourn, which the Indians had interest in, but he hits left-handed and is more of a speed-bat guy than a run producer. For nothing I would have had no problem adding Ludwick and seeing what happened, but apparently his price went up some when the Pirates got involved so the Indians backed out.
- The Indians are going to have to bank on health and improved performance of some of the guys in the lineup to get this offense going. With Orlando Cabrera gone, it should allow Jason Kipnis to play almost everyday. As he settles in he should have an impact on the lineup. As Lonnie Chisenhall settles in he could also have a positive affect. The addition of Jason Donald as the utility player over Cabrera is also an upgrade. Shin-Soo Choo is taking batting practice later this week, and could soon go on a short rehab assignment and be back by the following weekend. Also, Sizemore may be back by the end of the month. So right now the Indians only option – at the moment – is to get better production and health from the guys already here. That was the biggest need whether they picked up a Ryan Ludwick or not.
- One thing to remember is that though the July 31 deadline has passed, the Indians can still make a trade before the August 31 deadline. The only problem is trades in August involving players on the 40-man roster require players be passed through trade assignment waivers. Teams can put a player on trade assignment waivers to gauge trade interest, and if someone claims him they can pull him back if they choose to without losing him. If a player is not claimed within 47 hours then that club is free to trade him to any team. There will surely be a lot of players put on trade assignment waivers, and several players will not get through because teams will "block" them by making a waiver claim. But there will surely be some high contract guys who get through and a few of them will be bats, so the Indians can still acquire a bat in August. Who that may be is unknown at this time, but names will surely begin to surface later this week.
- One thing being glossed over in the bounty the Indians paid to get Jimenez is that Alex White is a very serious question mark going forward. The Rockies intend on keeping him as a starter, but I have a feeling they do not know or understand the full scope of his finger injury, sort of like the Indians with Jason Knapp's shoulder when they got him from the Phillies two years ago. I have been saying this since the injury happened back in late-May, but there is and has been strong concern by the Indians about White's finger sprain. The Indians had said if he returned later this month that he would finish the season in the bullpen to monitor his workload and health and that he would still be a starter next season. What was not said is there was concern for the injury next year and that the bullpen may have been in his near future. White has done well in his rehab, and was slated to make a rehab outing on Saturday, but the Indians may have traded a pitcher who was damaged goods at his peak value. He very well may end up in the Rockies rotation for many years, but it is something to think as I am sure everyone will be monitoring the success/failures of all the players in the Jimenez deal going forward.
- That's the thing though. While Jimenez obviously has some red flags with the velocity and it is odd as to why the Rockies would even trade him to begin with, the Indians including Alex White in the deal should be another red flag as well on just how healthy they believe he is. In the end, the Rockies made the deal not because they were trying to dump an injured Jimenez on another team, but because they were given an overwhelming offer, and on the flip side the Indians strongly believe Jimenez is healthy and provides that much needed 1-2 punch at the front of the rotation with Justin Masterson to win in the postseason.
- As for Orlando Cabrera, it was a sad ending to what was really a great beginning for him and the Indians. He was instrumental in the success of the team early in the season as a great leader and helping this team believe they can win now. He also has been a positive influence and is a big reason for the emergence of Asdrubal Cabrera. But once he lost playing time to Cord Phelps in June he changed and showed that the only way he would truly be happy is if he was playing every day. Considering the options at the Indians' disposal with Phelps and Jason Kipnis as better short term and long term fits, there was just no way to keep him happy the rest of the season and the inevitable trade to the Giants happened. Back when the Indians played the Giants in late June there was talk of Cabrera eventually ending up with the Giants, and well, he finally did.
- What I am surprised about is the return the Indians got for Cabrera. Maybe the Giants really wanted Cabrera and the Indians played poker with them to get a useable major league player in return, who knows. Bottom line the Indians picked up Triple-A outfielder Thomas Neal who is a legitimate prospect as he is only 23-years old still, in Triple-A, has been a performer in his career, and is considered to be a big league option. He was the Giants #7 ranked prospect according to Baseball America at the start of the season.
- Neal has a nice powerful build at 6'2 and 225 pounds, can play either corner outfield position, and was a much needed right-handed power bat depth option the Indians needed. Besides the undervalued Jerad Head the Indians have no right-handed hitting outfield options at Double-A and above, or anywhere in the system really. So he fills a glaring immediate need, and with two options years remaining after this season should be a Major League option the next few seasons. Once he returns from the disabled list from a bruised hand, he could also very soon be a callup option to Cleveland.
Follow Tony and the Indians Prospect Insider on Twitter @TonyIPI. Also, his latest book the 2011 Cleveland Indians Top 100 Prospects & More is available for purchase for $20.95 to customers in the US (shipping and handling extra).
User Comments
No comments currently. Be the first to comment!