First base, First priority
Editor's Note: This is the debut piece of another new writer on the IPI, Sean Mahon. He will be writing about various topics surrounding the Cleveland Indians for the site.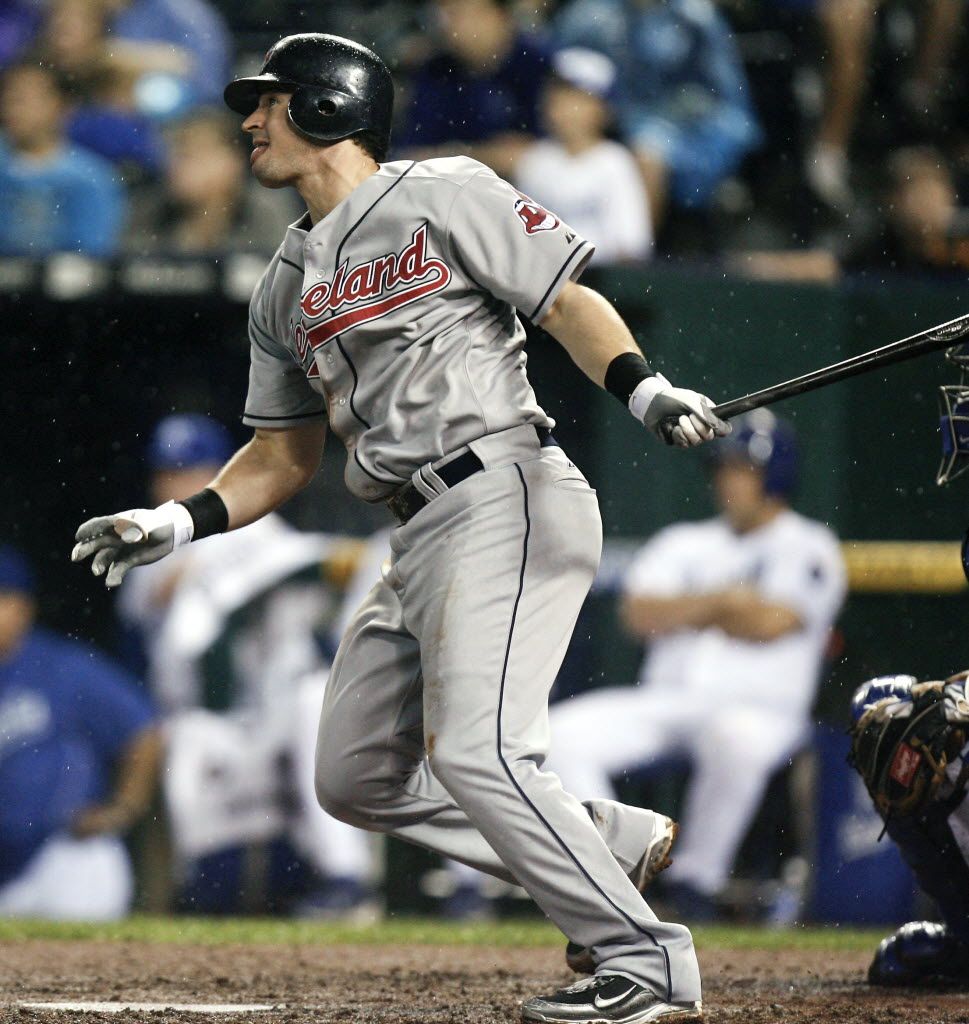 If you take a look around the AL Central, you'll notice a household list of tenured first baseman: Paul Konerko and his 13 seasons with the White Sox, Justin Morneau and his nine with the Twins, Miguel Cabrera and his four with the Tigers with four more through 2015, and Eric Hosmer who seems bound to be the Royals' first baseman for the next decade after an impressive rookie campaign.

Then there's the Indians. Since Jim Thome left first base vacant after the 2002 season, the spot has held casting calls on a seemingly annual basis.
Ben Broussard had four solid seasons as the Tribe's stopgap first baseman from '03-'06. That's actually not half bad. But Broussard, who would probably best be considered a very, very poor man's Sean Casey, was only meant to hold the spot until the big fish arrived. The fact of the matter is the Indians could never catch the fish and the notion that Broussard held stability at the position better than anyone else in the decade is telling.

Following Broussard came the underrated Stanford standout, Ryan Garko. Fans truly liked Garko. He came off well with the fans and even served as the club's Indians fan blog ambassador during the 2007 playoffs. However, Garko never earned the love of the higher-ups in Cleveland or Eric Wedge. The reason being was that he was not the prototypical (pre-2010) Mark Teixiera-like first baseman who could hit 40 homers, drive in 120 RBI, and hit .300.

Garko was a .285 hitting "grinder" who had served his four years at Stanford and defied expectations when he won the first base job in '07. He had about average power and you knew he gave it his all. He was never a high OBP guy, but he held his own hovering close to a solid .350. The other Garko issue was his GEsponsored refrigerator glove at first base; his UZR rating was oft-terrible, and a trial in the outfield felt like watching Fred Flinstone shag fly balls. Garko, for as hard as he tried, just never had the hands of Donnie Baseball. The sabermetricians could never "OK" Garko because he equated to a lowly WAR.

In the wake of Garko's departure, it brought forth the rise of an offensive star bound first base prospect, Matt LaPorta. (Just to stick to the storyline, Russell Branyan came back for another tour of duty in Cleveland… You know how that went.) The Florida Gator star figured to hit about .290 with 30 HR's and 100 RBI's in his first big league season. After all, while Michael Brantley was the scratch and peel prize in the Sabathia trade as the PTBNL, LaPorta was the grand lotto prize. Sure, LaPorta would be just adequate at first base defensively, but it didn't matter because his offensive benefits would far exceed the costs.

However, as you've seen recently, that's obviously not how the script worked out. LaPorta, one of the nicest guys on the team and probably in the sport, would struggle from injuries and surgeries as well as mediocre performance. He's fallen down the depth charts in Cleveland as he was summoned to AAA in the final month of last season.
After half a decade of seeing the Michael Aubrey's and Wes Hodges' in the system, Tribe fans are in pursuit of a franchise caliber first baseman with a shelf life longer than three seasons.
So where do we turn now?

It all goes back to the farm. The system has some interesting first base candidates in the minors. While none of them is projected to be the next Prince Fielder, some may become serviceable first baseman, much like Ben Broussard was for a few years.

While Matt LaPorta is still a candidate for the first base position, there are other viable options in the system. They include (but are not limited to):

Beau Mills-The son of Astros' manager, Brad Mills, was ranked as Tony's #64 prospect coming into last season. He'll probably be more highly regarded this season after hitting to the tune of .289/.347/.513 between Akron and Columbus in '11. However, Mills is 25 and has had a rather disappointing professional career to date. After being drafted in the 1st round in 2007, Mills hasn't put together the resume many were expecting. He is an average first baseman defensively, which the Indians are used to in recent years. Mills will start '11 in AAA and has a decent chance for a call up if the Indians don't sign a first baseman and/or Matt LaPorta shows more of the same. In fact, of the minor league options at this point, he's probably the most likely to at least have a cameo in Cleveland. Mills provides the power the Indians have been searching for since Thome left, however, though he improved his plate patience in '11, he still doesn't offer the high OBP the team seems to be seeking.

Chad Huffman-The TCU standout has had some decent showing in the minor leagues over the years. He'll be 27 in 2012 and will be another depth option. He almost fits the Oakland Athletics first baseman approach as he's a solid contact hitter with an impressive OBP (.374 career) and mediocre power (a la Daric Barton, Scott Hatteberg, etc.). Huffman can play both first base and the outfield, so he is an option somewhere on the field for the Indians. Perhaps the best thing going for him right now is that he's right handed, so he may find his way onto the roster for a period of time as a bench player of fill-in. I could potentially see Huffman play the role of '08 Michael Aubrey in playing a few dozen games if the Indians fail to solidify first base, or serve as a righty bench bat.

Jesus Aguilar-The 21-year old Aguilar played the majority of last season at A ball and he did some good things. At 6'3 and 240+ lbs, he's got first baseman written all over him (and potentially DH). Aguilar is no Rod Carew at the plate, but he does provide some serious raw power. He's another guy like Huffman (and originally LaPorta) in that he can play first base and left field. Power will be this kid's calling card and if he can continue to slug 'em, he may force his way into the picture sometime in the next few seasons. He appears to be a slowly progressing prospect, but at age 21 he still has time to develop more patience and hitting ability. Though his future may be at DH, the Tribe will check back in on this guy come 2014 thanks to his prolific power.

Andy LaRoche-LaRoche may be a diamond in the rough for Cleveland. LaRoche's career has paralleled another Andy's career… Andy Marte. LaRoche was tagged as the Dodgers' third baseman of the future. He was a major piece in the three team trade that sent Manny Ramirez to LA and Jason Bay to Boston, where LaRoche landed in Pittsburgh. Five years later, and after a full tour with the Pirates, LaRoche has a fizzled prospect status. Now, he plays the corner infield positions and will likely serve as depth to Hannahan and whomever the Indians name their first baseman. LaRoche has a great minor league track record and perhaps another shot with a new club will bring out the best in him. Though he is no elite defender, he is a guy that will be in the depth charts for Cleveland with a shot to takeover if he can impress in spring training and the minors. Sometimes guys like LaRoche realize their potential with a change of scenery, a few years of struggles, and a new shot. In this case, LaRoche has all three of those on his side.

Chun-Hsiu Chen-Though signed out of Taiwan as a third baseman/pitcher, Chen was developed in the Tribe system to catch. However, due to the system's need for first basemen and his seemingly natural fit, many around the league believe Chen will end up at first base. Chen hit .262/.330/.451 at Akron last season and figures to start there again in 2012. The 23-year old's future potential may mirror that of Ryan Garko: The part catcher/part first baseman, with a bat strong enough to DH. Like Garko, Chen is better known for his gap power than his homer power. Chen started out 2011 quite hot, hitting .279 until the All-Star break where he slid to hit .236 in the season's final 46 games. The catching may catch up to him, no pun intended, and Chen may find himself as a viable first base option down the road.

It looks like the Indians may have to settle for guys more like Jordan Brown as they have a crop of fringe first base prospects. The other option is to sign a Casey Kotchman for now and perhaps consider calling the Oakland A's on a young guy with upside like Brandon Allen or the Red Sox on Lars Anderson. This is because the system doesn't seem to be flourishing with up and coming first basemen like it was just a few years ago with Jordan Brown, Beau Mills, and Matt LaPorta. The seemingly obvious answer from fans is to plop Carlos Santana at first base and play Lou Marson as catcher--or perhaps rotate he and Chun-Hsiu Chen down the road.
For now, it still looks like Matt LaPorta has the most upside of any of the prospects in the Tribe system. . .
User Comments
No comments currently. Be the first to comment!