Five exciting prospects to watch in 2012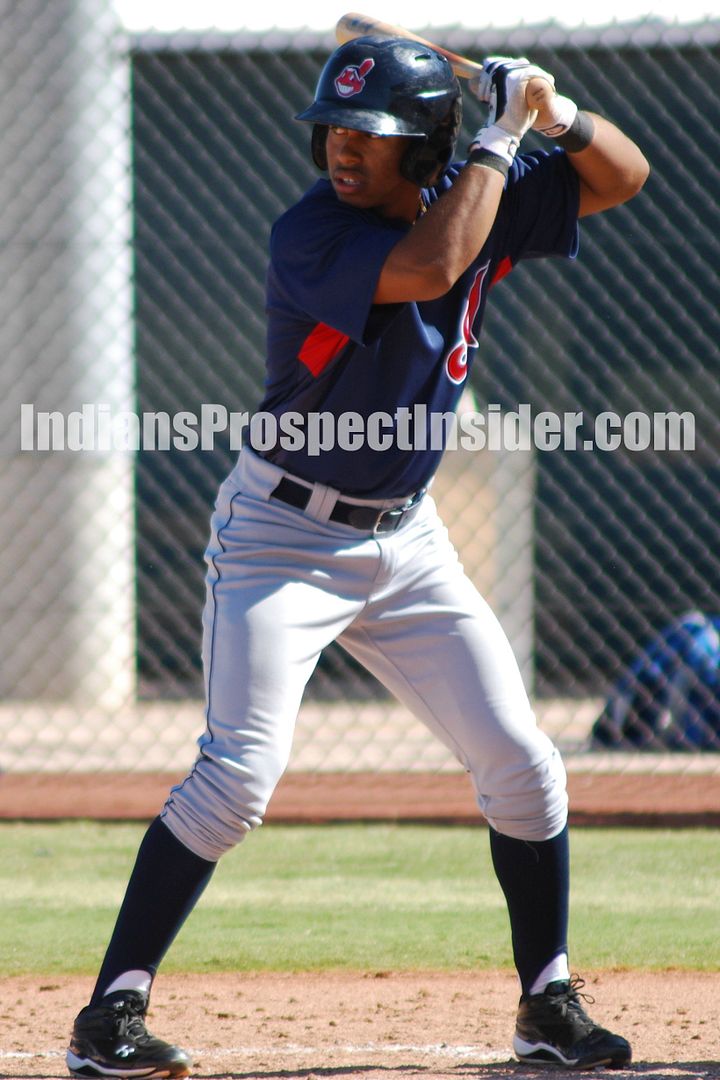 Editor's Note: This is the first posting from Jim Piascik here at the IPI. He will be writing about all things Cleveland this season with a special focus on Double-A Akron.
Despite the fact that the Cleveland Indians' top 4 prospects are either no longer prospects (Jason Kipnis and Lonnie Chisenhall) or with the Colorado Rockies (Alex White and Drew Pomeranz), there are still plenty of prospects for Tribe fans to be excited about in 2012.
As Baseball America notes in their
2012 Indians prospect rankings
, most of "the Indians' best prospects are years away from contributing" at the big league level. That simply means that if you want to see thrilling players in the Tribe's minor league system, you should head more toward Lake County than Columbus.
Here are five Indians' minor leaguers that you should be excited to go see in 2012 and where they should be playing on Opening Day.

Francisco Lindor, SS, Lake Country
When the Indians drafted Lindor eighth overall this June,
Baseball America
threw out these phrases: "tremendous work ethic," "plays the game with ease and passion," "scouts haven't scoffed at Omar Vizquel comparisons" on defense, and that he was a "legitimate candidate for the No. 1 overall pick." If that's not exciting, I don't know what is.

Lindor is only 18 and has plenty of growth ahead of him. He's already been dubbed best hitter for average, best defensive infielder, and top prospect by Baseball America and now will have to go to work proving that on the field. If he's as good as he's advertised to be, he could force his way up the minor league ladder very quickly.

Nick Hagadone, LHP, Cleveland
Hagadone could open the season in Cleveland this year and he has the tools to be a high-leverage back-end arm for years to come. After having Tommy John surgery and using 2010 as a year to knock off the rust, Hagadone came out on fire in 2011. Between Akron and Columbus last year, Hagadone posted a 2.79 ERA, 2.87 FIP, 9.8 SO/9 and 2.8 BB/9. Not bad at all.

With the starting rotation unsettled after the Fausto Carmona news, the Indians will need the Bullpen Mafia to have another great year. In order for that to happen, they will need big contributions from Hagadone. He should start out in middle relief, but don't be surprised if Hagadone forces his way into an 8th inning role sooner rather than later.

Chen-Chang Lee, RHP, Columbus
As much as I like Hagadone for the upcoming season, personally, I'm much more excited for Lee. Like Hagadone, Lee also pitched between Akron and Columbus last year, except he posted better stats (2.40 ERA, 2.24 FIP, 12.5 SO/9, 2.9 BB/9). Lee's best tool is his slider, which Baseball America rated best in the organization.

In my mind, if you're looking for someone to be this year's Vinnie Pestano, I suggest you look at Lee. Pestano's 2010 stats between Akron and Columbus (1.81 ERA, 1.91 FIP, 11.61 SO/9 and 2.41 BB/9) look very similar to Lee's. They're both pitchers who get a ton of strikeouts, don't walk people and are players you can trust in the late innings. I would love to see Lee make the Opening Day roster, but he'll likely start the season in Columbus.

Jesus Aguilar, 1B, Carolina
The breakout player in the minors for the Indians last year was definitely Aguilar. Between Lake County and Kinston, he posted a .284/.359/.506 slash line, .865 OPS, .390 wOBA, 23 HR and 82 RBI in 521 PA. Power is obviously his game and he showed that in the Arizona Fall League when he hit a home run over
this part of the fence
. That's no small feat.

There's plenty for Aguilar to work on in 2012 (lowering his 24.2 K% would be a good start), but with that kind of power, Aguilar is a very valuable and exciting player for the Indians. He's pretty far away from the majors, but if Aguilar continues to mash the ball and make adjustments, the first base job is wide open and his for the taking.

LeVon Washington, OF, Lake County
On the opposite end of Aguilar is Washington, who came into the 2011 with huge expectations and disappointed. The Tribe's seventh-highest rated prospect according to Baseball America posted a paltry .218/.331/.315 slash line, .647 OPS, 4 HR, 20 RBI and 15 SB in 351 PA. Washington was particularly hurt by striking out in over one-fourth of his plate appearances (25.4%).
That doesn't change that Washington should be an exciting player in 2012. He drew a ton of walks last year (14.0 BB%) and remains the best athlete in the organization according to Baseball America. As he adjusts to the pro game, the strikeouts should fall and his power should come out. Plus, you don't want to bet against 2012 being
#WASHTIME
do you?

Overall, these five players aren't the only exciting prospects the Tribe has, but if you had to pick only five to see all year, they'd be the best choices. So get out and see these potential stars in 2012 so you can say you saw them before they got big.
If you want to follow Jim on Twitter, he's @JimPiascik. If you want to e-mail him, you can do so at jpiasci1@gmail.com. If you want to read his Master's thesis on college athletes and Twitter, you can do so here.
User Comments
No comments currently. Be the first to comment!