Five Prospects with the Most to Prove in 2012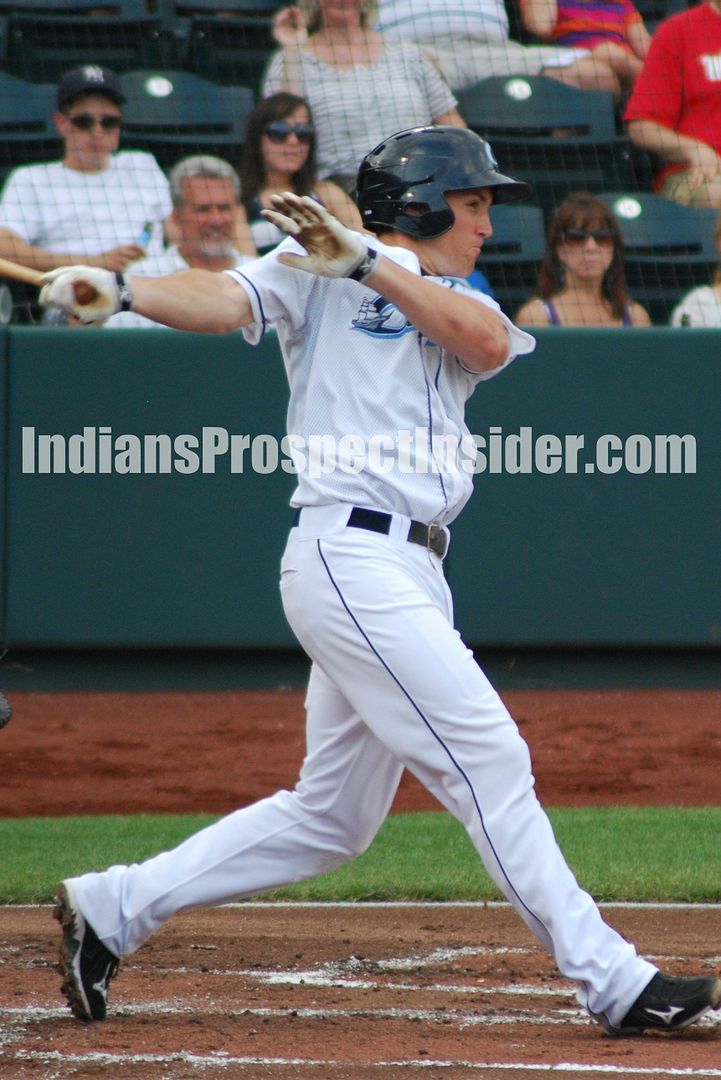 Being in the minor leagues is all about proving yourself, but for these five players, 2012 will be even more critical on their quest to proving that they belong in the Cleveland Indians' long-term plans.

Two weeks ago, I listed the five most exciting prospects for 2012.Continuing on with this theme, now I'll take a look at the five Tribe prospects with the most to prove in 2012. Whether they're on here because of injuries, poor performance or failure to live up to expectations, all five of these players need a big 2012 season to reestablish themselves as marquee, top-shelf prospects.

Cord Phelps, 2B, Columbus
In 163 games at the AAA level, Phelps has flat-out raked and justified his ranking as IPI's ninth best Tribe prospect going into 2011. His .303/.380/.498 slash line, .877 OPS, .381 wOBA (137 wRC+), 20 HR and 94 RBI more than justified his promotion over Jason Kipnis in early June. While those like me were begging for Kipnis at that point, it was hard to argue with promoting Phelps.

Unfortunately for Phelps and Tribe fans, his brief, 35 game major league stint was a disaster. Phelps had terrible offensive stats (.155/.241/.254 slash line, .494 OPS (39 OPS+), .231 wOBA (39 wRC+), -0.9 fWAR in 80 PA) and struggled defensively (five errors in only 75 chances). Phelps ended up back in AAA while Kipnis solidified his hold on the second base job later in the season.

While Phelps won't be able to prove himself at the major league level this year, he will need to impress as the everyday second baseman in Columbus in order to rebuild his stock. If he keeps producing at a high level in AAA, he'll get another shot in the majors. With the lack of middle-infield talent the Indians have in the higher levels of the minors, one injury will give Phelps his chance to prove himself again. He'll need to work hard this year to be prepared for that moment, whenever it comes.

Nick Weglarz, OF/DH, Akron
After top prospects Kipnis and Lonnie Chisenhall were promoted to the big league club and Alex White and Drew Pomeranz were traded to the Colorado Rockies, it would only make sense for IPI's number five prospect before the 2011 season, Nick Wegalrz, to move right on up to the top spot, right?

After a rough 2011 campaign that had him battling numerous injuries throughout the season, Weglarz will need to impress in 2012 in order to see AAA again, let alone make it to the majors. Weglarz's plate discipline and on-base abilities did not erode in 2011 (2011/pre-2011: 25.0/20.4 K%, 20.9/15.1 BB%, .360/.382 OBP), but his power disappeared. Before 2011, Weglarz owned a .455 SLG and had 23 HR and 87 RBI per 650 PA. In 2011, that dropped to a .306 SLG and 11 HR and 45 RBI per 650 PA.

For a player that does not rate well defensively at all, Weglarz needs to produce at a very high level with his bat in order to have any worth to the Indians. Hopefully Weglarz will be fully healthy in 2012 and get back to hitting for the power we had grown accustomed to seeing out of him.

Jason Knapp, RHP, Carolina (DL)
Considering that the non-Jason Knapp part of the package the Indians got in return for Cliff Lee holds a backup to marginal starting catcher (Lou Marson), a utility infielder (Jason Donald) and a middle of the rotation starter - if he comes back from Tommy John surgery the same guy (Carlos Carrasco), there are still a ton of expectations on Knapp's shoulders to become an ace.

Unfortunately, IPI's pre-2011 sixth best prospect has only logged 156.3 IP in his minor league career. He's been wildly impressive in that brief time (3.63 ERA, 2.60 FIP, 1.196 WHIP, 12.0 SO/9, 4.1 BB/9, 2.93 SO:BB), but it's all for nothing if Knapp can't stay healthy.

The good news is that Knapp is still only 21 years old. It's certainly not a good sign when a player has had as many arm/shoulder/elbow problems as Knapp's had, but he's still got plenty of time to figure things out. Though it wouldn't be ideal, if Knapp could stay healthy as a bullpen guy, he has the stuff to be a major force. It's easy to write off Knapp right now, but he's still young and has time on his side. Maybe 2012 will be the year he stays healthy and starts moving up the minor league ladder.

Beau Mills, 1B, Columbus
As if a list like this could exist without Beau Mills on it. The 13th overall pick in the 2007 draft came into 2011 as a major disappointment. Being a first round first baseman and only owning a .267/.332/.434 slash line, .766 OPS, .346 wOBA (108 wRC+) and 18 HR and 100 RBI per 650 PA can do that. The RBI total looks nice, but attached to the rest of that line, there was no denying Mills had become a non-prospect.

While he still counts as a non-prospect going into 2012, in 2011, Mills finally looked like the guy the Indians thought they were getting when they drafted him. Between Akron and Columbus, he posted a .289/.347/.513 slash line, .860 OPS, .377 wOBA (133 wRC+) and 30 HR and 111 RBI per 650 PA in his 391 total PA. There are still holes in his game, but 2011 was certainly a step in the right direction for Mills.

Since this is Mills' age-25 season, it very well could be his make-or-break year. Between Matt LaPorta, Russ Canzler and Mills, the first baseman slot at AAA will be very competitive. Also considering the fluid situation the Tribe has at first base at the big league level, if Mills were to take the final step in his development, the first base job would be his for the taking. The Indians won't just give him the job, though; he'll have to hit out of his mind and force the Tribe's hand. It's unlikely Mills will finally make it to the majors and fulfill the promise he held as a first round pick in 2007, but stranger things have happened. You just never know in baseball.

LeVon Washington, OF, Lake County
LeVon Washington also made my five most exciting prospects in 2012 list because of his athleticism, but he also has a lot to prove in 2012. Headed into the 2011 season, Washington had numerous achievements and accomplishments heaped on him before he'd really played professional ball. He'd been drafted in the first round in 2009 by the Tampa Bay Rays, the second round in 2010 by the Indians, and had been named IPI's seventh best prospect. The sky was the limit for Washington.

Like many before him, however, the harsh reality of baseball sent Washington crashing to the ground. His .218/.331/.315 slash line, .647 OPS, .311 wOBA (93 wRC+), 7 HR, 37 RBI, 28 SB, 65 R per 650 PA at low-A Lake County was hardly cause for celebration. 2012 will likely see Washington repeating Lake County, hoping to reestablish himself as a top prospect.

There were good things that came out of 2011 for Washington. First, his 14.0 BB% is a good sign for someone with that kind of speed. If he could stop striking out so much (25.4 K%), he'd get on-base a lot more and be able to make things happen with his legs. Second, last year was only his age-19 season. If he were to catch fire this year and finish the year at Akron, he'd be well ahead of his development. There is still plenty of time for Washington. Third, 2011 seems to have been a wakeup call for Washington. Anyone following him on Twitter @L_wash can tell that. It seems that Washington now realizes that he can't skate by on raw ability anymore. If he's dedicated himself to working hard, it's possible he'll be bringing #WashTimethroughout the Indians' minor league system this year.

Like I said earlier, being in the minor leagues is all about proving yourself at the level you're at so you can continue climbing the ladder toward the major leagues. If a player is in the minors, then they inherently still have something to prove. For Cord Phelps, Nick Weglarz, Jason Knapp, Beau Mills and LeVon Washington, however, there's a little extra they need to do in 2012. If these five prospects don't impress in 2012, they'll be left behind for the next hot wave of young ballplayers. It's on them to make themselves into can't-miss prospects again.

If you want to follow Jim Piascik on Twitter, he's @DarkestDiamond.
If you want to follow Jim on Twitter, he's @JimPiascik. If you want to e-mail him, you can do so at jpiasci1@gmail.com. If you want to read his Master's thesis on college athletes and Twitter, you can do so here.
User Comments
No comments currently. Be the first to comment!