Free exclusive fantasy baseball offer to IPI readers to win $100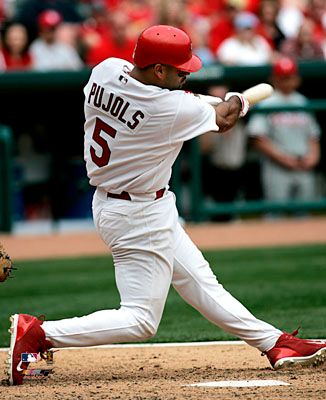 Albert Pujols (Photo: AP)
The second half of the baseball season is well underway. The fantasy baseball season is getting hot and heavy with some people enjoying success while a great many others already are writing off their teams thanks to poor play or injuries to the players drafted.
Fantasy baseball goes over the course of a full six month MLB season, at which time winners are determined. But why wait six months to get paid when you can do it every day with a one-night showdown?
IndiansProspectInsider.com (IPI) has teamed up with DraftStreet.com to offer an exclusive free contest to IPI readers. The freeroll will have $100 in cash prizes, the top 4 get paid, and it is totally free to sign up. How can you not get in on this?
Here's how you play: Fill your roster (C, 1B, 2B, 3B, SS, 3 OF, 2 U, 2 SP, RP, P) while staying within the budget of $100k. Player salaries are set by DraftStreet based on fantasy production. So, if you want to put Roy Halladay on the mound it might cost you $16k, which means you'll have to find some bargains to fill out the rest of your squad.
Sign up now for free and build a team for Friday, July 29, 2011. You can adjust your roster up until the games start. Once your roster is set check out the scoreboard when the games start and watch your team win you cash. You can even show off your team when you start racking up the points.
You can walk away after the game if you'd like, although you are more than welcome to stick around at DraftStreet and continue playing for a chance to win more. Below are how the points are scored:
Registration: Click here
League Start Date: Friday, July 29, 7:00 pm.
League Duration: One day only.
Current Prize Pool: $100, top 5 get paid
Rosters: C, 1B, 2B, 3B, SS, 3 OF, 2 U, 2 SP, RP, P
1B

1 pt

IBB

-.25 pts

2B

2 pts

HA

-.25 pts

3B

3 pts

HB

-.25 pts

BB

.8 pts

ER

-.75 pts

HR

4 pts

INN

.75 pts

HP

.8 pts

K

.75 pts

R

1.5 pts

L

-.75 pts

RBI

1.5 pts

S

3 pts

SB

2 pts

W

1.5 pts

KO

-1 pt

CG

1 pt

GDP

-1 pt

CS

-1 pt

SAC

.8 pts
User Comments
No comments currently. Be the first to comment!