Gallas out to prove everyone wrong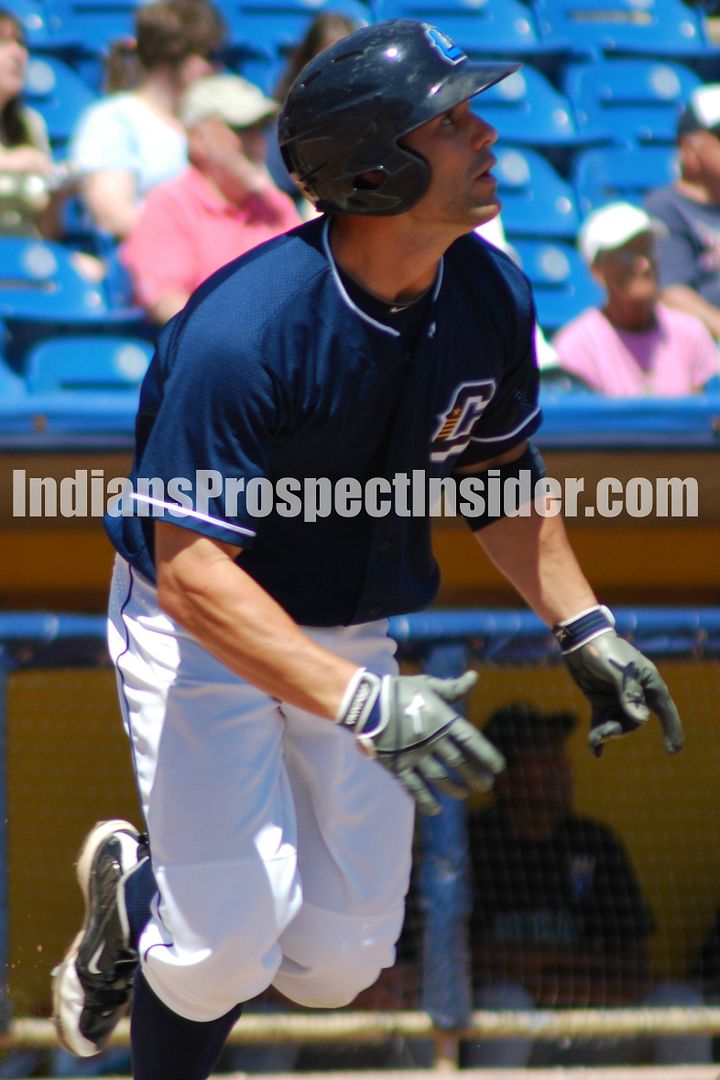 Anthony Gallas (Photo: Tony Lastoria)
It is hard to get to the top when you start at the absolute bottom in pro baseball because the odds are extremely stacked against you. For an undrafted player in the minor leagues the road is arduous to ever achieve that dream of making it to the big leagues.
Every once in awhile a player beats those odds, as Indians fans have recently witnessed firsthand with right-handed pitcher Frank Herrmann and outfielder Brian Barton. Both are former Tribe farmhands who went undrafted in the MLB Draft and had to start from scratch, but found success and surprised a lot of people along the way to make it to the big leagues.
Current Low-A Lake County outfielder Anthony Gallas may be doing the same thing. In 49 games with Lake County he is hitting a blistering .350 with six homers, 20 RBI, and .996 OPS. He leads the entire 16-team Midwest League in batting average, hits (63) and doubles (23), and is second in the league in total bases (104) and OPS. With those numbers, a promotion to High-A Kinston is a possibility any day and likely by the end of the month.
Everything is clicking for Gallas who is excited about the start of his quest to prove everyone wrong.
"I knew in spring training I was going to have to prove something just to make the Lake County roster," Gallas said in an interview this week at Classic Park in Eastlake. "So I worked really hard in the offseason and I just came in ready to earn a spot. I think that has helped my approach toward this season as I have to earn everything I am given and all the opportunities I get. I think that has helped me have the start that I have had."
As a senior at Kent State last year Gallas hit .369 with 17 homers, 81 RBI and a 1.107 OPS in 64 games, but no team came calling in the draft and he went undrafted. Shortly after the draft the Indians and a few other teams contacted him with offers to sign him so they could fill out their minor league rosters and he signed an undrafted free agent (UDFA) contract with the Indians. Players stateside who sign UDFA contracts typically get a very small signing bonus in the $1000 to $1500 range.
Upon signing the 23-year old Gallas quickly learned that since he is not a big bonus guy or high round pick that there are a lot of politics involved in the pro game. Teams are going to give many opportunities to players they invested six figures or more to sign or took high in the draft. On the flipside, players who are undrafted or taken very late in the draft that the organization has very little invested in monetarily will maybe get one chance to prove themselves, if even that.
Gallas understands this dichotomy in the game, and knows he has to put the petal to the metal and that he cannot let up on the gas in order to continue to survive in the game.
"It is [tough] as you feel like you do everything you can possibly do," Gallas said. "The last few days of spring training I had no idea if I would be here or not. I was hoping so badly I would come [to Lake County] as I had put in all the work and it might not have paid off. I didn't really want to be in extended after playing in the [Arizona Summer League] last summer. It is disappointing when you feel like you are outplaying some guys and you don't get the same treatment, but at the same time I like it that way as I like to earn everything I get and I feel like it is going to make it that much more sweeter once I ultimately make it up there [to the big leagues]."
Gallas had a solid pro debut last year where in 54 combined games between rookie level Arizona and short season Single-A Mahoning Valley he hit .272 with three homers, 26 RBI and a .722 OPS. After the season he made it a priority to use the near six month offseason to improve and get better. With his parents temporarily living in California, he went out there and used the warm weather to his advantage to get outside every day and work out six days a week.
Gallas worked out at RedLine Athletics out in Orange County to help develop core stability, improve his speed and agility, and get stronger. He believes that by being out in the warm weather and also with all of his offseason work it really propelled him to come into spring training in the best shape he has ever been in.
While working out on the West Coast, Gallas was able to see some of the many advantages young baseball players get year round out there compared to those on the East Coast who typically have to dodge snow and rain for over half the year. It makes it tougher to scout players on the East Coast because you often get fewer looks at players, and can sometimes affect the standing of a player in the scouting community.
"I saw something where since I am from the Midwest I don't have as much experience as other guys [on the West Coast], but I disagree with that," Gallas said. "I started all four years at Kent State and played summer ball all three years and played in the Arizona League last year. Doing the math I have played over 400 games the past four years. I would put that up against anyone as I don't think anyone has played that many games. I think it has helped me with this season just knowing what to expect and how to prepare my body."
Some feel that is the reason why Gallas went undrafted as he maybe slipped through the cracks because of the East Coast stigma, but this is not very true as if you can pitch, hit or field the area scouts for all the teams will find you whether you play in California or Ohio. However, we often see over time that players are overhyped and overvalued in a draft, so Gallas may have just been a player that for whatever reason scouts undervalued.
"To this day I don't know why I went undrafted," Gallas pondered. "I don't know if it is something in Kent, but there are guys there who when I look at the talent in this league I know can play here. I put up four good years and after my All American freshman year people said I could be drafted in the 10th round after my junior year, but I didn't get drafted after my junior year and nothing happened after my senior year."
Even with the disappointment of not getting drafted, Gallas remains steadfast.
"I wasn't upset because I knew I did everything I possibly could," Gallas said. "I basically forgot about school and my social life as I wanted to give it one shot to see if I could be drafted or not. So I had no regrets, and when the [Indians called after the draft] I said I gotta do it and see what happens."
The Indians drafted and signed nine outfielders in last year's draft, and only two of them – Tyler Holt and Chase Burnette at High-A Kinston – are playing at a higher affiliate. Holt is a high profile outfielder out of Florida State who was in Lake County last year, and Burnette is actually more of a first baseman now.
It is a testament to how hard Gallas has worked to get where he is at presently. Not only has he been given an opportunity at Lake County above at least a half dozen guys in his draft class who are instead stuck in purgatory in extended spring training out in Arizona, but he is outperforming every player from the entire 2010 Draft class except 1st round pick left-handed pitcher Drew Pomeranz.
Such is the beauty of baseball.
Sometimes players come from out of nowhere to become prospects, and so many times the unheralded players make the big plays in the big games. Baseball is not only unpredictable on the field, but is just as unpredictable off the field with evaluating young players. Sometimes a player just needs an opportunity, and that is what he got at the end of spring training when he was assigned to the Lake County roster.
"It was like middle school tryouts for basketball or something as I went up to a wall and checked the list and I was on there," Gallas beamed. "I was [relieved] and thankful as I was so happy to come back home and I wanted the games to count. I was ready for this."
Now back home in Ohio and enjoying his time at Lake County, Gallas commutes about 45 minutes to and from games back to his parents' house in Strongsville. He was a two sport star at Strongsville High School and was one heck of a wide receiver. He had some offers from MAC schools and even got a few sniffs from Iowa to play football, but he felt his best path to the pros was via baseball.
"Football is my favorite sport," Gallas said. "I am from northeast Ohio, so that is how it is up here with the Browns and everything. But I just felt I had a better chance going pro [with baseball]. Just traveling around the state I noticed I was one of the better players as compared to football where there are just athletes everywhere. Playing wide receiver I felt I was not fast enough, so I just felt I had a better shot at baseball. I was realistic about it."
Deficiencies in a player's game are more easily accepted in baseball as a player does not need to be blazing fast or an athletic freak to hit a baseball or throw it 98 MPH. Athleticism is certainly involved, but baseball is a sport that players who have average abilities (by baseball standards) across the board can have a long and prosperous career.
Gallas is a well rounded player who has shown an ability to hit for average and has some strength to hit the ball out to all parts of the ballpark. He is a solid average runner and versatile outfielder who has a good arm. While he is not great in any one area of his game, it is his consistency which may be his best attribute.
"I am not a player that is going to wow you in one game," Gallas said. "I am going to wow you over the course of the season with the way I approach every single day. The game is 24 hours and I don't think a lot of people figure that out. It starts in your routine with getting to bed, waking up, eating the right food and coming to the ballpark and being focused and once you get here it is time to work as this is a job. I am here to work from the time I get to the ballpark and the time I leave. It helps me get through the grind. I am just going to show up everyday and just be consistent."
Obviously there are some players who are just much better than the rest of the field and are born with star potential, but for the rest of the field there is really a fine line between the haves and have nots. A lot of times work ethic and consistency can be the difference.
"It gets to the point where everyone is the same talent, and it is just who works in the weight room, who is coming in early hitting, and who does the little things," Gallas said. "That is really what it comes down to. You just have to keep your head up and not get discouraged as it is baseball. Sometimes you are going to go 5-for-5 or 0-for-5, but you have to stay in the middle and keep your head on an even keel and take what comes and be a man."
Even with all of the success Gallas has enjoyed so far this season at Lake County, he knows he still has a lot to work on. In college and in his first taste of the pros last season he knew he had trouble catching up to 95 MPH fastballs to the inside part of the plate. Knowing this he made some adjustments to his swing in the offseason and the results so far speak for themselves.
"I go to the opposite field really well, and I talked to [Indians Hitting Coordinator] Bruce Fields last year and one day in the cage he said if I am going to continue to move up I am going to have to handle that inside pitch and have to put some power on it," Gallas said. "So [in the offseason] I moved my hands out and what that did is it just freed up my hands and now I can get to any pitch on the plate. It has really been a separator for me. I feel confident with what I am doing at the plate right now and with how my swing is and have a lot of confidence."
Undervalued or not, Gallas is quickly proving to have value and is moving up on the priority totem pole of outfielders in the Cleveland Indians farm system. He is old for a prospect and there are still many more levels in the minors and players in the outfield within the system to hurdle, but he has already taken big steps at becoming a priority player in the Indians' farm system.
"I just want to maintain my focus and finish with a year that the Indians organization says 'okay, this guy is a prospect'," Gallas said. "That's all. Whatever way that is, be it coming out and working or seeing it in the cage or games, I just want to be on their list as a guy they want to move up and continue to work with. I just want some credit for the stuff I am doing and continue to get the opportunities."
Follow Tony and the Indians Prospect Insider on Twitter @TonyIPI. Also, his latest book the 2011 Cleveland Indians Top 100 Prospects & More is available for purchase for $20.95 to customers in the US (shipping and handling extra).
User Comments
No comments currently. Be the first to comment!