Game Recap 4/12: Lewis Back In Top Form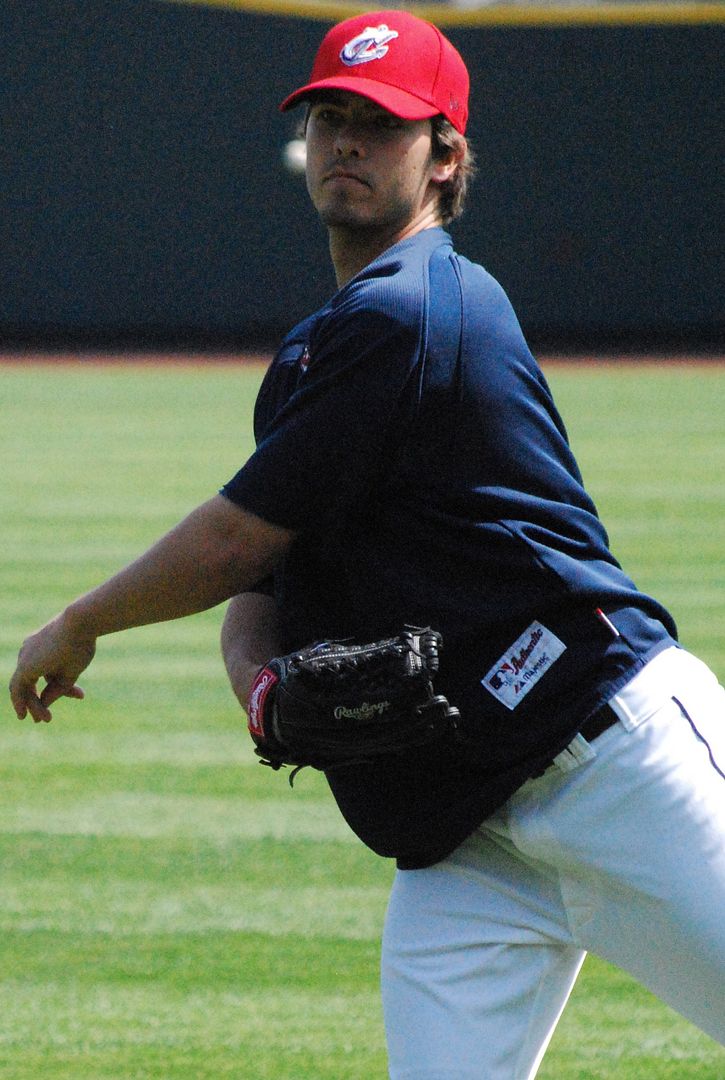 Columbus Wins Again, Lewis Impresses
As has been the case throughout their season-opening home stand, a big inning was the difference for Columbus as the Clippers won 5-3 to open a two-game series with Louisville Bats. This time it was a five-run sixth that propelled the Clippers to a 5-3 victory, and their first winning streak since July of last year.
Former Ohio State star Scott Lewis made his first start of 2010 and was impressive, allowing one run and two hits over six innings, while striking out ten.
Wes Hodges RBI-double off of Bats starter Justin Lehr started the rally in the sixth. Brian Buscher's sacrifice fly gave the Clippers their first lead, and then Jose Constanza brought home two more with a double. Constanza would later score on a wild pitch.
Danny Dorn hit a two-run home run in the ninth against Mike Gosling to cap the scoring, but the rally fell short and Columbus improved to 3-2 on the young season.
Carlos Carrasco makes his second start of the season Tuesday for the Clippers against Louisville's Sam LeCure. The series resumes at 6:35 p.m, and will be carried on live TV by SportsTime Ohio (STO).
Aeros Hot Start Continues With 5-1 Win
After yielding just three runs in the first four games of the season, Thunder pitchers ran into a wall on Monday night, giving up five runs to the Akron Aeros and dropped their first game of the season, losing 5-1.
Lefty Ryan Edell got the start and went four scoreless innings, allowing just two hits, one walk and had four strikeouts. Erik Stiller relieved and got the win by going three innings and allowing one run on one hit with three strikeouts.
Offensively, the Aeros were pace by Tim Fedroff who went 2-for-4 with a walk and RBI, and also Nick Weglarz who went 2-for-3 with 2 walks, Cord Phelps who went 2-for-4, and Jared Goedert who went 2-for-3 with a walk and RBI.
The series continues in Trenton on Tuesday night at 7:05 p.m. Zach Putnam (0-0, 4.50 ERA) makes his second start of the year for the Aeros against a yet to be determined Trenton hurler. The game broadcast begins at 6:50 p.m. on SportsRadio 1350 AM and online at www.akronaeros.com.
Kinston Beats Blue Rocks 6-3
The K-Tribe bats exploded for 12 hits, as Kinston beat the Wilmington Blue Rocks 6-3 Monday night at Historic Grainger Stadium.
Kinston led wire to wire as Doug Pickens started the scoring, coming home on a Richard Martinez RBI ground-out in the second inning. The Indians would expand the lead in the third inning when Abner Abreu drove in Lucas Montero and Jason Kipnis with a single in the third inning. After Wilmington cut the K-Tribe lead to 3-2, Kipnis came up big with a two-run home run in the bottom of the fifth inning. The blast was the first homer from any K-Triber this season. Kipnis went 3-for-4 with two runs scored and two RBI. Kinston would pad the lead when Pickens led off the bottom of the eighth with a double and was driven in by a Martinez single. Martinez went 2-for-4 with two RBI. Eight of the nine starters for Kinston hit safely on the night.
Joey Mahalic picked up the win in his first start of the season, giving up just one earned run on two hits. Mahalic (1-0) walked four and struck out three. The K-Tribe bullpen was big again, as Bryce Stowell, Matt Langwell and Steve Smith combined for four innings of scoreless work. Stowell picked up his first hold of the season, Langwell his third and Smith racked up his second save of the year. K-Tribe pitching limited Wilmington to just one earned run on four hits. Jairo Cuevas took the loss for Winston-Salem. Former East Carolina Pirate Ryan Wood was 0-for-2 with two walks. Alex Gordon, on Major League Rehab assignment from Kansas City, went 1-for-3 with a run scored and a RBI.
The K-Tribe (3-2) continues the three game series Tuesday night at Historic Grainger Stadium. Kelvin De La Cruz will get the start for Kinston, game time 7 pm.
Captains Drop South Bend for 5th Straight
Greg Folgia
User Comments
No comments currently. Be the first to comment!