Game Recap 4/9: Gardner Has Striking Debut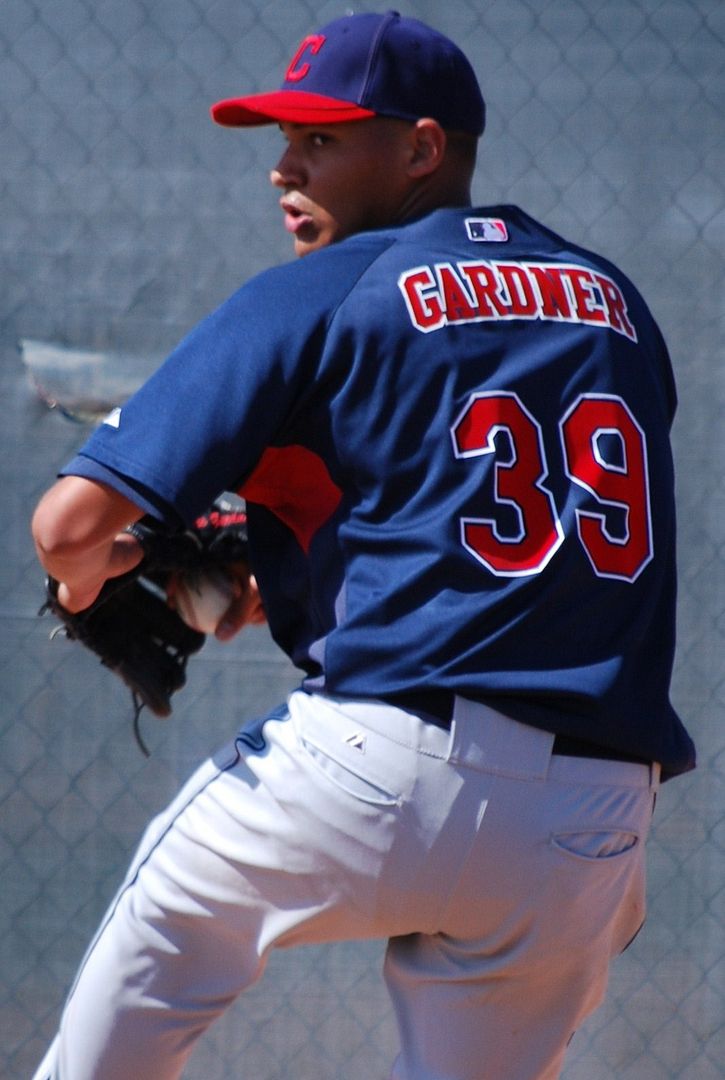 Captains Win Second Straight
Ben Carlson doubled home two runs and Captains pitching struck out seventeen batters as the Lake County Captains defeated the West Michigan Whitecaps 7-1 on Friday night. The Captains are 2-0 to start the season.
The Captains jumped out to a 1-0 lead in the bottom of the first inning when Delvi Cid scored on a sacrifice fly off the bat of Jeremie Tice. The Caps tied it up in the top of the third inning when Avisail Garcia singled home Jamie Johnson to make it 1-1. The Captains regained the lead in the bottom of the fourth inning when Carlson doubled home Jeremie Tice and Kyle Smith and the Captains led 3-1.
The Captains opened things up in the bottom of the seventh inning scoring four runs. Greg Folgia led off the inning with a solo home run, the first Captains homer of the year. Bo Greenwell and Tice added RBI's and also collected a run on a fielding error and they led 7-1.
Captains starter Joe Gardner made his professional debut but did not get a decision pitching four innings and allowing one run on three hits, walking two and striking eleven. Rob Bryson (1-0) got the win coming into the game in the fifth inning and pitching two scoreless innings allowing one hit while striking out three. Antwonie Hubbard followed with three scoreless innings allowing one hit and striking out three and picked up the save. Whitecaps starter Jade Todd (0-1) lasted 3.1 innings allowing three runs on four hits, walking one and striking out one.
The Captains and Whitecaps wrap up the three game series on Saturday at 1:00 PM with the Captains sending RHP Danny Salazar (0-0, 0.00) to the mound against the Whitecaps RHP Jacob Turner (0-0, 0.00). The game can be heard on AM1330 WELW, ESPN 970 WFUN and on the internet at captainsbaseball.com.
Clippers Outslugged By Indians
Apparently the Columbus Clippers are going to score some runs this season. After putting up 17 runs and 19 hits in the opener on Thursday night, they came right back on Friday night to put up 12 runs on 14 hits. Unfortunately for them they didn't get much help from the pitching staff and lost a high scoring game 14-12.
There were offensive star up and down the lineup for the Clippers as catcher Carlos Santana continued his hot start going 2-for-5 with a 2B, HR, and 3 RBI. Left fielder Trevor Crowe chipped in going 2-for-5 with a HR and 3 RBI, and second baseman Jason Donald went 3-for-5 with 2 2B and an RBI. DH Shelly Duncan, center fielder Jose Constanza, and third baseman Brian Buscher all hit home runs.
For as strong as the offense was, the pitching performances of some of the Clippers best pitchers was disappointing. Highly touted right-handed starter Hector Rondon did not get his season started off on the right foot as he was smashed in three innings of work for 7 runs on 10 hits, 2 walks and had 4 strikeouts. It didn't get much better when right-hander Josh Tomlin came in as in 1.2 innings he was touched up for 5 runs on 4 hits, 3 walks and had no strikeouts. In all, Clippers pitching allowed 14 runs, 18 hits, 4 home runs, and 9 walks.
The Clippers look to take the lead in the seris as they send right-hander Jeanmar Gomez to the mound for his Triple-A debut on Saturday night at 7:00 pm EST.
Aeros Split With Mets
The Akron Aeros managed a split with the Binghampton Mets Friday night in cold weather at NYSEG Stadium, winning 7-6 in the completion of the season opener, which was suspended to rain, and losing 5-1 in the nightcap.
In the completion of the suspended game, the Aeros were paced by third baseman Lonnie Chisenhall who went 3-for-5 with 2 2B and 2 RBI. Right fielder Matt McBride chipped in going 1-for-5 with a HR and 2 RBI and DH Jared Goedert went 2-for-4 with an RBI.
Right-hander Zach Putnam started the game and in four innings allowed two runs on three hits, one walk and had one strikeout. Right-handed reliever Erik Stiller struggled going 1.2 innings and allowing three runs on three hits, two walks, and a strikeout before right-hander Chen-Chang Lee came in and slammed the door shut with 1.2 innings of scoreless relief and was awarded the win.
In the nightcap, the Aeros' bats were absent as they could only manage one run on four hits in the double-header shortened seven-inning affair. Chisenhall went 1-for-2 with a walk and first baseman Beau Mills went 1-for-3 with an RBI. On the pitching front, left-handed starter Scott Barnes battled with his control and in 3.1 innings allowed three earned runs (five total) on six hits, three walks, and had one strikeout. Right-handed reliever Bryan Price was impressive in his Double-A debut going 1.2 shutout-hitless innings allowing a walk and striking out four.
The series continues in Binghamton Saturday afternoon at 1:05 p.m. Connor Graham makes his first start of 2010 for the Aeros against Binghamton's Scott Shaw. The game broadcast begins at 12:50 p.m. on SportsRadio 1350 AM and online at www.akronaeros.com.
K-Tribe Shuts Out Dash 5-0
Four K-Tribe pitchers combined for a four hit shutout as the Indians downed the Dash 5-0 Friday night at Historic Grainger Stadium.
Nick Hagadone got the start for Kinston, giving up just two hits in 4 1/3 innings. He walked two and struck out four batters. Bryce Stowell (1-0) picked out the win from the pen, striking out five while giving up just two hits in 2 2/3 innings. Matt Langwell and Steve Smith each pitched hitless innings from the pen to finish up the shutout for Kinston. Indians hurlers struck out 12 Winston-Salem batters in the game.
The K-Tribe got the only run they needed when Lucas Montero scored on a Jason Kipnis RBI single in the third inning. Kipnis and Abner Abreu would add to the lead, both scoring on a Winston-Salem error with the bases loaded in the fifth inning. The K-Tribe would finish up the scoring with RBI hits from Doug Pickens and Montero in the bottom of the eighth. Pickens had two hits for Kinston; Kipnis went 3-for-4. Jordan Henry went 1-for-2 with three walks for Kinston.
Greenville, NC product and former UNC Tar Heel Alex White will make his first start for the K-Tribe Saturday night. Game time 7pm at Historic Grainger Stadium.
User Comments
No comments currently. Be the first to comment!