Game Recap 5/7: Weglarz Leads Aeros To Win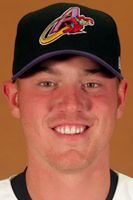 Aeros Slam Phillies
Paolo Espino tossed five solid innings, DH Nick Weglarz had six RBIs, and the Akron Aeros stunned the Reading Phillies Friday evening in the opening game of their three-game series with a 12-7 romping in front of 9,887 fans -- the second largest crowd in Reading Phillies' history.
Phillippe Aumont (1-2, 6.08 ERA) struggled over 3.1 innings, allowing six runs on five hits, and was saddled with his second loss of the 2010 campaign. Aumont, 21, issued a season-high eight walks, while fanning just three. After winning Eastern League Pitcher of the Month honors after consecutive solid outings, Aumont has allowed 10 runs and 13 walks over his last five innings.
While Aumont struggled, Akron starter Espino (2-1, 4.06 ERA) allowed just two runs on three hits over five innings to earn his second win of the season. A native of Panama City, Panama, Espino, 23, was originally drafted by the Indians in the 10th round of the 2006 draft. The righty fanned four batters, while walking just one, and has now gone at least five innings in all six of his games this season.
Standing out offensively for Akron was Weglarz, who finished 2-6 with a homer and a career-high six RBIs. Originally selected in the third round of the 2005 draft, Weglarz, 22, is hitting .315 with five homers and 23 RBIs. He's ranked by Baseball America as the sixth-best prospect in the Cleveland organization.
Other offensive standouts for the Aeros on Friday were 3B Josh Rodriguez (2-3, two doubles, and an RBI) and LF John Drennen (1-4 with a home run and two RBIs).
The series resumes Saturday at 6:05 p.m. Lefty Eric Berger (0-1, 18.56 ERA) takes the mound for Akron against southpaw Yohan Flande (1-2, 2.10 ERA).
Clippers score late to beat Lehigh Valley
The Clippers used a big night from Trevor Crowe and a solid, if not spectacular outing from Jeanmar Gomez to take a late-innings victory in a back-and-forth game over the Iron Pigs by a final score of 6-3.
The IronPigs scored a run in the 2nd inning, but the Clippers answered back with a pair when Trevor Crowe drove in a run with a triple and scored on a Carlos Santana single. Lehigh Valley snatched the lead back in the 4th on a two run single from Neil Sellers for a 3-2 score.
The lead would be short-lived for the Pigs because Shelley Duncan drilled a solo home run half an inning later to tie the game.
In the top of the 8th inning the Clippers struck for a trio of runs when Anderson Hernandez smacked a single through a drawn-in infield to drive in a pair of runners. Hernandez scored on a subsequent Crowe double. The Clippers bullpen would do the rest.
Both starting pitchers left the game under the tie and didn't factor in the decision. Gomez went 6 innings, allowing 3 runs on just 4 hits. He walked 4 and struck out 3. Jeremy Sowers tossed 2 scoreless innings of relief and earned his 1st win of the year. Jess Todd saved his 3rd game of the season.
The 3rd game of the series starts at 6:35 Saturday evening with Yohan Pino looking for his 5th win of the season against Pigs righty Nate Bump.
Kinston Falls 4-2 in 10 Innings
A two-out, two-run double by Michael Burgess in the 10th inning sent the K-Tribe to a 4-2 loss to Potomac on Friday night at Historic Grainger Stadium.
Kinston starter Alex White had another strong outing, giving up 2 runs on 5 hits in 6 and one-third inning. He struck out 7 and walked just 1, but got a no-decision. The K-Tribe scored first on an RBI double by Ronald Rivas in the second inning to score Karexon Sanchez. Potomac answered in the fifth as Steve Lombardozzi
User Comments
No comments currently. Be the first to comment!