Game Recap 6/6: Hagadone Powers Aeros To 7th Straight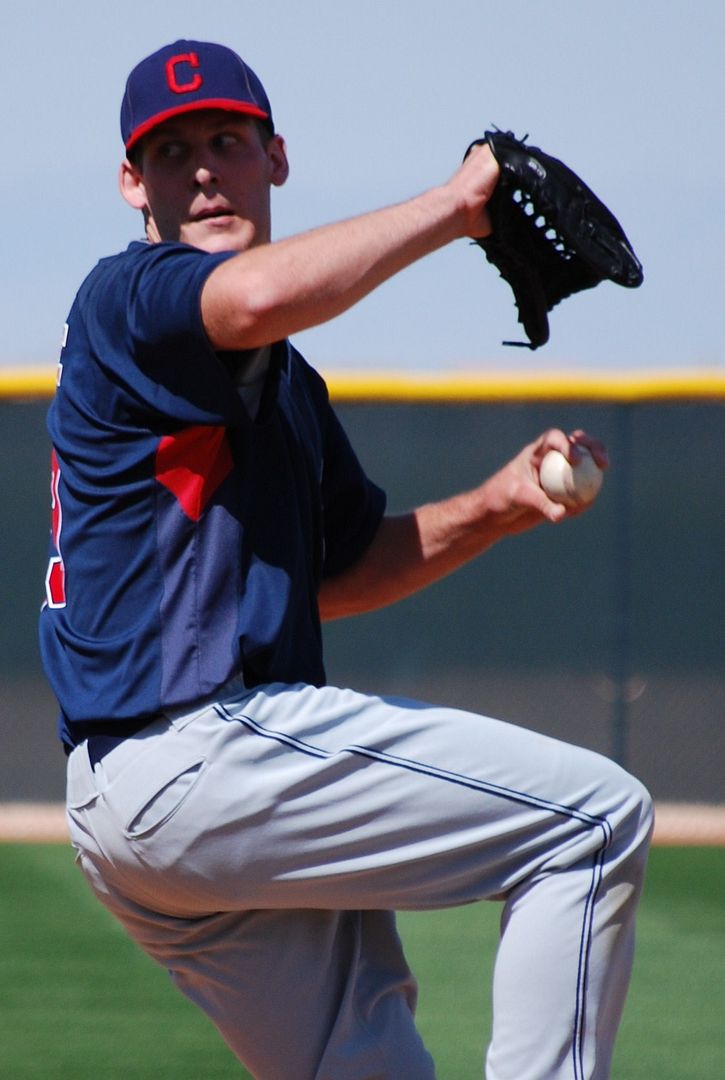 Hagadone's Helps Aeros Earn 7th Straight Win
The Akron Aeros completed a three-game sweep of the Harrisburg Senators on Sunday afternoon, winning 3-0 at Metro Bank Park. The loss sent the Senators below .500, at 28-29, while the red-hot Aeros improved to 27-30 after their seventh straight victory.
The game was scoreless through the first four innings, before Akron (27-30) struck first in the top of the fifth. Matt McBride led off that inning with a double, and then Carlos Rivero drove him home with a one-out single.
Akron tacked on their final two runs in the top of the eighth inning on a two-run double by Lonnie Chisenhall, but a single run was all starter Nick Hagadone (1-0) needed to pick up his first win of the season. Tom Milone (5-2) of the Senators threw seven innings, struck out eight and allowed just one run, but took the loss. Connor Graham earned his first save of the year with a scoreless ninth inning.
The Sens managed five hits in the game, with Chris Marrero picking up two of them. Michael Martinez, Jesus Valdez, and Edgardo Baez each added a hit apiece. Martinez also walked and stole a base in defeat.
The scorching Aeros look to continue their winning ways at home at Canal Park after an off day Monday. The New Hampshire Fisher Cats make their only 2010 appearance at Canal Park as the Aeros open a six game homestand Tuesday night at 7:05 p.m. Akron prospect Alex White (2-1, 1.83 ERA) looks to continue his smooth transition to Double-A against 'Cats starter Zach Stewart (3-1, 5.47 ERA).
Bixler drives in four in Clippers win
The Columbus Clippers defeated the Indianapolis Indians, 5-1 on Sunday, recording their first win of their four-game road trip. The Clippers struggled to score runs in the previous two games against Indianapolis, but the offense showed off their strengths in the early afternoon.
Brian Bixler and Josh Rodriguez led the way for Columbus as Bixler recorded two doubles and drove in four runs while Rodriguez tallied three hits and scored three times. Michael Brantley and Jose Constanza also contributed multi-hit games for Columbus. The Clippers as a team recorded 11 hits on the afternoon, much better than the previous two outings, as the team combined for 11 hits and two runs.
Not to be outdone, Yohan Pino and the Clipper pitching staff aided in the Columbus win. Pino allowed only two hits on his day, striking out six and walking four in seven innings of work. Pino's scoreless outing moved Pino's record to 6-2 on the year and he lowered his ERA to 4.12. Joe Smith came on in the eighth, giving up one unearned run after a throwing error by Jared Goedert and Vinnie Pestano came on for a scoreless ninth.
The Clippers will close out their visit to Indianapolis on Monday at 7:00 p.m. before returning home to Huntington Park on Tuesday night.
Winston-Salem Wins in Extra Innings 4-3
Winston-Salem completed a four game sweep of Kinston with an extra inning, 4-3 victory Sunday afternoon in the Triad.
Kinston got on the board in the top of the first inning when Lucas Montero led of with a single, Karexon Sanchez reached on an error and Abner Abreu drove them both home with a double. Winston-Salem would cut the lead to 2-1 when Seth Loman scored on a wild pitch in the bottom of the second inning. Winston-Salem would take a 3-2 lead in the bottom of the fifth, thanks to three extra base hits. Kinston would even the score in the sixth, when Doug Pickens drove home Jason Kipnis with a two-out single. Kinston starter Joey Mahalic went 4 2/3 innings, giving up five hits and five earned runs while walking three batters. Dash starter Stephen Sauer gave up eight hits and three runs in six innings of work.
Both bullpens would work in and out of trouble as the game stayed tied at three until the tenth inning. Chris Jones pitched 2 2/3 inning for Kinston, giving up three hits while walking three. Winston-Salem
User Comments
No comments currently. Be the first to comment!