Game Recap 7/17: Saturday Slam For Kersten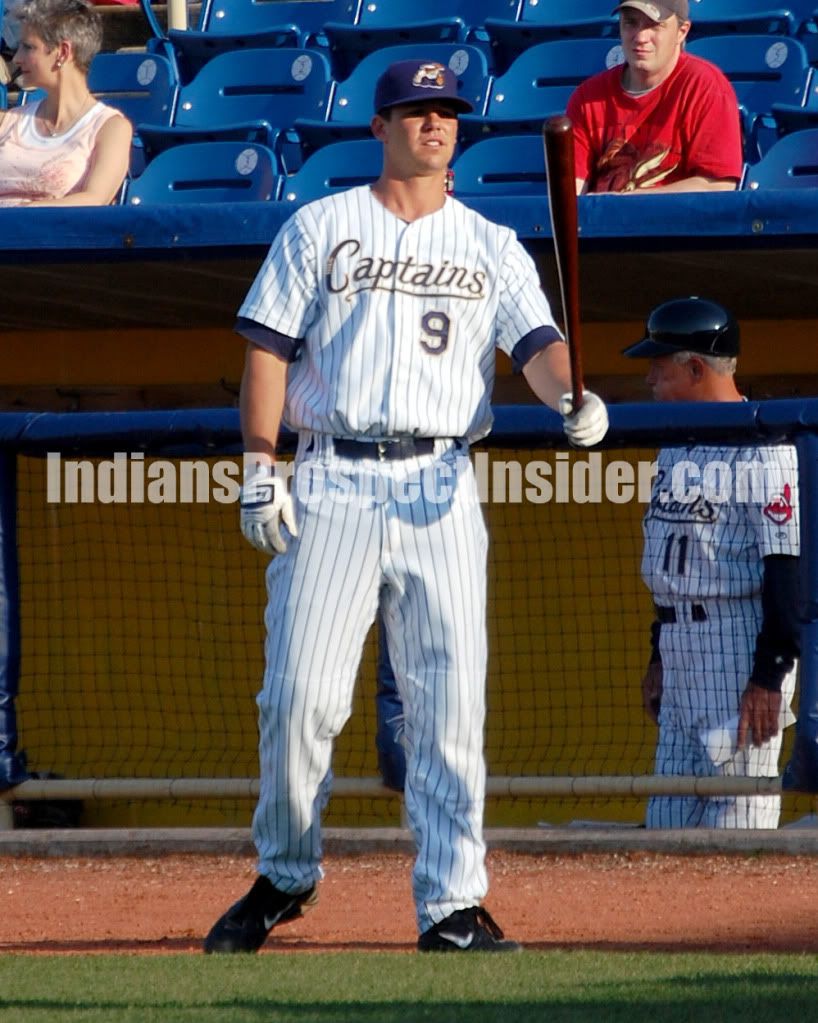 Captains Steam the Kernels 10-1
Greg Folgia and Chris Kersten combined to drive in seven runs, as Matt Packer tossed seven innings of one run ball leading Lake County to a 10-1 win over Cedar Rapids.
Lake County jumped in front 1-0 in the top of first inning. Casey Frawley tripled to left centerfield to score Trent Baker who reached on an error by third baseman Michael Wing.
Cedar Rapids came right back to tie the game at one in the bottom of the first. Jean Segura singled up the middle and after a bunt single by Matt Long the Kernels had runners on the corners. Jeremy Cruz hit into a double play which allowed Segura to score.
In the fourth inning, Jason Smit reached on a four pitch walk to get aboard. Greg Folgia wasted no time, crushing a Kehrer pitch to deep left center to make it 3-1.
Roberto Perez picked up a one out single to get the seventh inning started. Smit picked up his first hit of the game with a single to right. Folgia doubled down the left field line driving in his third run of the game. Argenis Martinez and Delvi Cid went back to back with single to right each of them driving in a run. Trent Baker walked to load the bases. Chris Kersten smashed a towering shot to leftfield for a grand slam homerun. The Captains scored seven runs on six hits and lead it 10-1.
Packer (8-4) picked up the win with seven innings of work giving up just one run on seven hits, striking out four. Tyler Kehrer (3-4) suffered the loss giving up three runs, two of them earned on four hits over five innings. Antownie Hubbard pitched two shutout innings in relief giving up just a hit.
Lake County and Cedar Rapids will continue their three game series with a 3:05PM start from Memorial Veterans Stadium. RHP Brett Brach (1-5) will get the start for the Captains in game two of the series and will be matched up against LHP Stephan Locke (5-2) for the Kernels.
Tides shutout Clippers, 4-0
Columbus' high-powered offense was no match for Zach Britton and the Norfolk Tides on Saturday night, as Britton blanked the Clippers, 4-0 at Harbor Park in front of 7,553 fans.
Columbus was held to just six hits on the night, a vast difference from last night's 16 hit performance. In the previous 22 games, Columbus has pounded out at least 10 hits in 17 of those contests.
The Tides scored a single run in each of the first four innings against starter Josh Tomlin, who pitched seven innings, but gave up three home runs in his fourth loss of the season. Robert Andino hit his tenth home run of the season to begin the scoring in the bottom of the first inning and Michael Aubrey went yard twice, once in the second and again in the fourth to put Columbus away.
Britton pitched seven and a third scoreless innings, scattering only five hits on the night. He was in control the entire night and faced only one jam in the seventh, as he allowed two hits, but was later pulled.
The Clippers look for the series split against the Tides tomorrow at 6:15 p.m. at Harbor Park. David Huff (3-0, 4.15) is scheduled to start for Columbus as Zach Clark (0-4, 5.06) will take the hill for Norfolk.
The Aeros stormed back to win again Saturday night, striking for three runs in the decisive seventh inning to claim a 6-5 victory over the Erie SeaWolves. Akron
User Comments
No comments currently. Be the first to comment!