Game Recap 7/7: McBride Shines in Win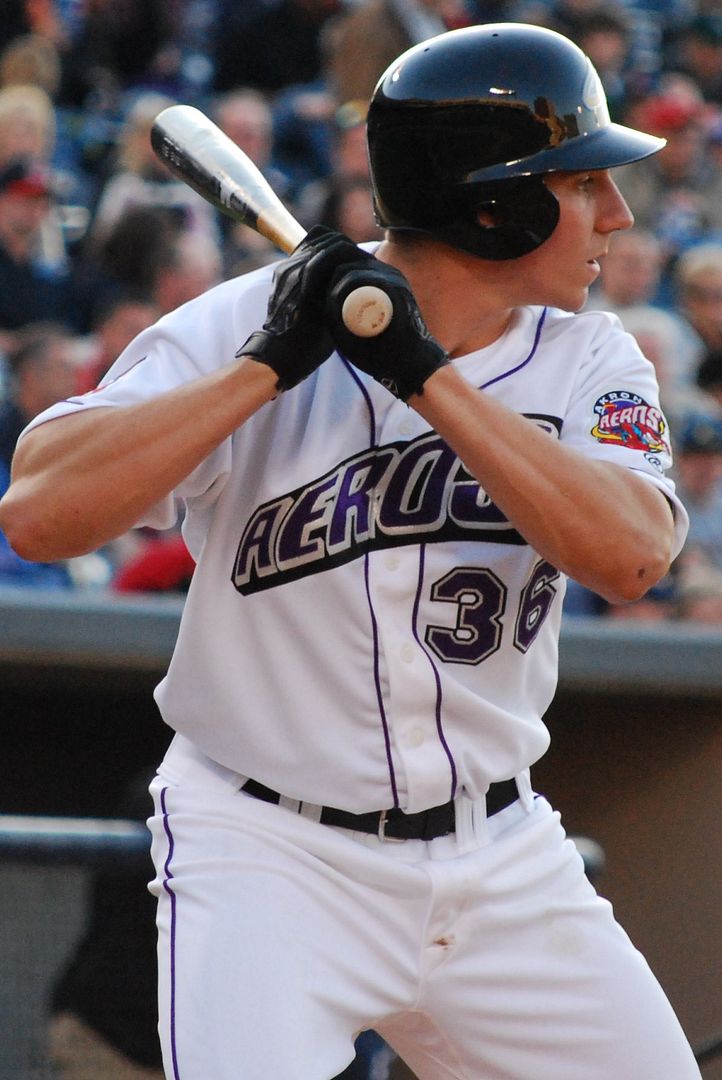 McBride Stars As Aeros Win Easily 10-2
The Aeros offense picked up steam Wednesday night at Canal Park, dominating the Trenton Thunder in a 10-2 victory. The outburst followed a season-low one-hit performance by Akron Tuesday as first baseman Matt McBride had another dominant outing in front of a crowd of 2,191 fans. The hosts pounced for five runs in the third inning and four more in the fifth en route to the win while the pitchers held the Thunder scoreless until the eighth. The win improved the Aeros to 42-43 on the season while Trenton still leads the Eastern Division with a 52-33 record overall.
The scoring began in the second with McBride lofting a solo home run to the left field bleachers against Trenton starting pitcher Lance Pendleton. The right-hander then permitted two walks and a single to start the third, and promptly allowed a run-scoring free pass to Lonnie Chisenhall. McBride followed with a two-run double to left and designated hitter Beau Mills picked up two more RBI in extending the lead to 6-0 with a lining single.
A Jason Kipnis infield single and an error by Trenton first baseman Marcos Vechionacci then initiated Akron's rally in the fifth inning. McBride hit a two-run double for his third extra-base hit in as many at-bats before later scoring on a wild pitch by reliever J.B. Cox. Right fielder John Drennen and catcher Miguel Perez ended Akron's scoring by smacking back-to-back two-baggers with two outs in the frame to provide for the 10-run advantage.
Aeros lefty Eric Berger struggled with his control in the start as he allowed six walks but avoided serious damage to escape with five shutout innings. Relief pitcher Steven Wright replaced him in the sixth and after two perfect frames, allowed the only Thunder runs of the night on a two-run home run by third baseman Justin Snyder in the eighth.
Berger (4-4) earned the win in just his second start since returning from the disabled list last Saturday, striking out one and permitting three hits. Pendleton (7-4) surrendered the first six runs on five hits and three walks in three innings while Wright allowed just the one hit with five strikeouts in the final four frames of the game for his fourth save of the year.
McBride finished the night 4-for-5 with a single, two doubles and a home run as he collected five RBI overall. His four hits, three extra-base hits and three runs scored in a game all tied season-highs for any Akron batter and he now leads the team in hits (81), doubles (18), home runs (11) and RBI (46). Mills drove in two runs with two hits as well and the eight-run margin of victory was the largest for the Aeros this season.
Home runs plague Pino and Clippers
The Toledo Mud Hens won the series finale against the Columbus Clippers, 6-4 on Wednesday night at Huntington Park. The Mud Hens used the long ball to defeat Columbus, as all six of their runs came off of home runs.
The Mud Hens got on the scoreboard first with a three-run home run by Jeff Frazier in the first inning off of Yohan Pino. Frazier's homer was his 16th of the year. Pino's struggles continued in the third inning as he allowed a single to Will Rhymes, then Jeff Larish hit his 14th home run of the year to right field, giving Toledo a 5-0 lead.
Pino struggled with his location all night, as he gave up six earned runs on six hits, while also giving up three home runs and hitting two batters.
The Clippers would score in the fourth inning as Jordan Brown missed a home run by inches, but drove home Josh Rodriguez with an RBI double to right. The Mud Hens would get their five-run lead back in the fifth when leadoff man, Scott Sizemore went deep over the right field wall.
The Clippers inched closer in the sixth inning with back-to-back home runs by Luis Valbuena and Jared Goedert. Valbuena's homer was a two-run shot, his third of the year, and Goedert hit his 13th long ball of the 2010 season. That would be all for Columbus as the Mud Hen bullpen did their job in preserving the win for starter, Billy Buckner, who went five-and-one-third innings.
Salem Slips by Kinston 4-1
Salem's Will Middlebrooks hit two home runs, as the Red Sox beat Kinston 4-1 Wednesday night at Historic Grainger Stadium.
Middlebrooks started his big night in the first inning against K-Tribe starter T.J. House. Mitch Dening led off the inning with a single and then with two-outs in the inning, Middlebrooks crushed a two-run homer to left field. Salem added on in the fifth on another two-out hit as a Mitch Dening RBI single to center scored Tim Federowicz for a 3-0 lead. Drew Hedman tried to score from second on the hit, but was thrown out by Indians center fielder Lucas Montero at home plate to end the inning. The two-out magic came again as Middlebrooks continued his onslaught in the sixth inning, belting a solo shot to left, again off of House to make it 4-0.
House (2-6) takes the loss, giving up four runs on four hits, walking two and striking out two in six innings of work. Kinston's David Roberts had a strong outing from the bullpen, not giving up a hit in three innings of work. Roberts walked one and struck out three.
Kinston scored in the bottom of the seventh after Kyle Bellows hit a lead-off double. Juan Diaz knocked an RBI single to left to score him later in the inning for the Indians lone run. Bellows was 2-for-4 on the night as Kinston outhit Salem 5-4. Salem's starter Michael Lee (6-3) picked up the win, giving up just two hits in 5 1/3 innings.
Smith's Blast Lifts Captains to 3-1 Win
Kyle Smith leadoff the seventh inning with a solo homerun off of Justin Adams giving the Captains a 2-1 lead. Lake County went on to beat Fort Wayne 3-1 for their third straight win.
The Captains scored first in the fifth inning following a leadoff triple by Roberto Perez. Chris Kersten roped a double over the leftfielder scoring Perez putting Lake County in front 1-0.
The TinCaps tied the game up in the sixth inning after Danny Payne started things off with a double. Brett Brach hit Jeody Valdez with a pitch forcing a pitching change to Francisco Jimenez. Jimenez intentionally walked the cleanup hitter Nate Frieman to lead the bases. A wild pitch to Edinson Rincon allowed Payne to come in and score and the game was tied at one.
With the Captains back in front 2-1, Chris Kersten singled in the seventh inning his second hit of the game. Greg Folgia followed with a base hit of his own. Trent Baker gave Lake County some insurance with an RBI single scoring Kersten making it 3-1.
Jimenez (6-1) picked up the win throwing 2.1 innings not allowing a run on two hits. Preston Guilmet picked up his seventh save pitching 1.1 without a hit and striking out three. Brach picked up a no-decision in the game put was strong in 5.1 innings of work surrendering just four hits with the only run being charged to him, also finishing with five strike outs. Adams (1-1) suffered the loss allowing two runs on four hits in his only inning of work.
Note: The Mahoning Valley Scrappers had a scheduled night off.
User Comments
No comments currently. Be the first to comment!