Game Recaps 4/24: Holt unleashes havoc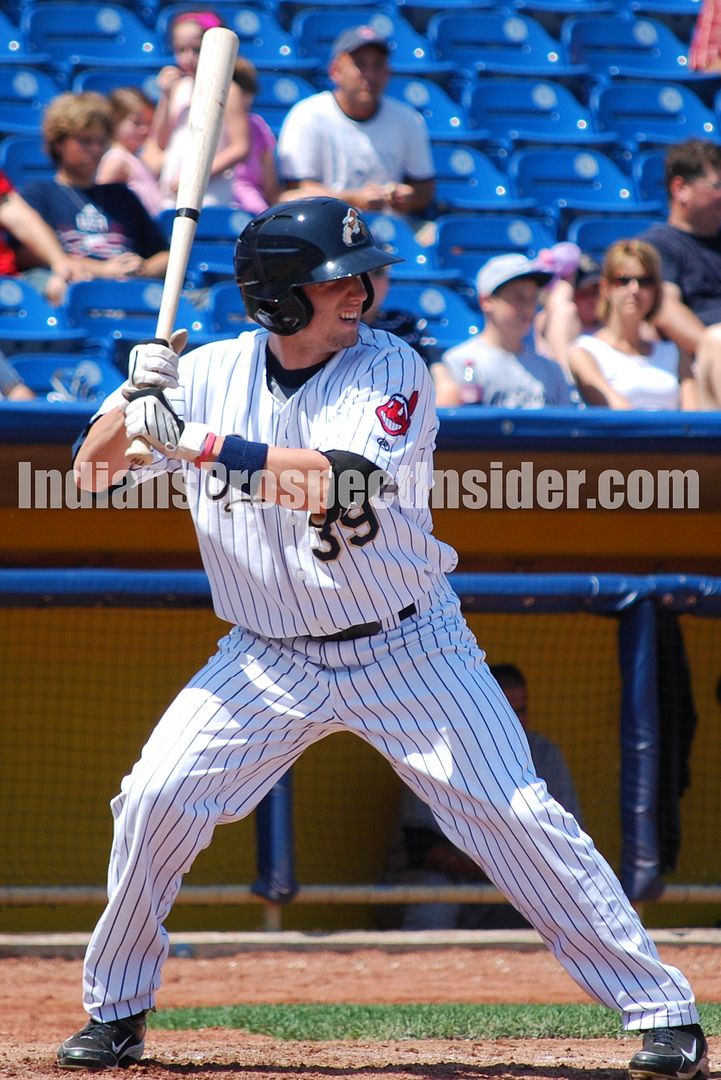 Tyler "Havoc" (photo: TLastoria)
Fantastic pitching helped propel Kinston towards a 3-2 win over Myrtle Beach Sunday afternoon at Historic Grainger Stadium. With the win Kinston (6-10), split the four game series with first place Myrtle Beach (11-5).
Trailing 1-0, the K-Tribe evened the score when Tyler Holt led off the bottom of the first with a solo home run. It was his first homer of the season. Kinston then took the lead in a wild bottom of the third inning. It started with a Roberto Perez walk. After Perez stole second base, he advanced to third on a single by Holt. Perez would score later in the inning, when Pelican's catcher Vinny DiFazio threw the ball into center field as Holt tried to steal second. Holt would then steal third later in the inning. Holt scored after Abner Abreu struck out, but the wild pitch got away from DiFazio. Kinston left the inning up 3-1, stealing four bases in the frame. Holt went 3-for-4 with two runs scored for Kinston.
Kinston's pitching did the rest as starter Brett Brach (1-1) got the win. Brach pitched five innings, giving up four hits and one run. He walked three and struck out five. Marty Popham pitched out of trouble in the seventh inning. Leury Garcia tripled home Ryan Stausborger to cut the Kinston lead to 3-2 with just one out in the inning. Popham then induced a pop-up from Travis Adair and struck out Michael Olt to end the inning. Tyler Sturdevant and closer Preston Guilmet then combined to throw a perfect eighth and ninth inning. Sturdevant got a hold and Guilmet his first save of the season. Pelican's starter Ryan Kelly took the loss for the Pelicans.
The K-Tribe homestand continues through Thursday as the Salem Red Sox come to town for a four game series. Game one Monday night, 6:30 in Kinston. Cleveland first round draft pick Drew Pomeranz will get the start for the K-Tribe.
Big Fourth Inning Propels Clippers to victory
The Columbus Clippers used big lumber to score five runs in the fourth inning to give them a 6-4 victory over the visiting Indianapolis Indians. Their previous two games had been postponed due to rain.
Travis Buck, who homered in the second, would walk with one-out in the fourth and Cord Phelps would follow with a single, moving Buck to third. That's when the real fun began. Jordan Brown tripled in Buck and Phelps, followed by catcher Paul Phillips and second baseman Luis Castillo hit back-to-back home runs, giving the Clippers a 6-2 lead.
Corey Kluber started the game for Columbus, but severe control issues got him out of the game quickly. He struck out five, but walked six, giving up two runs (one earned) in 3 1/3 innings pitched.
Jensen Lewis would relieve Kluber, and continued his triple A dominance with 1.2 innings of no-hit baseball. Lewis would get the win, and still hasn't given up a run this season. Zach Putnam followed with two innings of one-hit baseball, striking out three and walking only one. Frank Hermann continued his slide after starting with the big league Tribe, giving up two runs on two hits and two walks. Josh Judy would come on, getting his first save of the season.
Follow Tony and the Indians Prospect Insider on Twitter @TonyIPI. Also, his latest book the 2011 Cleveland Indians Top 100 Prospects & More is available for purchase for $20.95 to customers in the US (shipping and handling extra).
User Comments
No comments currently. Be the first to comment!