Game Recaps 7/27: Wetmore guides Captains to win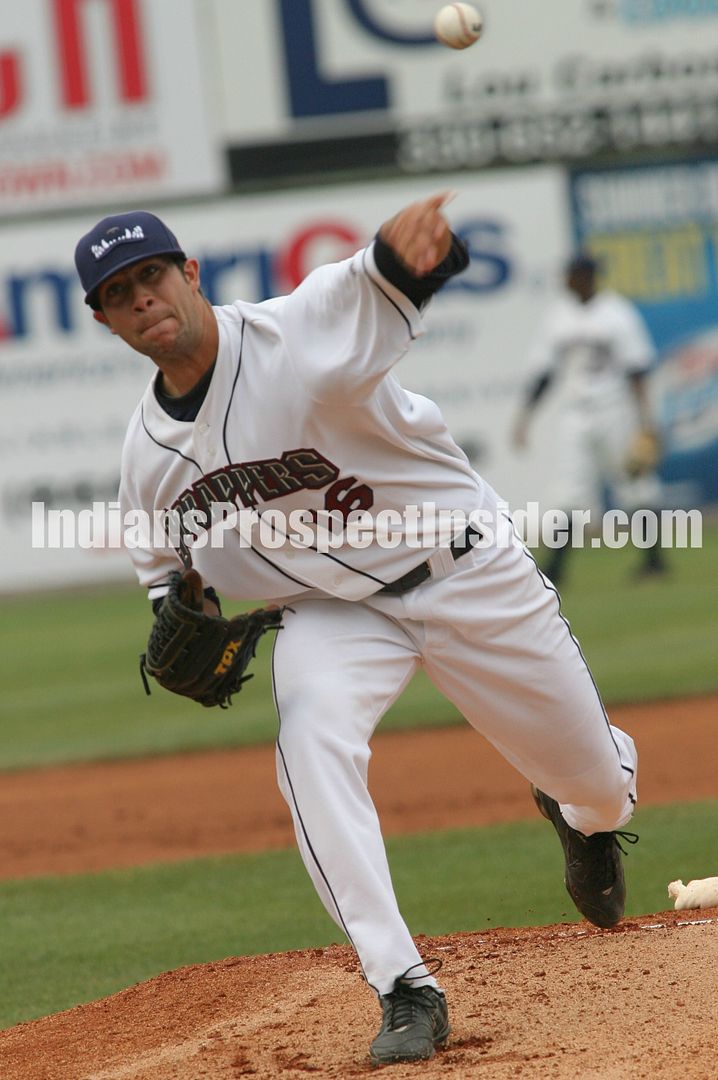 Kirk Wetmore (Photo: IPI)
Captains flatten Hot Rods 9-4
Lake County used a total team effort on Wednesday night defeating Bowling Green 9-4 for their third straight win. Kirk Wetmore (2-0) tossed six scoreless, hitless innings for his second win of the season striking out three. Everyone in the lineup also reached base for the Captains.
Brian Heere roped a double down the right field line to lead off the third. Aaron Fields walked and Nick Bartolone reached on an infield single to load the bases. Carlos Moncrief singled in a run. Jordan Casas hit into a double play that scored Fields. Alex Monsalve singled to center scoring Bartolone. Jesus Aguilar drove in his 69th RBI of the season with a double off the centerfield wall giving Lake County a 4-0 lead.
In the fifth inning, Moncrief tripled scoring Bartolone. Monsalve collected his second RBI singled to right field scoring Carlos and the Captains went up 6-0.
Ronny Rodriguez led off the sixth inning, with a solo homerun to leftfield, his eighth of the season to make it 7-0. Jordan Casas drove in a pair of runs increasing the lead to 9-0 with a two-out single to centerfield.
Phil Wunderlich led off the Hot Rods seventh inning with a single off Joey Mahalic for their first hit of the night. Robby Price followed with a hit to right. Nick Schwaner walked to load the bases. Luke Bailey ripped a double down the leftfield line driving in a pair of runs. Hot Rods Kevin Kiermaier added an RBI with a ground out to first making it 9-3.
Jason McEachern (0-1) took the loss allowing six runs on ten hits, walking two and striking out two for the Hot Rods.
Lake County and Bowling Green continue their three game series on Thursday night at Classic Park at 7:00PM. The Captains will start LHP Mike Rayl (5-5) against RHP Eliazer Suero (6-4) for the Hot Rods.
Chiefs shut down Clippers 2-0
One night after Justin Germano's perfect game, Syracuse responded with a no-hit bid of their own, as they hold the Clippers to one hit and win 2-0.
Brad Peacock took a no-hitter into the eighth inning until a Beau Mills double broke it up. Peacock (2-1) was removed from the game after the double.
He went seven innings, allowing one hit, striking out seven and walking four. In the eighth, the Clippers put the first two hitters on, but could not come away with a run. They also had a base runner in each of the first five innings but could not capitalize. Overall, they left seven on base.
Jeanmar Gomez (10-4) was the tough luck loser, allowing two runs and striking out six over seven innings.
The Chiefs scored both of their runs in the fourth. Michael Aubrey scored after Jesus Valdez beat out a double play ball that was disputed by Clippers manager Mike Sarbaugh. The next hitter, Tug Hulett, tripled to score Valdez.
Game three of a four game set continues Thursday at 7:05 PM. Zach McAllister squares off against Chiefs lefty Tommy Milone.
Aeros swept by Thunder
The Akron Aeros were swept by the Trenton Thunder Wednesday losing the finale of a three-game series 5-1 at Canal Park.
With the loss, the Aeros (54-51) have dropped a season-high four games in a row.
Right-handed pitcher Joe Gardner suffered the loss for Akron pitching 5.1 innings, allowing five earned runs on 10 hits, walking three and striking out two.
Left-handed pitcher Manny Banuelos recorded the win for Trenton tossing 6.1 innings, giving up one earned run on five hits, walking three and striking out five
The game was scoreless until the top of the fourth inning when Rob Lyerly singled home Austin Romine to give the Thunder a 1-0 lead.
Trenton (56-48) added to their lead in top of the fifth inning. With one out, Addison Maruszak doubled and advanced to third on a Ray Kruml sacrifice bunt. Corban Joseph singled home Maruszak to increase the lead to 2-0.
The Thunder tacked on three insurance runs in the top of the sixth inning to take a 5-0 lead.
Akron
User Comments
No comments currently. Be the first to comment!