Goedert Positioned For Future Success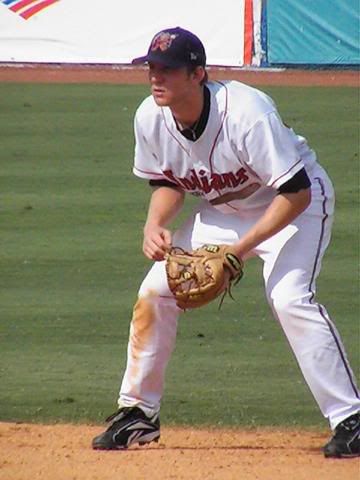 Note: This article was originally posted in September 2007 and is being re-published here since it was written before the site went live in late-October 2007.
Coming into this season, many people did not know much about Jared Goedert or had even heard of him. He had been taken in the ninth round of the 2006 Draft out of Kansas State, but after a decent year in Mahoning Valley he was not on a lot of people's radar when this season started.

That all changed after a ridiculous home run barrage in Lake County where he was a one man wrecking crew abusing South Atlantic League (SAL) pitching night after night the first two months of the season. If you checked the Lake County box scores the first month of the season, it seemed like he was hitting a home run and getting two or three hits almost every night. As he continued to pile up the hits and home runs, others took notice and he started getting a lot of press in national magazines like Baseball America as well as locally on TV appearing on "All Bets Are Off With Bruce Drennan" here on SportsTime Ohio.

Earlier in the season, after his blazing start, I asked around about Goedert and the consensus reply from scouts was that they were certainly taking notice and were excited and intrigued with what he was doing, but were maintaining a wait and see approach to see if he could keep it up. Popular minor league guru John Sickels said, "I saw him play for Kansas State in college, and while he struck me as a pretty good athlete with some offensive potential, I didn't think he'd do anything like this as a pro. He's still young, too, just 21." Another source who did not want to be identified said, "He can definitely hit -- though I'm not yet convinced he's THIS good. Defense is way behind the bat."

Indians General Manager Mark Shapiro, Director of Player Personnel Ross Atkins and the rest of the organization were also vocal early in the year with how excited they were with what they saw from Goedert at Lake County. Shapiro mentioned that they were not at all surprised by Goedert's offensive outburst in that they "liked his offensive potential when they drafted him, but no one ever saw this coming." Atkins also said Goedert's great start in Lake County was a springboard off of a "great spring training in Florida this year" and that "everyone in the organization is excited about him."

Goedert is not a big assuming player nor overly strong (6'1" 180 pounds), but he has great raw power and the ability to hit the ball out to any part of the ballpark. His consistent swing and line drive stroke help generate most of his power, and he used that to his advantage in Lake County. Goedert ended up hitting .364 with 16 HR, 51 RBI, and a 1.191 OPS in 46 games at Lake County before he was called up to Kinston on May 28th. His numbers were so ridiculous and really something you see in a Nintendo game, and I acknowledged his performance myself by naming him my Player of the Month for April and May.

Goedert is a pretty modest young man, but he feels the batting average he put up in Lake County was not a surprise to him, although he did admit he was somewhat surprised with the home run production. His surge in offensive production that led to an all out assault on SAL pitchers goes back to some hard work in the offseason and in spring training.

"I would say, I still, no matter how many home runs I ever hit, would not consider myself a power hitter at all," said Goedert in an interview the last week of the season. "I'm better off by far when I just try to be a line drive hitter and see the ball and hit it where it is pitched. I think I got some things corrected over the offseason and in spring training, and I got in a routine with our hitting coach in Lake County and in spring training where a lot of guys helped me out. I think it was more I got some things in my swing corrected, and those balls I was hitting good for line drives last year, my swing is better where I have more backspin and they are going out."

"I'm hitting down on the ball and staying short to the ball. I always felt like whatever my average was there in Lake County I could always hit .300 wherever I am at, although obviously it is going to get more and more difficult [as I move up]. So, that wasn't a surprise. I don't want to sound arrogant or anything, but I kind of expect that of myself and I know I am capable of that as it is what I would like to try to do. The home runs, I just kept trying to tell myself I can't change anything as I can't go up there trying to hit home runs. So I didn't worry about them because if they happen then great, if not and I got a couple base hits that was fine with me too."

While Goedert had built up an avalanche of momentum with his hot hitting at Lake County, an injury to his shoulder cropped up in late May. Goedert was sidelined for almost six weeks from early June until mid-July with a recurrence of an injury to his left shoulder (labrum) which he had surgery on last October. He had recovered before the season started, but in a game at Lake County near the middle of May he re-aggravated the injury when he was playing third base and dove to his left to get a groundball and ended up landing on the shoulder funny. He played through the pain for a few more weeks, including ten games in Kinston where he hit only .229, before he eventually went on the disabled list at Kinston.

When Goedert returned in mid-July, he was still not 100%, and for the rest of the season the Indians had him play every other day in order to properly rest his shoulder.

"I actually had surgery last year," said Goedert. "It happened at the end of the season in Mahoning Valley, which is when I started to notice it. It's better. Better than it was. I took some time off to let it rest, and did a lot of rehab and strengthening, things like that. I tried to monitor the amount of swings to try not to overdo it, and try to help it out that way. It is better than it was before I got shutdown for a little bit, but not quite where I would like for it to be. I think it is just going to take a little bit of rest in the offseason and a strengthening [program] to get it better."

As he played through the remainder of the season, one has to wonder if there was any chance Goedert could damage the shoulder any further; however, Goedert maintained that there was really no pain anymore.

"Just when I hit, as I throw right-handed," said Goedert. "Last year at Mahoning Valley it was to the point where I would swing and foul one off and it really hurt so I knew something was wrong. I didn't know for sure what it was. So, it is not quite to that point. Occasionally when I swing and foul one off it will hurt a little bit, but it is not affecting my swing. I'll notice it more when I take a couple rounds of BP and when I get done my shoulder is hanging a little bit. It's a lot better than it was before I went on the DL, but it is not perfect, and who knows it may never be."

Goedert struggled some in his return, as he only hit .227 with a .593 OPS in his first six games back, but for the month of August he hit .309 with 4 HR, 16 RBI, and a 1.063 OPS playing every other day. Those numbers seem to indicate he was getting back to his April and May form which had scouts so intrigued about him. Even though he was not 100%, Goedert felt like he was getting there by seasons end.

"It's close," said Goedert. "It was tough right when I came back from being on the DL having not seen a live pitch in over a month and trying to jump right back in. I would say I am a lot closer to feeling like I did then, just as far as trying to get in a rhythm getting my timing back down with pitchers and getting back into the flow of playing. I was pretty frustrated how my shoulder was bothering me when I first got here [in Kinston]. That on top of different changes made it difficult, and I feel like I really had not proved to my team I should be here yet because I did not play a whole lot after I got here. And I think maybe when I first came back I was trying to press a little bit. And after awhile I just realized
User Comments
No comments currently. Be the first to comment!