Goodyear Bound!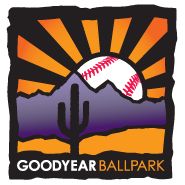 Well, I finally head out to Goodyear, Arizona today to go out and almost exclusively cover the Indians minor league system for the next week and a half. I say "almost" exclusively as I will be making more of an effort to check out major league camp and big league games mostly because of the strong presence of young players on the 40-man roster. In any case, over the course of the next week and a half starting this Saturday I will be providing daily updates from spring training.
While I will provide all the news and updates from things I learn in camp the next several days, if there is something you may want to know more about (like a player not previously featured), please contact me and I will see what I can do. To the parents, please feel free to get in touch with me if you are interested in obtaining any photos of your son in action this spring. I will be shooting thousands of high quality pictures, so let me know and I will personally send you some photos no strings attached. My e-mail address is
tlastoria@indiansprospectinsider.com
.
Also, I hope to provide some actual video interviews with a handful of players on the site over the course of the next week, so look out for that.
Anyway, I actually head out late tonight from Cleveland Hopkins Airport, so it will be a late arrival and night once again on my trek to Arizona. For those that recall
my trip from hell last year
, I pray it is a much better experience getting there this time around!
User Comments
No comments currently. Be the first to comment!