Goodyear Notebook: 3/11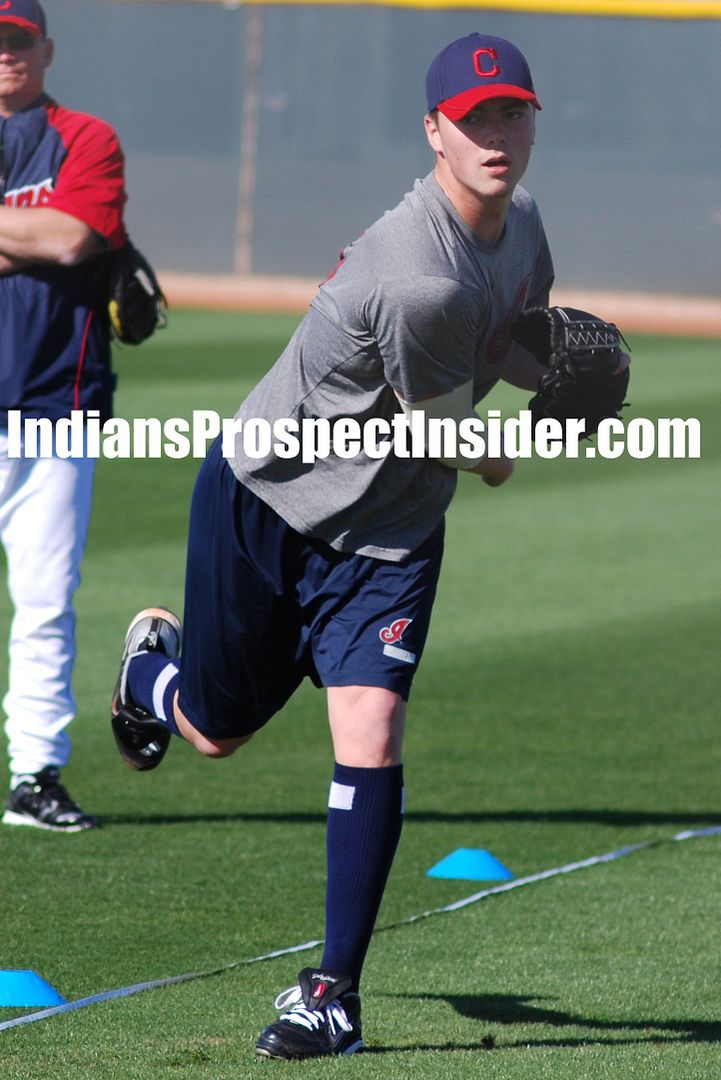 (Photo: Tony Lastoria)
With the start of minor league spring training, it is always interesting to find out how some of the players coming off major surgeries are doing in their rehabs.

One of those players is right-handed pitcher Robbie Aviles.
Aviles
, 18, was drafted by the Indians in the 7th round of last year's draft and signed with them for $150,000.

He was actually projected to go in the first or second round, but a ligament tear in his elbow just a few days before the draft seriously damaged his draft standing going in.

He had Tommy John surgery performed on July 13th, and is on the road to recovery.
"I'm feeling great," said Aviles during an interview on Friday.

"So far so good.

Everything is pain free right now, so I am happy."
Aviles continues to progress nicely with his rehab and is now throwing flat grounds as on Friday morning he threw a flat ground session to a catcher squatting down for the first time.

Going forward, the plan is to have him throw off a five inch mound in about one or two weeks so he can get used to the downward angle and then progress to a full sized mound around the beginning of April.
If things go well Aviles could pitch for the Indians rookie level team in the Arizona Summer League sometime in June or July, but the focus appears to get him 100% healthy by the time Instructional League starts.

While he has made a lot of positive strides in his rehab, he is still several months away from being ready to pitch in games.
"I am holding back some," said Aviles.

"In my flat grounds to a catcher I am probably throwing at 75%, and when I am long tossing I am at about 90%.

When I start getting on the mounds I will probably start at 60% and then work my way up about 5% every throwing session."
As for the injury, it happened on June 4th which was just a few days before the 2010 Draft.

Because New York starts their high school baseball season so late, Aviles and his school were still playing, something you rarely see from high school players in June.
"I was throwing well and it was the best I ever felt," recalled Aviles about the day he hurt his elbow.

"I heard I was up to 95 MPH in the first inning, but on the seventh pitch of the game I just tore it.

I got off the mound, talked to some scouts, and every team knew an hour later."

The injury was devastating for Aviles as it put his pro career in jeopardy, one which he was eager to get started with right away rather than go to college where he was committed to play at the University of Florida.

When the Indians selected him he knew he had little bargaining power because of the injury and he did not drag the negotiating process out.

It did not matter to him as all he wanted to do was play baseball, so he signed quickly.
"I was happy when my area scout Brent Urcheck called me up," said Aviles.

"I was not going to hold out.

My agent, parents and I talked and my goal my whole life was to play baseball, so I just signed right away and got the surgery going right away so I can hopefully come back as soon as [possible].

If I had held out I might have missed all of this season and Instructional League.

But since I signed right away and had the surgery right away, I am hoping to pitch halfway through this year and be able to pitch in Instructs at 100%."
The Indians plan to make some adjustments to Aviles' mechanics and improve the quality of his pitches, but those plans are currently on hold until he starts pitching on a mound and proves he is healthy.
"I have been talking to the pitching coaches here and they want to tweak my mechanics a little bit but they are waiting for me to get on the mound," said Aviles.

"I really want to work on my secondary pitches.

I have a clean slate right now so I want to work on all my stuff and get better at everything and just work hard."
This season is all about health for Aviles.

If he can successfully return from Tommy John surgery, then he should be able to pitch in 2012 with few if any restrictions and be back on track to achieving his dream of pitching in the big leagues someday.
"My goal is to come back healthy, be a good pitcher, and make it to the major leagues someday," said Aviles.

"And help the Indians win a World Series."
On the comeback trail:
Right-handed pitcher Alexander Perez had Tommy John surgery last May.

So far so good as he is currently throwing at 90 feet and should be back on a mound probably sometime in April, though because of his youth and his high priority as a prospect to the Indians they will be very conservative with him this year.

He will open the season in extended spring training and probably will not pitch for an affiliate until short season ball kicks up in June where he will probably pitch a few games for rookie level Arizona.

If all goes well he could potentially go to High-A Kinston to finish out the season, maybe even Double-A Akron.
Not far behind:
Right-handed pitcher Hector Rondon had Tommy John surgery last August and has also recently started a throwing program where he is at 90 feet.

Considering he had his surgery three months after Perez yet is almost on the same time table it is a sign that he is either making some big strides in his rehab or Perez has had a setback or two along the way.

I will try and get more clarification on this in the coming days.

In any case, I would not expect to see Rondon pitch for any affiliate other than rookie level Arizona this year.

If things go very well, there is an outside chance he could pitch for Triple-A Columbus at the end of the season, but the target appears to be to let him loose in Instructional League and maybe even have him go to the Arizona Fall League.
Abreu's confidence:
The shoulder issue that plagued outfielder Abner Abreu for most of last season appears to be a thing of the past.

He was never technically hurt last season, but ever since separating his shoulder in June of 2009 he has had a confidence issue with the shoulder and it was also never really at a 100% last season.

There is a belief by a few coaches that his poor showing last year and his lack of power was simply the result of a lead shoulder issue where he lacked the confidence in it and it was still not a 100%, similar to Jared Goedert prior to last year.

If the confidence truly has returned and he is healthy, it will be interesting to see how he performs this year and if the shoulder issue really did affect his play last year.
Welcome back Mr. Davis:
So I get to minor league camp on Friday and I see some tall, lanky righty pick up a ball with a nameless jersey and No. 51 on the back.

After a closer look I realize it is Jason Davis, but in my surprise I ask around in order to be sure as the warm Arizona sun may have affected my vision.

Sure enough, it is him.

The Indians have not signed him as they just have him in camp for a few days to take a look at him.

This is similar to when they brought in right-hander Tom Mastny last year, and then subsequently released him a few days later.
Morris feels good:
Left-handed pitcher Ryan Morris says he feels as good as he has in a long time.

He recently had a follow up physical with his doctor on his left shoulder, and apparently his range of motion has improved by 40 degrees, something that he and his doctor are quite pleased with as the procedure to release the joint capsule in his shoulder looks like a success so far.

It remains to be seen if he will make a team out of camp, will open in extended spring training, or maybe is even released, but this is encouraging news for him nonetheless.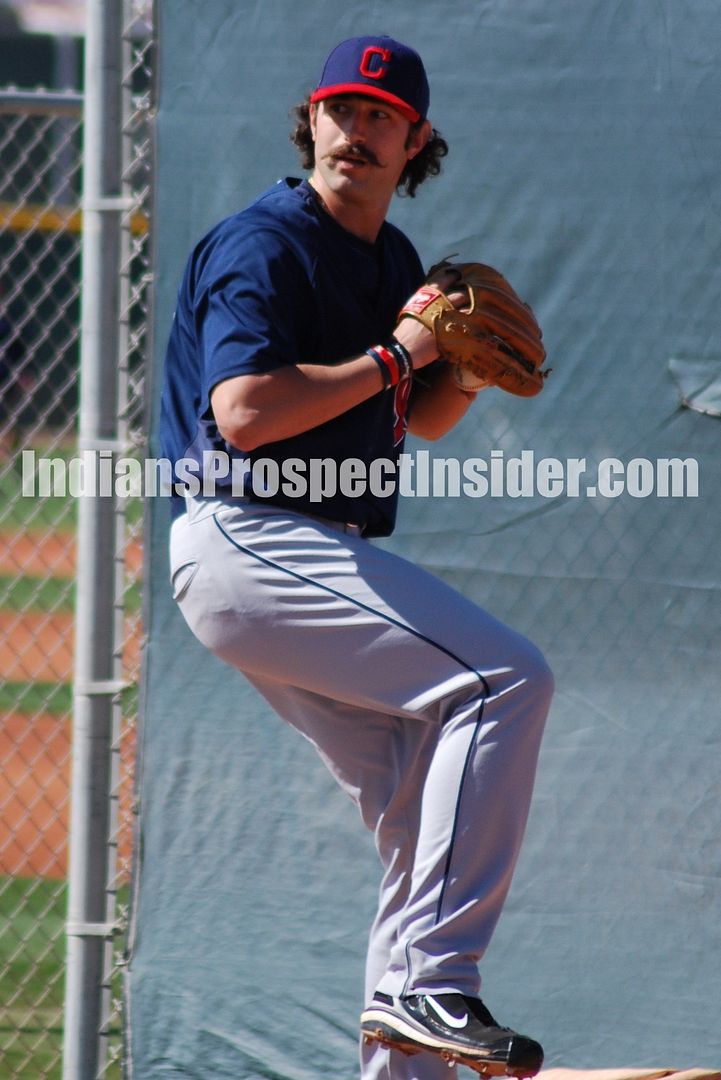 (Photo: Tony Lastoria)
House adjustment:
Left-hander T.J. House made a change to his mechanics over the winter where he is now staying back much more through his delivery so he can drive the ball through the zone better.

The change should help him have more power to his pitches.

I'll be talking to him later on in camp and will discuss the change further with him then.
Eric "Rollie" Berger:
Probably the most interesting thing my first day was the sight of left-hander Eric Berger who has grown his hair out and has a mustache that would make Rollie Fingers proud.

Check out the photo of him to the right….classic.

And I heard that the mustache was two times as big just last week before he trimmed it down.
Roster cuts:
Eight players were sent down from big league camp on Friday: right-handed pitchers Bryce Stowell, Hector Rondon, and Corey Kluber, left-handed pitchers Kelvin De La Cruz, Nick Hagadone and Drew Pomeranz, infielder Jared Goedert, and catcher Chun Chen.

Their arrival will likely mean a first round of cuts coming sometime this weekend or early next week.
Get your pictures:
Just a reminder to family members of the players, if you would like any high quality pictures of your son, brother, nephew, etc in action this spring, just drop me an e-mail at

tlastoria@indiansprospectinsider.com

and I will send you some pictures at the completion of my visit.
Family visits:
Speaking of family, you may or may not know that you are able to obtain guest passes so you have authorization to get inside the complex and get a closer look at the action.

I've learned over the years that the players often don't realize they can get you these guest passes, or that they are afraid to ask for them.

As long as the player requests them at least 24 hours in advance, you should have no problems getting them.
Today:
I will be at the minor league fields all morning and then spend the day at the ballpark watching the big league team.

Not much action yet in minor league camp as it is mostly just pitchers throwing bullpens and doing lots of different drills.

Things should kick up on Sunday as it will be the first full squad workout with position players and pitchers will start throwing live batting practice.
Follow Tony and the Indians Prospect Insider on Twitter @TonyIPI. Also, his latest book the 2011 Cleveland Indians Top 100 Prospects & More is available for purchase for $20.95 to customers in the US (shipping and handling extra).
User Comments
No comments currently. Be the first to comment!