Goodyear Notebook: 3/13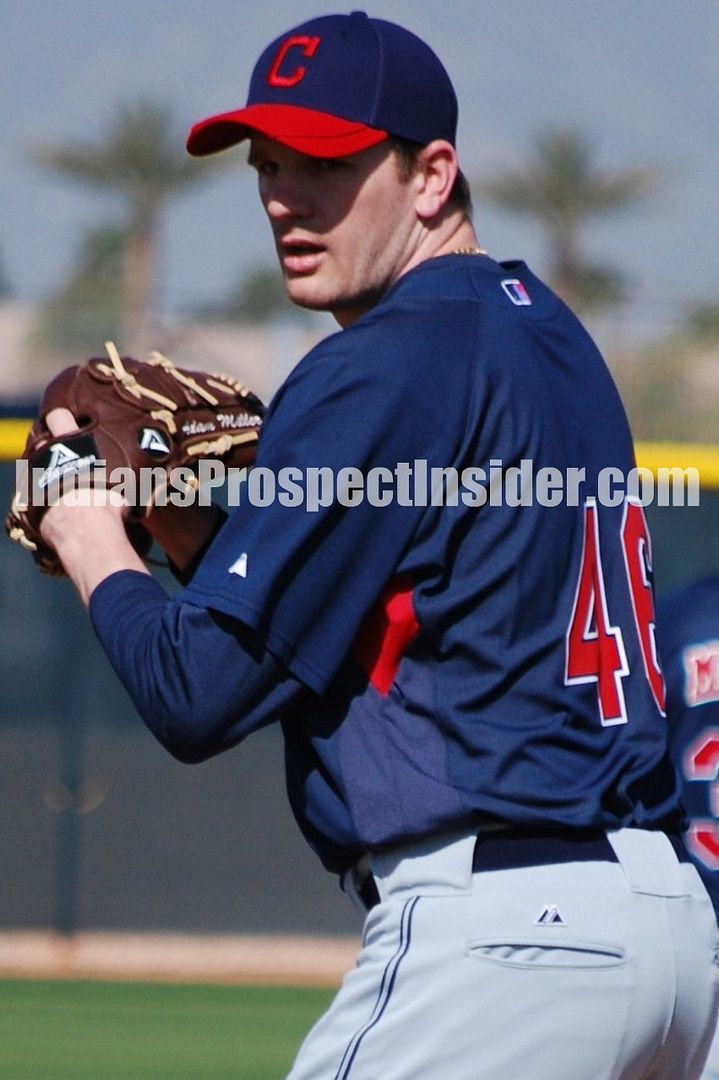 (Photo: Tony Lastoria)
So far so good with Miller
It is very early in minor league camp, but so far so good for right-handed pitcher Adam Miller.
Knock on wood, but it has now been well over a year since Miller has had any setbacks with the middle finger on his throwing hand.

After three surgeries on the finger in 2009 and lots of setbacks up to December of 2009, it has been a slow process to get him to where he is today where he is about as close as he can be to pitching for a team once camp breaks in a few weeks.
Miller, 26, maintained his health through a slow rehab process last year and was able to finish the season on a high note by pitching in Instructional League in October.

He made it through last season healthy and in the offseason was able to maintain his health, and is in camp throwing without any restrictions.
"My offseason was good as I pretty much threw and lifted," said Miller.

"At first I was just throwing two times a week at like 60 feet - nothing crazy - just to keep the feel.

I ended up taking about three weeks off from throwing just to shut it down a little but, and then I started back up throwing in mid-December [to get ready for the season].

There were no restrictions and it was a normal offseason I guess you could say.

I am pretty much a normal guy out here for the most part.

There are some things I may not do yet, but for the most part everything is good and I am just going out there and having some fun."
The only real restriction for Miller is the Indians are being careful with his volume of throwing.

All of the pitchers in camp are doing a lot of throwing to ramp them up and are throwing bullpens every other day.

In Miller's case, he has an extra day between bullpens where he is throwing every three days instead of every two days like everyone else.
"That's the only thing as right now bullpens are back to back, so instead of every other day I am going with two days in between," said Miller.

"I guess is it a semi-restriction, but it is pretty minor.

It actually could be a good thing because in '09 coming in I think the thing that was different was the volume coming in which resulted in the finger getting sore again."
Miller has thrown a lot already in camp and he says the finger so far feels fine.

He threw three bullpens before early camp started, then three more in early camp, and then threw a bullpen on Thursday and another on Sunday.

In total he has thrown eight bullpens over the past few weeks and has not had any setbacks.
"I'm good and the arm feels good," said Miller.

"Now it is just getting my rhythm back since I haven't really pitched since '09.

The last two years I haven't really been able to get that feel back.

The last bullpen [on Thursday] went really well, so hopefully it is back or so you would say."
Miller has a starter's arsenal with his fastball, slider, and changeup mix.

But at the moment he is only concentrating on throwing his fastball-slider combination and really focusing on getting his fastball command back.
"I am pretty much just throwing fastball-slider," said Miller.

"I am not really worried about the changeup right now.

The slider I haven't really been throwing because I have been working on fastball command.

If I get that then I can figure the slider out.

Probably the next bullpen [on Sunday] I will make sure it is good especially with live batting practice coming up."
Miller is not sure what the Indians or his health has in store for him this year.

He knows all he can control is going out there and doing what he can do to help ensure he can get back on the mound and be as effective as possible.
"As far as innings and stuff like that I don't know what will happen, but I am not even worried about that," said Miller.

"I'm just ready to throw and stay healthy.

That's all I can really control right now and I will see what happens after that.

I am not even taking it one inning at a time, but instead I am just taking it one pitch at a time."
If Miller can stay healthy this spring and show he is effective there is a great chance he will open the season in the Triple-A Columbus bullpen.

The Indians may opt for a more conservative route and have him open in extended spring training and then go to Columbus a few weeks into the season, but it will be hard to keep him from going to Columbus if he is healthy and pitching well because of the limited amount of bullets left in his arm and the amazing story it would make.
There are a lot of fans out there pulling for Miller, and when told of that he expressed a lot of gratitude and thanks.
"I'm just excited to be back," said Miller.

"It's a lot different from last year as all I could do was cover first in spring training.

I am pretty pumped for games right now.

That's all I care about. As long as I am throwing it's great."
The Indians have a lot of decisions to make with the starting rotation at virtually every level of the organization from Cleveland on down to Low-A Lake County.

Right-handed pitcher Austin Adams looked to be someone on the bubble going into the season as either a starter or reliever, but apparently he has been told he will be in the starting rotation to open the season.
"I am going to stay as a starter this year for sure," said Adams.

"I'll probably be a full fledged starter this year (no piggybacking) just to see how it goes.

We'll go from there and see how everything works out."
Last year Adams pitched in a piggyback situation mostly with right-handed pitcher Marty Popham at Lake County and High-A Kinston.

If he does not pitch in a piggyback role it will give the Indians a chance to see if he can go six or seven innings every five days and how he adapts to the role.
The commitment to Adams as a starter is not that much of a surprise.

Going into the season it was generally felt that he would continue to pitch in a piggyback role and then transition to the bullpen later in the year. While a transition to a bullpen role is still possible, the Indians commitment to developing him as a starter increases his value tremendously.

Had he been rated as a starter, he would have easily been ranked in my Top 20 listing this year.
To stay a starter Adams will need to show he can pitch deep into games and that he can develop that much needed third pitch.

His bread and butter are his mid 90s fastball and power curveball, but he also throws a slider and changeup.

The slider is a pitch that the organization has really spent a lot of time of late to develop as a potential additional weapon to his arsenal.
"I am going to stay with my fastball, curveball, slider and changeup mix," said Adams.

"That's what I threw last year.

In Lake County I did not throw the slider as Mickey [Callaway] and I worked on it and then once I got to Kinston me and Tony [Arnold] got it going good and I threw it there.

We have been working on my slider more as a strikeout pitch or just something to backdoor a lefty with.

But my curveball is pretty much my go to pitch."
The development of his slider and improving his command are two things that Adams will need to make strides with this year.

He also wants to maintain good health and shore up his delivery.
"I just want to make strides and stay healthy again," said Adams.

"I want to work on speeding up my delivery out of the stretch a little bit, but other than that just keep on doing what I have been doing."
Right-handed reliever Cory Burns is ready to get things going again.

He has good reason to be excited about this upcoming season after he made a splash last year with one of the best statistical seasons for a Tribe minor league reliever in some time with his 42 saves which were second in all the minors.
Burns, 23, arrived in camp on March 7th after a good offseason and is hoping that he can pick up right where he left off last season.
"My offseason was good," said Burns.

"I really just worked on improving off of what I did last year by improving on what I did well and bettering what I needed to improve on."
Burns not only had an impressive 42 saves last year, he also dominated in almost every statistical category imaginable.

While he doesn't have dominating stuff, he used his intelligence, a funky tornado-like delivery, and his strike throwing ability to limit hitters to a .212 batting average, had a 2.86 groundball ratio, and had a 13.3 strikeout per nine rate.
"Just throwing strikes," said Burns about the key to his success.

"I throw all of my pitches for strikes when I need to.

That was one of the hardest things to learn when I changed my delivery, and I think I have mastered it pretty well.

Now I just need to progress through the levels and learn how to pitch more."
Pitching against more advanced hitters is exactly what Burns needs to do this year, which likely will happen if he opens the season as expected at Double-A Akron.

He fills up the zone with strikes, but really relies on the deception created from his tornado-like delivery and the varied pauses he uses each time he winds up.

A gimmick delivery like that can work in the lower levels of the minors, but may not work as well in the upper levels, so he and the Indians need to find that out.

He also needs more experience pitching against higher level competition and just learning how to pitch and use his fastball better.
"I just kind of need to keep doing what I am doing," said Burns.

"I believe I have the stuff to do it, it is really just learning how to pitch.

I think I agree with what they told me, and that is I need to command the fastball a little better.

I throw my changeup and curveball for strikes very well, and sometimes it forces me to stray away from my fastball.

To be at the higher levels, I need to throw my fastball for strikes."
Knapp slowed:
The Indians apparently are taking an extremely cautious approach with right-handed pitcher Jason Knapp.

He says he is fine, but he has not thrown a bullpen yet so far in camp at the recommendation of team personnel.

He is currently only throwing at 120 feet and throwing flat grounds.

It is unknown when he will transition to throwing bullpens, but it should be soon.

I will try and get more clarification on this soon.
Others not pitching:
Left-hander Giovanni Soto, right-hander Andrew Shive, right-hander Kyle Landis, right-hander Antwonie Hubbard, and right-hander Jason Johnson are the only other pitchers in camp who are not rehabbing from Tommy John surgery who have not been throwing since I have been here.

Shive, Hubbard and Landis are coming off injury last season so they make some sense, but I am unsure who Soto and Johnson are not throwing.

Again, like with Knapp, I hope to provide more info on why they have not been throwing soon.
Pomeranz impressing:
I saw left-hander Drew Pomeranz throw a bullpen on Saturday and he looked very sharp.

I really believe that had he pitched one or two months last season and given more for people to evaluate him on rather than just his college pedigree and what he did in Instructional League that he may have been ranked the Indians #1 prospect, including by yours truly.

Long way to go, but it looks like the Indians may have something in him (fingers crossed).
Hagadone unsure:
Left-hander Nick Hagadone is still unsure whether he will open the season as a starter or reliever.

He is being stretched out as a starter, but has been told his role for the upcoming season is still up in the air.

The Indians are expected to make a decision on his role very soon, and if I had to guess he will continue to start in a piggyback role at Double-A Akron.
The Wright stuff:
Right-hander Steven Wright toyed with a knuckle ball in the second half of last season.

He never unveiled it in a game, but he has been throwing it in bullpen sessions so far in camp and plans to throw it in minor league spring games.
Salazar on the mend:
Right-handed pitcher Danny Salazar is recovering well from Tommy John surgery last year, and is in the middle of his rehab.

He is not throwing yet, but should soon begin a throwing program and could see game action later this summer.
Miller's schedule:
With Miller throwing a bullpen on Sunday, he is expected to throw to live batters on Wednesday.

It will be his final test before minor league spring games start up on Friday, and he is expected to make his first game appearance on Saturday.
Minor changes:
I keep hearing that it is possible that the roster setup for all four full season teams may be very close at the start of this season to the ones that ended last season.

With so much depth at the Triple-A level and a logjam of guys, there may be a trickle down affect in the early going where guys have to open at a level they shouldn't be at.
Released:
More roster cuts are coming soon, but over the weekend first baseman Chris Kersten was granted his release.
Full squad:
On Saturday the position players all reported and had physicals, drug testing, and all sorts of tests performed.

Sunday was the first official full squad workout.
Programming note:
I will be on SportsTime Ohio's broadcast today of the Indians game out in Goodyear.

The broadcast starts at 4:00 P.M. in Cleveland, and I am scheduled to be on with Rick Manning and Matt Underwood during the 7th inning to talk about the minor leaguers and maybe some big league stuff.
Programming note II:
Paul Cousineau and I will be on the cyber waves tonight with another edition of Smoke Signals at 11:00 P.M. in Cleveland.

We will talk about the happenings this spring and more, and you can listen to the show on-line at Blogtalkradio.com or on our show dedicated page on my site.
Follow Tony and the Indians Prospect Insider on Twitter @TonyIPI. Also, his latest book the 2011 Cleveland Indians Top 100 Prospects & More is available for purchase for $20.95 to customers in the US (shipping and handling extra).
User Comments
No comments currently. Be the first to comment!