Goodyear Notebook: 3/14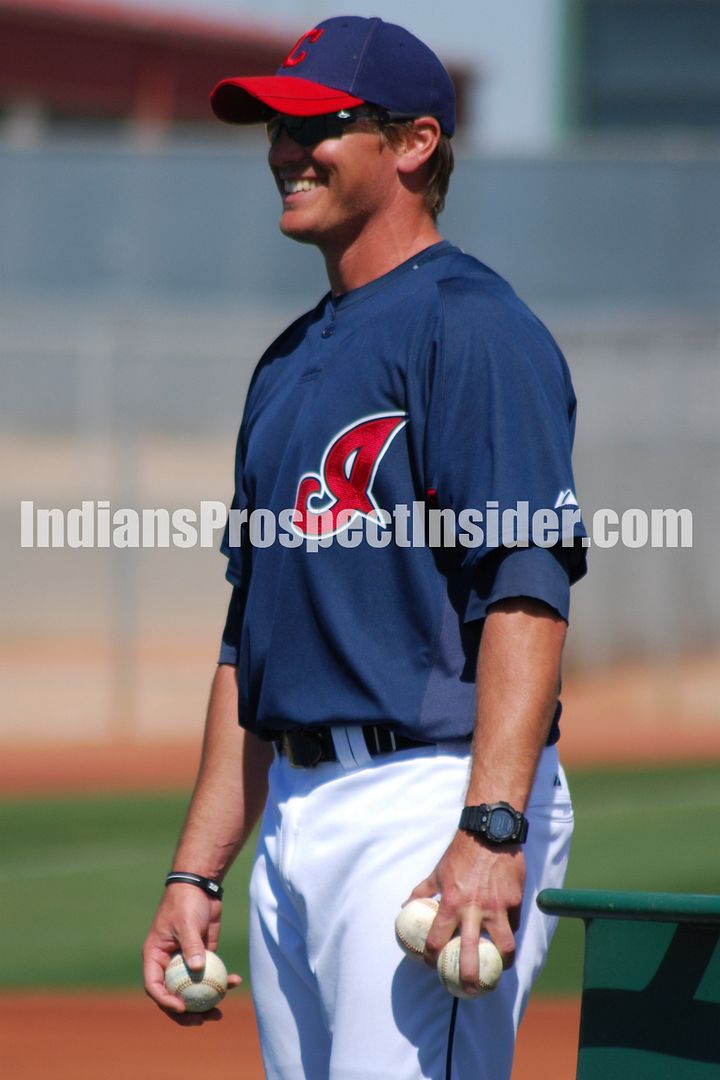 (Photo: Tony Lastoria)
Wallace ready for career change
Dave Wallace is making the permanent transition from player to coach.
Wallace, 31, retired as a player after the 2008 season.

He spent the first six years of his pro career in the Cleveland organization reaching as high as Triple-A Buffalo in 2007 before being traded to Washington in 2008.

All told, he hit .223 with 45 HR, 180 RBI and a .693 OPS in 486 career games from 2002 to 2008.
Wallace spent the past two years as the bullpen catcher in Cleveland.

In the offseason he was hired by the Indians' Player Development staff to be the manager at short season Single-A Mahoning Valley and also serve as the organization's catching coordinator.
This is Wallace's fist foray into coaching, and while he is still adjusting to the role and has a lot to learn, he likes the career change so far.
"I like it a lot," said Wallace.

"I thought I would miss the other side of it a little bit more [with playing], but I have the opportunity now to possibly make an impact on these guys."
Wallace is not too far removed as a player, and his recent playing experience in the minors should help him relate to his players better and understand what they are going through.
"I think that is really one of the most important things for a guy who is in a coaching position is to not forget what it was like as a player and how hard it actually is," said Wallace.

"I still remember what an 0-for-4 feels like because I had enough of them.

It's a great opportunity for me to help these guys understand not only what pro ball is about, but just how to grow up as a man in and outside of the game."
When camp breaks this spring Wallace will hang around in extended spring training to get a crash course on managing and prepare him for his season at Mahoning Valley which starts up in mid-June.

He will also mix in some visits to several of the affiliates to take a look at his catchers.
"In April and May I will spend about the half the time here and half the time going to see our catchers at the affiliates," said Wallace.

"As important as it is to see the catchers, I need to be here [in extended spring training] coaching third base and managing games because I haven't done that yet.

I'm looking forward to it.

It will be good to start off here where it is very low key and no pressure."
When it comes to the what if game, Wallace has no second thoughts on his pro career.

Having spent the past two years at the big league level as the bullpen catcher he was able to compare his talents to that of other big league catchers and understands there was no way he could have ever played in the big leagues.

While making it to the big leagues as a player may not have been in the cards, maybe making it as a coach will be his ticket to the show some day.
"It never really came together for me offensively," recalled Wallace about his playing days.

"I think defensively I was at a point where I could catch at that level, but after watching in the big leagues everyday the last two years there was no way I could have hit at that level consistently.

Do I miss it?

Absolutely.

But I don't regret it at all that I moved on.

I am lucky that this gig fires me up as much as it does.

I look forward to coming to the park everyday and the relationships with the guys on the staff and with the players.

Nothing is as good as playing, but this is a pretty close second."
Wallace's return to Mahoning Valley will bring him back to where he broke into the pro ranks back in 2002.

He has fond memories there and is excited about the opportunity to go back there, this time as a manager.
"It will be fun to go back there," said Wallace.

"That's where it all started for me as far as my professional career goes. I'm definitely looking forward to it."
Wallace provided some early camp comments on some of his young catchers:
On Alex Lavisky:

"I have been impressed with him.

I don't think people realize the jump of going to professional ball right out of high school.

A lot of how you adjust has to do with your maturity level and knowledge of the game and not thinking that you already know it all, which a guy taken high like him will think they have it all figured out.

But he is a humble kid, down to earth, willing to learn and willing to work.

I have not only been impressed with him physically and his ability to receive, throw and block, but he is mature beyond his years.

He is a lot more mature than I was coming out of high school that's for sure.

I am not saying a lot to the guys this first week because I want them to get comfortable.

I just want to let them settle in and you will see their natural abilities come out as they become more comfortable.

Obviously there are some things we can work on, and for Alex it is going to just be about understanding the process of putting in the work every single day and not trying to make it all happen at once because that is what a lot of guys do when they get in here as they try to do too much at once.

I think he has a good head on his shoulders and I think he is going to do a good job staying focused on the process."
On Roberto Perez:

"He looks outstanding and is fun to watch with what he does behind the dish.

He is great with working with pitchers and he understands what the role of the catcher is as it is not just about throwing out runners.

He is confident back there and you can tell that he is in charge of the game, and that is what I want out of our catchers.

They are the quarterback out on the field and an extension of the manager.

He has all the talent in the world.

For him it is just going to be to continue to develop it and to never be satisfied with where he is at.

Talent-wise he is beyond a lot of guys.

He throws better than a lot of guys in the big leagues, but there is more to it than just catching and throwing."
On Chun Chen:

"I saw him when I was up at big league camp the first couple of weeks.

His strength right now is his bat, and it is what I heard coming in.

For me I am just learning about a lot of these guys after being removed for a couple of years.

He is impressive offensively, and he really has been more impressive defensively than what I was expecting coming in.

He definitely has development to do.

We were out there throwing the first time [Saturday] and he looked good."
On Alex Monsalve:

"He is a physically good looking kid and has some tools for sure.

For him it is going to be about getting time behind the dish because the more time he gets behind there the better he is going to get.

He is a natural back there and in time he will get more confident and loose."
Here are the working rosters in minor league camp.

Note that with so many players to start the year still up in big league camp or just recently sent down and not listed it means that a lot of players who otherwise have no shot to play for Columbus or Akron are filling in for the time being.

This roster listing is not set in stone as to what level these players will play at, but should give an idea at who may goes where when the season starts:
Pitchers: Omar Aguilar, Scott Barnes, Eric Berger, Jason Davis, Kelvin De La Cruz, Paolo Espino, Connor Graham, Brian Grening, Nick Hagadone, Corey Kluber, C.C. Lee, Adam Miller, Matt Packer, Bryan Price, Carlton Smith, Bryce Stowell, Steven Wright, Toru Murata, Rob Bryson, Hector Rondon.
Catchers: Adam Abraham, Juan Aponte, Chun Chen
Infielders: Kyle Bellows, Matt Cusick, Juan Diaz, Wes Hodges, Matt Lawson, Beau Mills, Ron Rivas, Jared Goedert.
Outfielders: John Drennen, Tim Fedroff, Jared Head, Jordan Henry, Matt McBride, Donnie Webb.
Pitchers: Austin Adams, Brett Brach, Cory Burns, Joe Gardner, Preston Guilmet, Trey Haley, T.J. House, Chris Jones, Jason Knapp, Kyle Landis, Joey Mahalic, T.J. McFarland, Ryan Morris, Matt Langwell, Marty Popham, Drew Pomeranz, David Roberts, Tyler Sturdevant, Travis Turek.
Catchers: Dwight Childs, Moises Montero, Doug Pickens, Roberto Perez
Infielders: Cristo Arnal, Chase Burnette, Casey Frawley, Argenis Martinez, Preston Mattingly, Karexon Sanchez, Jeremie Tice, Justin Toole
Outfielders: Abner Abreu, Trent Baker, Delvi Cid, Greg Folgia, Bo Greenwell, Jason Smit.
Pitchers: Kyle Blair, Clayton Cook, Cole Cook, Jordan Cooper, Owen Dew, Dale Dickerson, Tony Dischler, Michael Goodnight, Antwonie Hubbard, Francisco Jimenez, Jeremy Johnson, Alex Kaminsky, Nick Kirk, Taka Nakamura, Mike Rayl, Nick Sarianides, Giovanni Soto, Kirk Wetmore, Vidal Nuno, Danny Salazar, Alexander Perez.
Catchers: Ryan Battaglia, Alex Monsalve, Diego Seastrunk.
Infielders: Tyler Cannon, Ben Carlson, Kevin Fontanez, Jorge Martinez, Kyle Smith, Giovanny Urshela
Outfielders: Marcus Bradley, Brian Heere, Tyler Holt, Carlos Moncrief, Kevin Rucker, Aaron Siliga.
Pitchers: Elvis Araujo, Ramon Cespedes, Joseph Colon, Clayton Ehlert, Luis Encarnacion, Ryan Gardner, J.D. Goryl, Casey Gaynor, Harold Guerrero, Daniel Jimenez, Alexander Morales, Kyle Petter, Julio Ramirez, James Reichenbach, Andrew Shive, Matt Speake, Felix Sterling, Nathan Striz, Francisco Valera, Robbie Aviles, Xavier De La Santos, Manny Carmona.
Catchers: Alex Lavisky, Mitchell Nillson, Charlie Valerio
Infielders: Jesus Aguilar, Nick Bartolone, Dan DeGeorge, Aaron Fields, Hunter Jones, Ronny Rodriguez, Juan Romero, Logan Thompson, Tony Wolters.
Outfielders: Mark Brown, Jordan Casas, Henry Dunn, Anthony Gallas, Chia-Ching Lin, Joel Torres, LeVon Washington.
Bryson out:
Right-handed pitcher Rob Bryson has been mysteriously absent from camp, but I learned late in the day on Monday that he suffered an ankle injury shortly before the start of camp which has delayed his arrival.

I am not sure how it happened or how severe it is, but at the moment the Indians are not sure when he will be available to pitch.
Roster cuts:
On Monday the Indians sent seven players down to minor league camp: right-handed pitchers Zach Putnam, Zach McAllister, and Alex White, second baseman Jason Kipnis, third baseman Lonnie Chisenhall, outfielder Nick Weglarz, and catcher Juan Apodaca.
Teaching, teaching, and more teaching:
Lots of instructions, drills, and live batting practice on Monday in minor league camp.

Games don't start up until Thursday, so in the meantime the Indians have worked on rundown mechanics, infield drills, pickoff moves, base-running, etc with the players.
Mattingly at first:
Infielder Preston Mattingly has been taking a lot of grounders at first base so far this spring.

To my knowledge he is not working out at any other position at the moment.

He has only played one game at first in his career.
Head in the outfield:
Infielder/outfielder Jerad Head is currently working out in the outfield.

He is on the roster bubble this spring, but his versatility may win him a job on the Triple-A Columbus bench.
Who's on second:
It appears that second base at Double-A Akron will be filled by one of Karexon Sanchez, Matt Cusick, or Matt Lawson.

In fact, two of the three seem likely to make the team.

Cusick and Lawson have been working together with the Columbus group, but obviously Cord Phelps and Jason Kipnis have that spot locked up there, so it seems like one or both of Cusick and Lawson will be in Akron.
Like riding a bike:
Matt McBride has been catching bullpens in the early going of minor league camp.

He says his shoulder feels as good as ever, and while it is likely just the Indians using him out of need this early in camp, they are getting a look at him at catcher to see if he could be an option there on a limited basis at Triple-A Columbus.
Remember Cooper?
For those who remember former Tribe farmhand Jason Cooper, he is still trying to hang onto his pro career.

He is an outfielder who spent a lot of time at Triple-A Buffalo before the Indians moved their Triple-A operations to Columbus two years ago and he left as a free agent after the 2009 season.

He has played independent ball for St. Paul the past two years and is trying to get signed to play affiliate ball this year, but so far he has had no luck and will likely sign on with St. Paul for one more season to see what happens.
Follow Tony and the Indians Prospect Insider on Twitter
@TonyIPI
. Also, his latest book the 2011 Cleveland Indians Top 100 Prospects & More is
available for purchase
for $20.95 to customers in the US (shipping and handling extra).
User Comments
No comments currently. Be the first to comment!