Goodyear Notebook: 3/16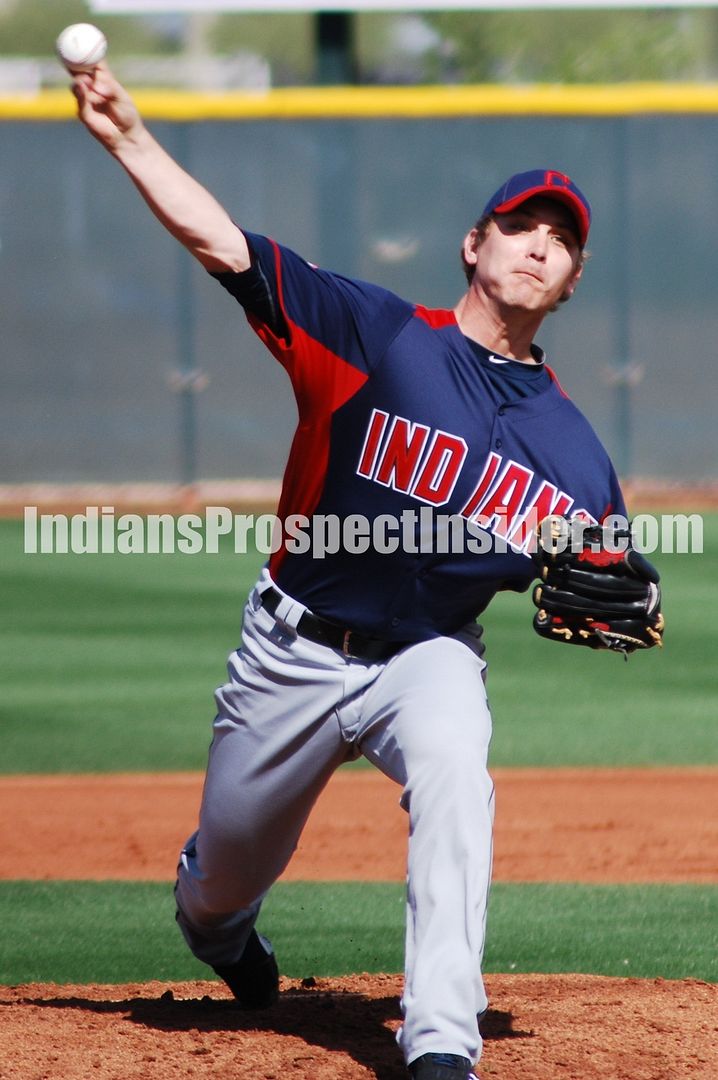 (Photo: Tony Lastoria)
Tomlin wants to win
The Indians are now less than two weeks from breaking camp in Goodyear, Arizona.

Time is running out for them to make a decision on who will be named the fifth starter.
The three candidates for the role are right-handers Jeanmar Gomez and Josh Tomlin as well as left-hander Dave Huff.

Right-hander Anthony Reyes is back pitching and may technically be back in the mix, but he appears to be too far behind to be in serious consideration at least to start the season.
For awhile now it has been felt that Tomlin and Huff are the only two candidates truly being considered as Gomez is still kind of raw and needs more seasoning at Triple-A Columbus.

He was pushed up before he was ready last season and while he pitched well initially he was exposed late in the year and has not had a very good camp so far.

He is expected to be sent out soon and go to Triple-A Columbus with the focus to continue to improve his fastball command and develop his secondary pitches.
Of course, if you ask any of the three candidates their take on the battle for the fifth spot, they see things a lot differently and not so defined.
"So far things have been going pretty well," said Tomlin on Tuesday.

"Everybody is throwing the ball pretty well.

No one has a leg up in the competition at all as everyone is still kind of battling and competing.

I think that is good for us."
The Indians are scheduled to break camp on Tuesday March 29th to go to Columbus and play an exhibition game on Wednesday March 30th against the Clippers.

By then they should know who the fifth starter is, although theoretically they could still wait a few days since both the Columbus and Cleveland rosters will be travelling to the same destination once they depart Goodyear.
"I really don't know," said Tomlin about when he thinks a decision will be made.

"I am not sure what's going to happen right now, so I don't know when they are going to make that decision."
Tomlin, 26, lives and dies on his athleticism and ability to throw strikes and be consistent from outing to outing.
"Physically I feel great," said Tomlin.

"I am just trying to stay balanced and keep that release point right now.

You always work on your mechanics and delivery to try to just keep them good.

But other than that I feel great and I am ready to go."
Tomlin so far has done his part this spring.

He's put forth several solid to good outings, and depending on who you talk to he is deemed the favorite to win the final rotation spot.

Of course there are others who feel he may better serve the team in a bullpen role as a swing guy.

Either way, it appears that he should make the team either as the fifth starter or in the long relief role.
"My goal is just to win," said Tomlin.

"Do everything I can to help the Indians, whether that is in the bullpen or starting.

Whether I start out at Triple-A and come up when somebody gets hurt, whatever that may be, I just want to help the Indians in any way I can to win."
If the final spot in the rotation was based on talent alone, it would probably go to left-hander David Huff.
Huff, 26, still has not yet achieved anywhere close to his potential as a starter in the big leagues, and of the three candidates for the fifth spot in the rotation he has the most potential or upside of any of them.

He offers more bang for the Indians' buck because of his talent and because he throws from the left side.

Of course, he may be the most inconsistent of the three, so he could just as easily go the other way and struggle for the Indians this year.
That is why the decision the organization makes on who wins the final rotation spot this spring will be interesting.

Do they go with the consistent workman-like Tomlin who is what he is as a low upside solid big league contributor?

Or do they go with a guy like Huff who has the potential to be much more than he has shown but at the same time could once again struggle with being consistent?
For Huff it all boils down to his mechanics.

If he can get them squared away and also become more cognizant of when they are off, it will go a long way at making him a much more consistent performer.
"The outing against the Padres at home I couldn't throw a strike [that last inning] to save my life," remarked Huff on Tuesday.

"It was brutal.

I was 7-for-7 the first inning [with strikes] and 14-for-18 the next inning, and then I just started rushing the next inning.

I was throwing pitches but the changeup was up and it wasn't down as I was pushing it a little bit.

I just have to continue to remind myself to slow things down and get on top of everything and finish."
Huff went to the video booth on Tuesday to review his performance and saw some things he feels are very correctable.

Again, it is all about mechanics.
"I found out today when I was watching some video that I was kind of pulling rotational-wise and twisting rather than being straight down and over the top sort of like a pendulum," said Huff.

"So I went outside today and just started working on things doing some towel drills."
Huff is getting better at noticing when his mechanics are off and making adjustments on the fly, but he knows he needs to do a better job of picking up and making those adjustments quicker.
"When you are at this level you need to be able to do it yourself," said Huff.

"Going through the system guys will tell you when you are flying open or when your arm is lagging, but when it comes to game time they really don't want to say anything as you start to think about it and end up not concentrating on the batter and making pitches.

I am getting to the point where I am starting to pick it up quicker, and I know when I watch the video I can see it."
It has been interesting to follow how the Indians have approached the battle for the fifth starter's role this spring.

Tomlin has thrown a handful of B-games and Huff is always coming out of the bullpen in relief.

It doesn't appear to be a good way to evaluate the pitchers on the same merits since both have been pitching in roles they are not accustomed to or are not facing the same competition.
The Indians have their reasons for setting things up this way.

To their credit they have done a good job of keeping everyone including the players in the dark as to what they will do with the final spot in the rotation.
As for Huff, he knows all he can control is what he does on the field.

While he prefers to be in Cleveland and would be disappointed to open the season at Triple-A Columbus, he would not be a problem at all if that were to happen and would continue to work hard so he is ready when a need arises for a starter.
"I need to do what I need to do, which is just focusing on my mechanics and making sure that they are polished and I get after it," said Huff.

"Our Triple-A team [will be] ridiculous.

Coming off of last year and with the guys that don't make [the opening day roster], Columbus is going to be really good."
Judy ready for an opportunity
Right-handed reliever Josh Judy is as close as a player can be to a big league opportunity.

While his numbers in a very small amount of appearances this spring are nothing to write home about, his body of work in his minor league career speaks for itself.
Judy, 25, owns a career 20-6 record with a 2.74 ERA in 136 career minor league appearances.

He has a nice fastball-slider combination, throws strikes, can get hitters out on his stuff alone, and he really limits the walks.

So far this spring he has not allowed a walk, something he did not do in the Dominican Republic in the offseason where he did not allow a walk in 12 appearances covering 12.0 innings.
So far Judy has used his nice showing in the Dominican Republic as a springboard into his 2011 season.

While out there last year he even found out he was added to the 40-man roster when Farm Director Ross Atkins paid him a special visit out there to tell him.
"It was great as I went down to the Dominican Republic and had a great time out there," said Judy on Tuesday.

"I was actually told I was rostered when I was down there as Ross came and told me."
Things have been going well for Judy as he is healthy and feels strong.

Health is a big key for him this year considering he had a setback at the end of spring training last year with a sore elbow which pushed the start of his season back about six weeks.
"The arm feels great and I am just going out there doing my thing," said Judy.

"I have been aggressive and going right after hitters, and knock on wood I haven't walked anybody yet.

So we will see what happens at the end."
Judy has been working on a changeup to give him a weapon to better attack left-handers, and so far he has made some nice positive strides with the pitch.
"My slider is my go to pitch, but right now I am working on a changeup so I have something to attack left-handers with," said Judy.

"I have had some good results with it.

I threw it a little bit while I was in the Dominican Republic as it was a reason I was there.

I am getting a lot of groundballs with it, so I am kind of impressed with it.

I have to have something going the other direction as both the fastball and slider go the same way."
Judy has now had two springs out in Goodyear to showcase himself to the big league coaching staff.

They thought well enough of him to bring him to camp last year as a non-rostered player, and then subsequently rostered him in the offseason.

Now that he is on the 40-man roster he is one of the immediate options the Indians will turn to this season when they need a fresh arm for the bullpen.
"I just really want to stay healthy and have a complete season under my belt and hopefully get the chance to get called up," said Judy.

"I just want that opportunity and I hope it comes."
Tomlin rolls:
Josh Tomlin threw five innings and 52 pitches total in a B-game on Wednesday against the Reds on Field 1 at the Indians complex.

From what I saw and what a few scouts for other teams in attendance said, he looked good.

He threw strikes and overmatched a lineup full of Reds minor leaguers.

I am not sure what anyone can get out of that kind of outing facing that kind of competition other than he got his work in and did what he needed to do.
Davis
update:
Right-hander Jason Davis also threw in the B-game on Wednesday.

I did not see him pitch as I had already ventured over to minor league camp to see some rehabbing pitchers throw live batting practice.

I was able to talk to a few scouts later in the day who were there and saw him pitch and they said he was not very good at all as he couldn't throw strikes and the mechanics were ugly.

It appears the decision on whether to sign him or not will be a decision made by the Indians Player Development staff, and as of this writing he still has not been officially signed and is still in camp on a tryout basis.
Erratic Chisenhall:
Third baseman Lonnie Chisenhall made two throwing errors with high throws which pulled first baseman Wes Hodges off the bag during the B-game.

Part of the reason he was sent down to minor league camp on Monday was to control his clock and future cost, but while he is pretty close to big league ready with the bat his defense still needs polish which was the main reason he was sent out so that he could continue to work on his defense at third base.

His throwing has always been one of the few knocks against him in the minors.

Not his arm strength as it is very good, just the accuracy of his throws.

This is surely something he will hone in on at Columbus in the early going this year.
Chun! Chun!

Chun!:
Boy, what a game catcher Chun Chen had in the B-game on Wednesday.

Before I left in the fifth inning he was 2-for-2 at the plate with a bases loaded two-run single to left and an RBI double that was a bomb to dead center field that just missed being a 3-run homer after it dented the top of the wall.

On top of that he threw out a runner attempting to steal second on a hit and run, and he also picked off a runner at first.
Miller Update:
I ventured over to minor league camp halfway through the B-game so I could go see right-hander Adam Miller make his first appearance on a mound this spring throwing live batting practice.

He looked good and most importantly felt good and joked "I haven't been so excited to throw live batting practice."

It is another small step for him and it looks like he will be out in a live game setting on Saturday or Sunday in a minor league spring game.
Quote of the day:
"Hey Donald, you go out and buy them a steak dinner last night?

Because they just cut Chisenhall." – Players joke to Jason Donald after learning Lonnie Chisenhall had been sent to minor league camp on Monday.
Today:
I'll be over at minor league camp again today for the start of games as the Indians will have an inter-squad game.

Some pitchers scheduled to pitch are Kelvin De La Cruz, Drew Pomeranz, Corey Kluber, Matt Packer, Bryce Stowell, Austin Adams, Zach Putnam, Michael Goodnight, Tony Dischler, Trey Haley, Clayton Cook and others.

With the start of games be on the lookout for box scores as I will probably be posting them if I get them.
Next:
I will be back to focusing on minor league camp with the next notebook, and will have updates on several players including an update on shortstop Tony Wolters and what's going on with him.
Follow Tony and the Indians Prospect Insider on Twitter @TonyIPI. Also, his latest book the 2011 Cleveland Indians Top 100 Prospects & More is available for purchase for $20.95 to customers in the US (shipping and handling extra).
User Comments
No comments currently. Be the first to comment!