Goodyear Notebook: 3/17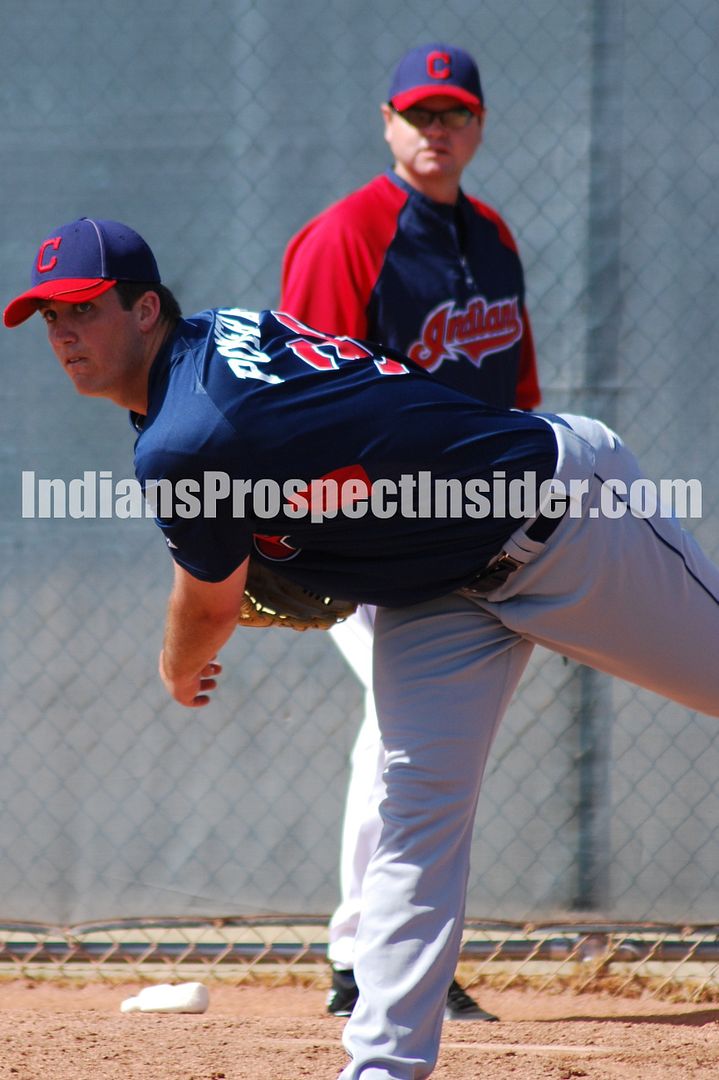 (Photo: Tony Lastoria)
Coaches Corner: Dave Miller
I had a chance to sit down yesterday with Dave Miller who is the Indians Minor League Pitching Coordinator.

We talked about a few of the Indians higher end pitchers and some of the role changes in store for other pitchers.
On Austin Adams:
"He has four pitches so we are starting him because he has starting stuff and he has not proven he can't start.
I think the scouting department thought he would be a bullpen guy, but he has a four pitch mix, he commands his fastball, and he keeps the ball down.
So we are going to start him and plan on starting him as long as he is successful.
The thing with him is his velocity got better as the season went on last year.
Last year he was restricted somewhat because he did not pitch a lot in college, but this year he should be up to a normal workload of 145-150 innings."
On Adam Miller:
"We will have to see [how he is at the end of camp].
All of his bullpens have been good.
He is throwing strikes and he is not having any issues.
He is playing catch every day, and [Saturday] there will be a hitter in there.
He pitched that inning in Instructional League and was up to 94 MPH.
He is going to get some minor league games in spring training and depending on how he does there is a chance that he could possibly pitch in a major league game by the end of camp if everything goes well.
Everything looks good so far, so we will see what happens."
On Elvis Araujo:
"Yeah he is fine.
More than likely he will probably stay down here in extended spring.
He is just a huge kid at 6'7", throws hard, and has a good slider.
We are trying to work on his delivery to get him to stay back a little bit more.
But man, he has big upside as he has two plus pitches right now.
It's just about getting him reps off the mound with his delivery and being able to repeat his delivery so it allows him to throw consistent strikes.
Even after he had Tommy John surgery it did not even look like it as he was free and easy.
He has come back really, really well.
He did not pitch last year, but we have time and we will see how he does in extended.
Obviously we want to build him up a little bit because he missed time last year."
On Matt Packer:
"He will start and more than likely will be in
Akron
.
We were real happy with what he did last year.
It's funny when you look at the organizational leaders last year, the same guys showed up in every category [and he was one of them].
He has a fastball, slider, change, and has added a curveball to his mix that will kind of help him early in the count.
He is a durable guy who gets strikes and gets groundballs."
On Bryce Stowell:
"He just needs reps.
It was his first big league camp and he probably was feeling a little pressure.
But he threw a good bullpen the other day.
It is his third full season and he got up to Triple-A pretty quick.
He's fine and throwing hard.
It is just a matter now that he is a reliever to get in a routine and making sure he gets reps.
Guys who are relievers only throw one or two innings and don't get a lot of bullpens and don't throw a lot of pitches, so they need to make sure they have a good routine and maintain their delivery."
On Felix Sterling:
"He is a projectable kid who throws 90+ now and there might be some more in there.
He is a big bodied kid with a chance to be a starter with his feel for a plus changeup right now.
His breaking ball has to get a little more consistent.
He had a lot of success last year in
Arizona
, so he has a shot to pitch in
Lake
County
this year, especially with how he commands his fastball and changeup.
He is able to throw his changeup to both righties and lefties."
On Tony Dischler and Michael Goodnight:
"It is possible that at
Lake
County
[we will be doing some piggybacking].
It depends how we come out of camp as you always have some injuries and oblique [injuries] which set guys back.
But we plan on starting all those guys [from last year's draft] like Dischler, Goodnight, and Cole Cook.
Dischler has good stuff, and Goodnight has a nice delivery and a couple of good pitches.
All of those guys have good arms and good deliveries, it is just a matter of seeing how they react to getting on a five day routine."
On Steven Wright:
"Yeah, [his knuckleball] is good.
We'll see.
He used it a little bit last year in
Akron
and he had some decent results with it.
He worked hard over the winter time with it, so it will be interesting to see how hitters react to it this spring.
Hopefully it is a swing and miss pitch for him.
He is not strictly a knuckleballer as he is still throwing into the low 90s and throwing hard.
It is just something to add to his repertoire to add some swing and miss to it."
On Nick Hagadone:
"We are going to start him in spring training and make a decision at the end.
He can definitely get better commanding his fastball arm side, but he is commanding it better and his breaking ball and changeup are fine."
On Alex White:
"He looks good, is throwing hard, and his slider is getting better.
The consistency of his slider is just a matter of getting more games and reps.
His splitter looks better, and he puts the ball on the ground with his fastball."
On Zach McAllister:
"He is a young kid who kind of went level by level with the Yankees.
He is a big kid with a good slider and good sinker who will be in our Triple-A rotation.
He is an interesting kid who is athletic and has a chance to haul some innings."
Left-handed pitcher Nick Hagadone is still waiting to find out what role he will pitch in this season.
"I don't know," said Hagadone.

"As of right now I am preparing as a starter.

Whenever the decision is made we will just go from there.

By preparing as a starter I can go either way, whereas if I prepare as a reliever I can't."
The Indians have not set a timetable on when they will make a decision on whether Hagadone starts or relieves to open the season, likely at Double-A Akron.

Considering his arm and talent, it appears likely that Hagadone will continue to pitch in a piggyback role in order to continue to develop his command and pitches.
Whether he pitches out of the bullpen or in the starting rotation, it does not matter to Hagadone.

He just wants the chance to pitch at the big league level.

He got a chance to show off his talents to the big league staff early in camp before being sent down to minor league camp over the weekend, and he believes he made a positive impression.
"I feel pretty good and I thought I had a pretty good camp," said Hagadone.

"I knew there was no chance I would make the team out of spring training, but my goal was to just leave a good impression.

I felt like I did that, but you don't really know.

It was a good experience and it definitely makes me want to be up there even more than I already did."
Hagadone had a pretty disappointing season last year.

He battled through command issues all season and his velocity was inconsistent.

He spent some time in the offseason fine tuning his mechanics and watching video, and believes he has made the necessary corrections which should show some improvement in his velocity and command this year.
"I think everything is back to how it was," said Hagadone.

"My mechanics kind of got twisted up last year.

Nothing was how it was before, and I went to Instructs and watched a lot of video and made some adjustments and I feel like everything is back to how it was.

It had nothing to do with my arm not being healthy.

It was just that my mechanics were off.

I wasn't using my lower half the way I needed to and my direction toward the plate was not how it should be.

But I feel like it is fixed and not an issue anymore."
Right now Hagadone is pretty much working with his very nice fastball-slider mix.

He still throws the changeup, but the pitch remains inconsistent for him, which is a big reason why he may end up in the bullpen full time.

But he is a hard worker, so he will continue to develop the changeup and work hard to develop as a pitcher.
"I just want to start off and have a solid year all the way through," said Hagadone about the upcoming season.

"Just stay healthy and just keep getting better all year.

I have never been satisfied with where I am at."
Wolters out:
Shortstop Tony Wolters had surgery on Wednesday to remove the hamate bone from his right hand.

Dr. Tom Graham performed the procedure at the Cleveland Clinic, and he is expected to be out of game action for about five weeks.

It remains to be seen how he will bounce back from the injury as it can affect everyone differently.

Catcher Carlos Santana suffered the same injury last offseason and was able to come back 100% by the start of last season, but outfielder Nick Weglarz suffered the same injury in June of 2006 and missed the rest of the season.

Phillies outfielder Dominic Brown has also reportedly suffered the same injury this spring and is expected to be sidelined for about five weeks.
Pomeranz impressive:
Left-handed pitcher Drew Pomeranz continues to impress this spring.

He really had a good showing in big league camp and made a name for himself to the big league staff, and in the week he has been in minor league camp he has not skipped a beat.

He pitched in a game like situation yesterday during an inter-squad game and aside from one mistake to catcher Chun Chen he pitched well.

He averaged 94 MPH with his fastball and was touching 96 MPH.
Stowell, Kluber continue to struggle:
Right-handed pitchers Corey Kluber and Bryce Stowell did not have very good showing in big league camp, and their struggles have so far carried over into minor league camp.

Yesterday Kluber pitched two innings and allowed three runs on four hits and two walks.

He averaged 90 MPH with his fastball and topped out at 92 MPH.

Stowell pitched two innings and allowed one run on one hit and three walks, and averaged only 90 MPH with his fastball and touched 94 MPH.
Staying hot:
After his big day both at the plate and behind it on Wednesday, catcher Chun Chen was at it again with another big day on Thursday.

He made only one plate appearance, but in that lone at bat he hit a three run bomb off top pitching prospect Drew Pomeranz.

Chen really broke in as a prospect last year and may be on the verge of a real breakthrough as one of the minor leagues best hitting prospects this season.
Lavisky shows the power:
Catcher Alex Lavisky muscled up on a Clayton Cook offering yesterday and deposited it deep into left center for a mammoth home run.

The drive ended up hitting the light pole setup about five or six feet behind the fence and about three quarters of the way up.

Let's hope we see a lot more shots like this in Lake County this year.
Soto dinged up:
Left-handed pitcher Giovanni Soto has been temporarily sidelined with what is being tabbed as a minor oblique injury.

He hurt himself in his second bullpen late last week.

The organization is being extremely cautious and he is about a week behind the other pitchers but expected to be back throwing very soon.
Released:
The Indians released left-handed pitcher Ryan Morris on Thursday.

As is the case with most players who wash out of the system, the injury bug ruined his career.

He was always an IPI favorite, and I wish him well in his pursuit to continue to play the game or whatever he ends up doing.
Today:
Minor league spring games officially kickoff with Triple-A Columbus and Double-A Akron going to Glendale to play the White Sox, and High-A Kinston and Low-A Lake County in Goodyear to play the White Sox.

Some notable pitchers expected to throw are Alex White (Columbus), Nick Hagadone (Columbus), Joe Gardner (Akron), and Kyle Blair (Kinston).
Follow Tony and the Indians Prospect Insider on Twitter @TonyIPI. Also, his latest book the 2011 Cleveland Indians Top 100 Prospects & More is available for purchase for $20.95 to customers in the US (shipping and handling extra).
User Comments
No comments currently. Be the first to comment!