Goodyear Notebook: 3/18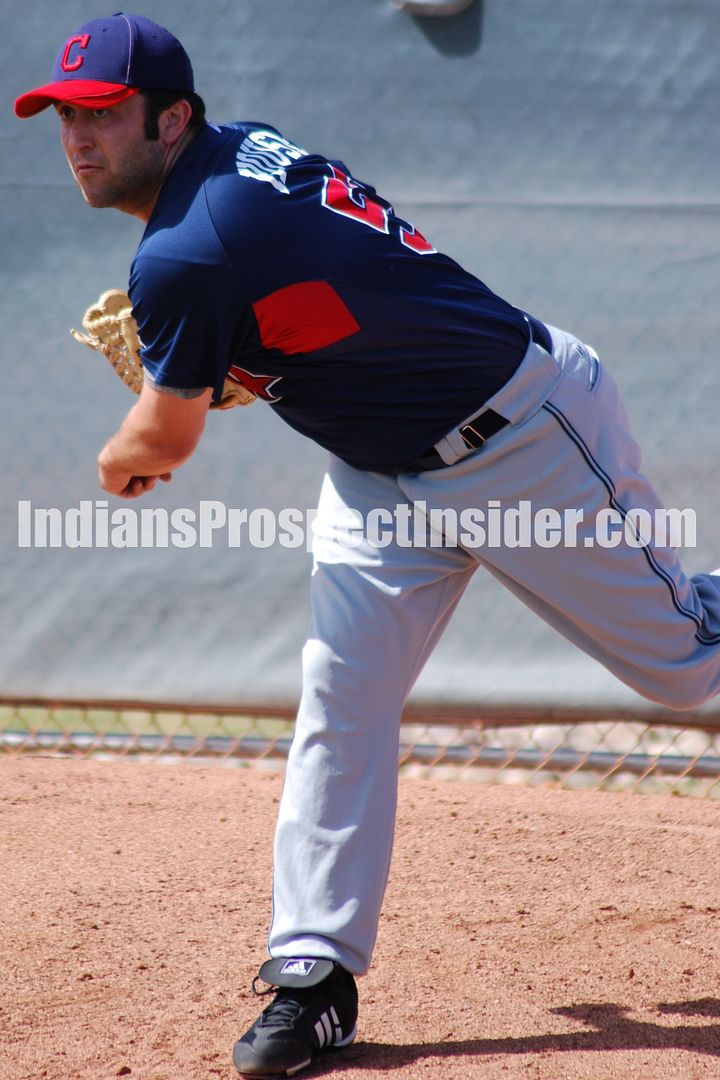 (Photo: Tony Lastoria)
House hoping for a better year
Left-handed pitcher T.J. House is one of the Indians better young pitching prospects.

Even though he has been one of the youngest players in the league his first two seasons of pro ball he has pitched well.

Last year at High-A Kinston he went 6-10 with a 3.91 ERA in 27 games (135.2 IP, 135 H, 7 HR, 61 BB, 106 K).
Even after another solid season, House feels he can do much better so he spent the offseason shoring up his mechanics and pitches.
"Yeah I worked out [in the offseason] and worked on my delivery," said House.

"I did a lot of mechanical things so I can have a more successful season early on from a mechanical standpoint.

I have worked on throwing more strikes, pounding the lower part of the zone, finishing through, and opening my hips up."
One of the reasons House had some consistency problems last year was he had a tendency to lean backward when he went through his delivery and then he would fall forward.

He has worked hard in the offseason to have better balance in his delivery which should help him better command his pitches.
"I wasn't getting that lower leg push," said House.

"The elbow was up and not down, and when you are leaning and falling you can lose a lot of things as your ball can be flat and does not move planes.

It can affect everything from your breaking pitches to your command, so I have been working on that a lot."
One of the things that House has done to correct his delivery issue is to watch video of left-hander Cliff Lee.
"I have watched Cliff Lee a lot," said House.

"[Pitching coach Tony Arnold and I] watched his side view and front view when he pitches and watched his mechanics and see how he finishes.

He doesn't reach out too far as he just puts his foot down and explodes through his windup.

We watched a lot of video and I have tried to replicate that, and it has been pretty successful for me."
Talking about making an adjustment is one thing.

Going out there and actually applying it is another.

Any change can feel odd at first and can be tough for a player to adjust to, but for any change to become routine and feel natural it takes time and patience to get used to it.
"I think the toughest part is when you are trying to fix it and you think about it so much and then when it is game time you have to just go out there and play," said House.

"Eventually after so long your body picks it up and it becomes something you are used to and you don't even realize you are doing it all the time and it becomes easier and easier to do.

But at the beginning stages it is always in the back of your mind because you know you have been working on it all week and now when you are out there pitching you don't want to over think about it, but you have to because you want to make sure you are working on the proper things."
House also added a curveball to his repertoire last year.

It was a pitch that he worked on late in the year and did not unveil in any games, but is a pitch he plans to use this season as more of a show pitch to give hitters a different look.
"I never threw it in games [last year], but I am going to start throwing it this year just to see how it goes," said House.

"It is not something that will be a strikeout pitch, but is just something for show that is a little slower with different planes.

It goes up and down rather than my two-seam, slider and changeup that all pretty much go side to side.

It is just another weapon to give another look."
House is hoping to be more consistent this season and improve on his overall performance.

He has no control where he may end up to start the season, but he is looking forward to the challenge ahead of him this season be it in a return trip to High-A Kinston or a new journey to Double-A Akron.
"I have had a few good seasons my first two years - I would say on par - but I feel I can do better," said House.

"I know I have it in me to go out there and have a very successful season, and I feel like I need to push myself to do that this year.

My goal is to stay consistent from pitch to pitch and outing to outing.

As long as I go out there and play, wherever I end up I can only move forward.

Just keep pushing forward and I feel like your stuff on the field will show and put you where you belong."
Goedert hopes to avoid DL
Indians infielder Jared Goedert has been sidelined for about two weeks now with a strained oblique.

It was an unfortunate injury as he lost a chance to showcase his talents to the big league staff so that they could not only consider him for a spot on the opening day roster, but also get a good luck at him as a possible callup option later in the year when a need arises.
Goedert is no stranger to oblique injuries as he had one back in the early part of 2009.

It was an injury that seemed to linger and affect him all year that season as he never seemed to get back to 100% all year.

He says the current injury is a little different this time around, and he hopes that with proper rehab and strengthening he can tackle it so it is no longer a problem once he is cleared to start playing games.
"It is a similar issue [to the one in 2009]," said Goedert.

"It is kind of a different area of the abdominal region, but I think the timeline and rehab recovery process is pretty similar.

I just have to do the progressions and build up to strengthening and making sure everything is healed up correctly.

Just kind of build up and whatever track or program they have me on I will be ready."
Right now it looks like Goedert may open the season on the disabled list.

There is no doubt he will probably be able to play by the end of spring training, but the Indians will probably choose to go the safe route to best ensure he maintains his health and has no setbacks which may mean he spends the first week of two on the Triple-A Columbus disabled list.
"My goal is to not [go on the DL]," said Goedert.

"From the experience of others who have worked through this injury, this is something that a lot of people make sure to get it taken care of because it is something you can have setbacks with and it can linger which is what you don't want.

That's my goal is to not have it delay the season."
For now Goedert will continue to workout, rehab, and do some conditioning drills.

If he does not have a setback it is possible that as early as next weekend he could start to play a few innings in a minor league spring game, maybe even sooner.
"The first few days it was a lot of rest," said Goedert about the recovery process.

"I just kind of let it heal, and from there it has been slowly building it up with conditioning.

That [has gone] into strengthening and has just gone from there."
Once Goedert gets the all clear to play again, the Indians plan to have him move around the diamond this year and fill in at third base, first base, and left field.

It is a utility role that the big league team needs, and one which he may be able to carve a niche for himself in Cleveland.
"I think I am going to play a little bit of third [in Columbus] as Lonnie will be the regular third baseman," said Goedert.

"So I will mix in there, first and left.

I'm just looking forward to that opportunity.

I kind of enjoy getting to mix in the different positions.

Hopefully it will help me out and hopefully the Indians too."
Wolters update:
Shortstop Tony Wolters was back at camp on Friday fresh off his Wednesday surgery in Cleveland to remove a broken hamate bone in his right hand.

He is wearing a soft cast which will be removed in about two weeks, and he is emphatic that he will be back around then.

The Indians obviously will appreciate his excitement and determination, but considering his value as a high profile prospect and how it can take some time to fully come back from the surgery and injury, the Indians will likely be very conservative with him in order to help ensure there are no setbacks.

He is going to start the season in extended spring training, but if he proves healthy he could go to Low-A Lake County in May or June.

The Indians may also choose to instead send him to short-season Single-A Mahoning Valley when their season starts up in mid-June.
Lofton sighting:
Kenny Lofton ventured over to the minor league fields on Friday morning and threw a little batting practice and then sat down and talked to several of the Indians' young outfielders.

He spent a good 15-20 minutes with Delvi Cid and talked about Cid's approach to stealing bases and how to become a better base stealer.

Boy would I have loved to be a fly on the dugout wall for that conversation and all the knowledge Lofton bestowed upon Cid.
Growing Greenwell:
It's always interesting to see a lot of the players in the spring and see who got bigger in the offseason and also see some of the younger players show a more mature look.

Since you do not see a lot of these guys for six months from September to March, a lot can change with their physical appearance.

One such player is outfielder Bo Greenwell who really made a change from a young kid to a man in the offseason.

He has started to really fill out and added some good muscle weight.

With his body now starting to really mature, perhaps he can put it all together and have a breakout year and be consistent the entire season.

He's definitely a sleeper to watch this year.
Perez, Rondon update:
Right-handed pitchers Alexander Perez and Hector Rondon are expected to soon progress to throwing bullpens.

If there are no setbacks they should be pitching sometime in June, likely on a rehab assignment at rookie-level Arizona.

Both will likely pitch in Instructional League and maybe in a fall or winter league to make up innings at the end of the year.
Salazar, Valera update:
Two other pitchers coming off Tommy John are right-handers Danny Salazar and Francisco Valera.

Both are in the early stages of a throwing program and are making about 20-25 throws at 90 feet.
Columbus
recap:
Columbus lost 11-8 on Friday in their spring debut.

Catcher Chun Chen continued his hot week with another outstanding game going 2-for-3 with a HR and 4 RBI.

Outfielder John Drennen was the other standout performer at the plate going 2-for-3 with a 2B, HR, and RBI.

Right-hander Alex White threw three innings (51 pitches) and allowed one run on three hits, one walk, and had three strikeouts.

He was up to 94 MPH and averaged 91 MPH.

Left-hander Nick Hagadone went 1.1 innings (3 H, 4 R/ER, 1 BB, 1 K) and averaged 92 MPH and touched 95 MPH.
Akron
recap:
Akron lost 6-5, and outfielder Abner Abreu led the way offensively going 2-for-4 with a 2B, HR, and 2 RBI.

Right-handed pitcher Joe Gardner went two innings (4 H, 1 R/ER, 1 BB, 2 K) and averaged 89 MPH and touched 91 MPH.
Kinston
recap:
Kinston lost 9-6, and third baseman Giovanny Urshela had a nice debut going 2-for-4 with a 2B, 3B, and 2 RBI.

Right-hander Kyle Blair had a stellar outing going two shutout innings and allowed one hit, did not walk anyone, and had a strikeout.

He averaged 90 MPH but did touch 95 MPH.
Lake
County recap:
Lake County played to a 5-5 tie.

Shortstop Nick Bartolone led the way for the offense going 1-for-2 with a 2B and RBI.

Lefty James Reichenbach started and went two innings and allowed two runs on five hits, one walk, and had four strikeouts.

He averaged 88 MPH and touched 91 MPH on the gun.
Today:
All four affiliates will be in Goodyear on Saturday against the Reds, though Columbus and Akron will be on the road at the Reds complex and Kinston and Lake County will be at home at the Indians complex.
Follow Tony and the Indians Prospect Insider on Twitter @TonyIPI. Also, his latest book the 2011 Cleveland Indians Top 100 Prospects & More is available for purchase for $20.95 to customers in the US (shipping and handling extra).
User Comments
No comments currently. Be the first to comment!