Goodyear Notebook: 4/5
McBride Shuffles Positions
At this time last year, Matt McBride was in the home stretch from surgery on his right labrum. Fast forward a year, and while McBride is healthy these days, his position seems to change by the day.
When the 2008 season ended, the Indians sent McBride to the Instructional League to get much needed at bats he missed since he was on the shelf for the first half of the season rehabbing his shoulder. It was in Instructional League where the Indians introduced him to the outfield and informed him that he would be moving out from behind the plate and to the outfield in 2009. He even went out and played in the outfield in the Hawaii Winter League to get some experience, and adapted well to the new position.
So here we are at the end of spring training, and now McBride is playing first base.
"I did not know [about another position change] until I got out here," said McBride during camp this past week. "Basically in my one-on-one when I got here they told me to catch the first two weeks. Then they said to do two weeks just strictly in the outfield and I did that. Then they said near the end of spring I would start working with the first basemen a little bit, and that is where they have decided to go with me. So now I have really been hitting first base hard and doing extra drills and trying to learn as much as I can while I am down here. I am picking up little things from the guys who have been playing there for awhile, but it has been going well."
The bulk of McBride's playing time this season will come at first base, though he was told not to rule out playing in the outfield from time to time. As for catching, that is likely a thing of the past in order to preserve his shoulder and he should not play there unless the team is strapped for some reason at catcher for a game.
McBride has taken to his crash course at first base well in spring training, though he is still trying to get a handle on a lot of the footwork at the position, fielding groundballs, getting to balls in the hole, etc.
"I think I am just trying to pick up all the little things like footwork, groundballs, where I should be for cuts, relays and other positioning," said McBride. "Bunt plays I have always been at it from the catching point of view, so that is different now. Through catching I am able to sort of know where I need to be, but now it is from a different perspective so I need to learn it at first base. The biggest thing is just getting acclimated to first base, like balls in the hole that I should let the second baseman get so I don't come off too far."
McBride's right shoulder is the reason he has been bounced around the field the past few months. The Indians love his bat and want to keep him in the lineup, but his lack of arm strength in his shoulder even after his surgery was concerning enough for them to make the move to the outfield and then to first base. McBride says his shoulder is pain free, and that it continues to get stronger everyday.
"It feels great," said McBride. "Throwing-wise, my arm strength is much better. I was throwing fine before, but my arm strength wasn't there, but now I can hold my own and it is feeling good. There is no pain involved with throwing, even when I was throwing down to second when I first came down here for spring training. I am really happy with the shoulder at this point from where it was last year at this time."
With the shoulder injury past him, and the positional changes about worked out, McBride is just happy to get his career back on track after a lost 2008 campaign.
"I am feeling good and am anxious for the season to start," said McBride.
Bryson's Rehab Right On Schedule
Right-hander Rob Bryson was sidelined late last season because of a tear in his labrum and rotator cuff. He had offseason surgery to repair the damage, although the rehab involved with such a surgery will keep him on the shelf the first half of the 2009 season, if not more.
Bryson has been in Goodyear, Arizona at the Indians new player development complex for awhile now rehabbing and will continue to work out at the new facility during extended spring training. It is tough for Bryson because he knows that right now he would normally be departing for a full season destination and getting ready for the new season to get going, but through it all has remained positive and committed to doing what he needs to do to come back at 100%.
"Rehab is a long process, and I am trying to stick with it, stay focused, and try to get healthy," said Bryson earlier this week. "So far so good, and the arm is feeling better than I expected it would. I honestly did not think my arm would feel this good considering the surgery and all the time I had off. I am just going to keep going through my throwing program and hope for the best."
Bryson just recently started a throwing program, but even though he has started to throw he is still doing rehab almost daily on the shoulder to get it back to 100%.
"Right now the rehab is cutting back a lot because I am starting to throw now," said Bryson. "I am doing a shoulder program on days that I throw, and on days I don't throw I do a pool restoration program just to keep the muscles loose."
Bryson just started throwing at the beginning of March. Before each throwing session he will stretch, do a pre-shoulder program with plyo balls, run and then throw. He started out throwing at 45 feet then went to 60 and right now is throwing at 75 feet. His next step will be 90 feet, but from there it depends how his shoulder reacts to the increased workload.
"From 90 feet I will go to 105 feet and then to 120 feet," said Bryson. "I will throw a good bit from 120 and if I feel good I will start my flat grounds. Hopefully sometime in May I will be able to throw flat grounds on the mound."
Right now, Bryson and the Indians have him targeted for a late June or early July return to game action.
"If I had to say when I will be back, I would say sometime in June or July I will start out in the Arizona League and then hopefully I will be healthy enough to go to Lake County or Kinston or wherever they want to send me," said Bryson.
Bryson's main goal in 2009 is to come back 100% healthy and get himself back on track for the start of the 2010 season.
"Right now, for the 2009 season, I am not expecting much at all," said Bryson. "If I get any innings at all and any season play, that would be more than what I am expecting. I just want to get healthy and hopefully pitch in Instructs or the Fall League or wherever it may be to get some innings and come back and be 100% for the 2010 season."
Stowell On The Shelf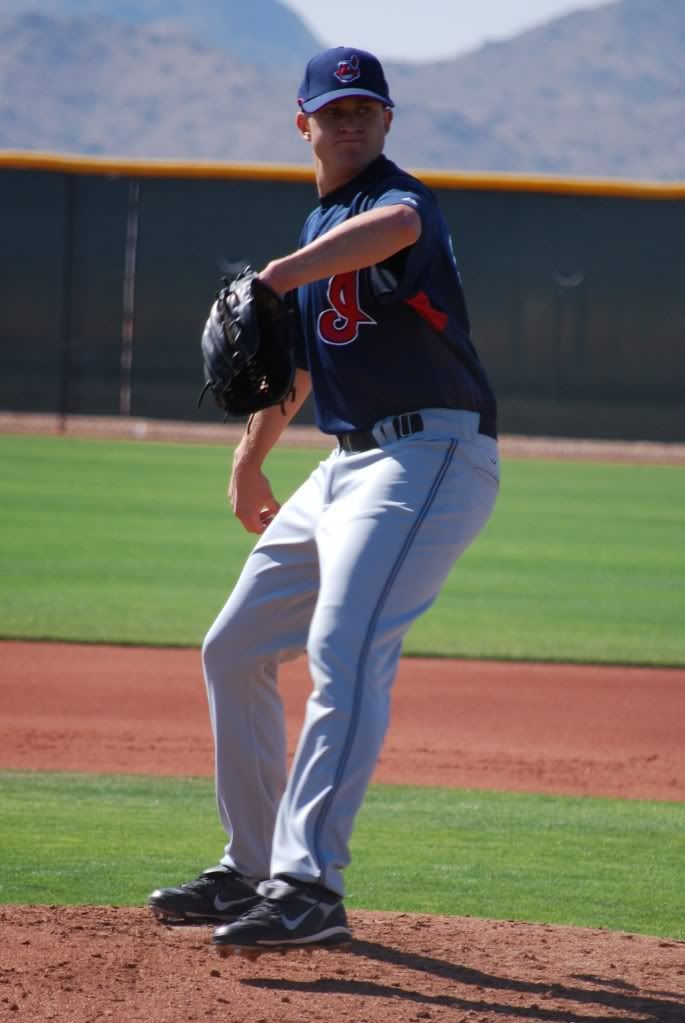 Highly regarded 2008 22nd round pick Bryce Stowell will open the season in extended spring training after he came down with bicep tendonitis about two weeks ago. The right-hander from UC-Irvine just started throwing last Saturday after being shut down for about a week by the organization, and is on a rehab plan which started on Wednesday with him throwing at 100 feet. Once he is back to 100%, he will be activated and likely go into the starting rotation either at Lake County or Kinston.
Stowell's injury came about due to his inexperience with handling an injury as he tried to pitch through some discomfort he was having, which ended up aggravating the injury enough to where he finally said enough was enough and informed the trainers.
"It was more of just a lingering issue," said Stowell earlier this week. "I had never been injured before on any level and I just didn't know how to handle it. I started throwing through it and I thought to myself there was no way. It got to the point where it was a little tender and they had to shut me down, but I am feeling good now that I started throwing these past few days. For the program they have me on I will be throwing like this for another week and then hopefully throwing sides in 12 days."
Stowell has no idea how long he will be sidelined, but it looks like he could be back sometime at the end of April or beginning of May. Through it all, he has been very appreciative with how the Indians have handled the situation, and how helpful they have been in the rehab process.
Even though he is injured and starting the 2009 season on the shelf in extended spring training, he has no regrets signing his lucrative deal last August to turn pro instead of returning for his senior season at UC-Irvine.
"No regrets at all," said Stowell. "Over the fall and winter I lived with three other guys who are still playing for my college team in Irvine. It was weird just sitting there and knowing I was not going to be with them this year. Now that I am out here I have no regrets whatsoever. I am just super excited to get things going. It is kind of tough watching everyone leaving here, but at the same time I am just really excited to get things going."
When Stowell does get back on the mound, he does not want to set any specific goals with that level he ends up at this year. He just wants to be healthy, perform, and continue to get better.
"The one thing I don't want to do is put a time limit on myself," said Stowell. "I feel a lot of guys do that and sometimes if you don't meet your expectations you feel really disappointed and let down. I continue to tell myself every day just to try and get better every day. I know that sounds kind of clich
User Comments
No comments currently. Be the first to comment!